How a group of grannies got their first holiday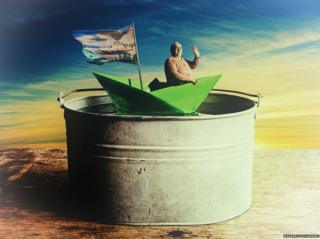 A group of elderly women from a village in northern Italy have long dreamed of seeing the sea. They tried posing for a calendar to raise the funds - but unlike in the film, it didn't work. Then one of their grandchildren came up with what seemed like an even more far-fetched idea.
Everyone loves a real-life fairy tale, especially when it has a genuinely happy ending.
The protagonists of this story are rather more mature than traditional princesses, although they do have names to rival Rapunzel, Cinderella and Aurora. Erminia, Iolanda and Armida are the leaders of a posse of grandmas and great-grandmas, who have just embarked on their first ever trip to the seaside.
They call themselves the funne (pronounced FOO-neh), which in their dialect means "women". Their average age is 80, many are widows, and the majority have never seen the sea.
They're all members of the Circolo Rododendro - the local pensioners' club where they meet for a few hours, two afternoons a week. The oldest funne like playing bingo while the younger ones play cards, chat and sometimes even indulge in a spot of ballroom dancing. "Ever since I've been a member of the club, people have been saying, 'Come on, let's organise a trip to the seaside!'" says Erminia who, at 70, is the youngest of the group. "But something always went wrong: one would get sick, another would have some other problem."
The funne live in the tiny Alpine village of Daone in the Trentino region of northern Italy. It's situated in the Valdaone valley, which in winter is one of the coldest places in the country - so cold it hosts the world ice-climbing championships on its colossal frozen waterfalls.
But it's hard to imagine their bitter winters on a glorious summer's day here. It's a perfect fairy tale setting: flower-carpeted fields, shady woodlands, and cascading rivers. The open valley, 10 minutes' drive from the centre of the village, is where, for generations, they've spent their summer days, tending their land and looking after their animals.
As well as farming potatoes, Iolanda used to cut hay, turn it in the sun, then carry bundles on her back to the barn. But she says her hard work was comparatively easy. "The women older than me used to take their babies with them in baskets which they left beside them while they worked. They used to cut the grass with a scythe."
This job was traditionally done by men, but at that time - the 1950s - a lot of the local men were off building the valley's huge hydroelectric dams. "It was a peasant's life," says Erminia. "My mother had eight children but she didn't have enough to care for one."
Nobody ever went on holiday and the children of that generation never acquired the holiday habit as adults. Ketty Pellizzari, the mayor of Daone, remembers the first time she and her husband went away together. "Two days before leaving he still hadn't told his mother and it made me furious. He thought she'd think us frivolous," she says.
Indeed, for a lot of the funne, including the mayor's mother-in-law, this won't just be their first trip to the seaside but their first ever holiday. "Do you know some people haven't even been to Trento?" says Iolanda, pointing in the direction of the nearest city 60km (35 miles) away. "I was 20 the first time I went."
They tell the tale of how 83-year-old Irma only went to the city when her late husband was admitted to hospital. She spent three days there - at his bedside. There are even some, Erminia continues, who've never left the valley. "They're born in Valdaone, they grow up in Valdaone, and they die in Valdaone."
Erminia and Iolanda are among the rare few funne who have seen the sea. Erminia saw it in 1962, Iolanda in 1977. Both were then working as nannies, neither so much as got her feet wet.
---
Find out more
---
They've invited me for lunch: potato polenta - a local speciality. Iolanda chops leeks to be fried in butter and olive oil then added to the polenta. As they mix the cornmeal into the mashed potatoes, we discuss the trip they've spent a lifetime dreaming about.
They started fundraising a year ago by holding a cake sale at the village fair. The result was underwhelming. But at the fair, that they bumped into Katia Bernardi, a local documentary maker. She has been following their fundraising endeavours with her camera ever since. On her suggestion, they tried making a calendar like the local firemen do: 12 funne, one for each month.
Katia engaged a professional photographer and make-up artist for the shoot at the Circolo Rododendro. "Making the calendar was an adventure for them because some of them were made up for the first time in their lives," she says. For most, she explains, the first and last time they wore make up was on their wedding day.
The calendar, with its tongue-in-cheek photomontages, presents the funne living their personal dreams: atop a horse on a ranch, in a hot air balloon, on a London bus and even hanging in a portrait at the Louvre. But, despite high hopes, the calendar was a fundraising flop, which the ladies put down to local disapproval and, perhaps, envy. A lot of villagers, they say, consider them too old for such "ridiculous nonsense".
It looked like they'd never raise enough to finance their trip until Erminia's grandson suggested crowd-funding on the internet. She admits that when he explained the concept she thought he was mad. "I said, 'Don't be ridiculous, who's going to give money to a bunch of old ladies who want to go to the seaside?' They'll say, 'If you want to go to the seaside, you can pay for yourselves.'"
But, in true, magic-wand-waving style, they saw donations flood in from as far away as London, New York and Australia. Within three days they had more than doubled their target and Erminia had to eat her words. To thank their supporters, they've pledged postcards, calendars, badges and even cookery lessons.
All the extra money raised will be used to take more of the village funne along. The only condition is that they must be over the age of 60 and, of course, female.
Erminia is one of the few whose husband is still alive. You might think he'd be envious but he shakes his head vigorously. A retired lorry driver, Renzo says he's done enough travelling and has no desire to go. This is, he smiles, his wife's project. But Erminia admits some of the male pensioners at the Circolo Rododendro have asked why they can't go. She always gives the same response: "Because you're not funne." This is, she states resolutely, a women's initiative.
The group is taking a hairdresser and a nurse and they've even convinced the village doctor to go with them. In spite of this, some of the funne won't be able to travel because of health problems. Chiara, who posed for the calendar, has a serious heart condition. Even though she dreams of seeing the sea, she is too scared to go.
But for others, the dream is coming true.
Their destination is the Croatian island of Ugljan, chosen because it has the same patron saint as Daone: the Madonna of the Snow. When Katia discovered there was a beautiful Mediterranean island with such a serendipitous connection to the tiny mountain village, she knew it would be perfect for the funne's seaside holiday of a lifetime. The saint's day is celebrated on 5 August; their coach left Daone on 2 August.
Katia says they've received Facebook messages from people in Croatia who've heard the story through the internet. "There've been offers to accompany the grandmas to the sea or to assist them," she beams. "There've been invitations to stay in apartments there. Croatia is waiting to welcome them and celebrate."
So the funne shall go to the ball. In fact, they're hoping to find some nice Croatian men to dance with when they get there. "Let's hope there's music suitable for us," says Erminia dryly. "We don't know how to dance Latin American." Iolanda giggles.
Although they can't wait to paddle in the sea, when I visit them the ladies confess they haven't yet bought swimming costumes. "I will buy one," says Iolanda, "but I don't know if I'll put it on. At 73, I'm not sure my physique will allow it." Erminia is practical: "I'm going to splash out on a couple of pairs of shorts. If it's true that you can go into the sea up to your knees, I definitely will." Then Iolanda chips in with another confession: "None of us knows how to swim!"
But even if they won't be diving into the waves, this time they'll definitely be getting their feet wet. If they have time to, that is, in between writing postcards. "We have to send 350 to our crowd-funders," they groan. I suggest they get the fairy godmother to help.
You can hear the Funne on Outlook on the BBC World Service or get the Outlook podcast.
Subscribe to the BBC News Magazine's email newsletter to get articles sent to your inbox.