Can Ottawa really be the infidelity capital of Canada?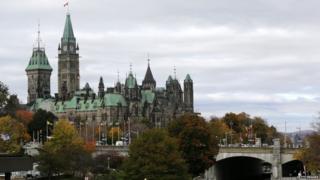 The capital of Canada has long been called the city that fun forgot. But is it really a hotbed of infidelity?
Earlier this month, hackers broke into Ashley Madison, a dating site for married people who want to cheat on their spouses. "Life is short. Have an affair," reads the homepage. The hackers claim to have stolen the real names and addresses of the site's users, and are threatening to release the information.
Shortly afterwards, Canada's National Post reported that Ottawa boasts 189,810 Ashley Madison accounts. The city itself has a population of 883,000.
That's the equivalent of one out of every five residents. Ashley Madison did not respond to the BBC's request for membership statistics.
The contradiction between the capital city's strait-laced reputation and Ashley Madison's numbers is staggering.
"When I tell people I'm a sex therapist from Ottawa, they say, 'People in Ottawa don't have sex,' and I say, 'Oh, you have no idea,'" says Sue McGarvie, founder of The Ottawa Sex Therapy and Libido Clinic.
McGarvie, whose former office was a block and a half from the National Defence headquarters and two blocks from Parliament Hill, says the people of Ottawa - working as government officials, diplomats, bureaucrats - tend to let go at night, because they must maintain a certain image by day.
"I have a lot of guys who come in [for sex therapy] and say their name is John Doe and pay cash," says McGarvie. "If the National Defence guys get wind that they've seen a sex therapist, it's on their personnel file. There was a lot of people whom I've had come in with [Royal Canadian Mounted Police] bodyguards."
Ashley Madison allows for a complete separation between the modest front and the reality behind the scenes.
The dating site, which boasts 37 million users worldwide, was founded in Ontario in 2001. It was first heavily marketed in that province, which includes Canada's capital.
"Ottawa tends to be [made up of] those people who have been everywhere, done everything," says McGarvie, who is on the site herself.
"Except for a moon launch, what's next? Next is proving their virility, which is 'too many women, not enough time.' There's a lot of people who are kinky, people who are looking for fetishes, in terms of wanting to be dominated - anything that they can't bring up at home."
And more than releasing one's wild side, mob mentality may also play a role in the sexual patterns.
Cheryl Harasymchuk, a psychology professor at Carleton University in Ottawa, says research on infidelity shows having a social network of friends who condone cheating, as well as having available alternatives for mates, is linked with increased infidelity.
She gives the example of Las Vegas - a city with a slogan hinting at all sorts of off-the-record behaviour - "What happens in Vegas stays in Vegas."
"And that seems to be conveying a local culture, at least for tourists, that all sorts of misdeeds, including infidelity, are the norm there," Harasymchuk says.
But she can't imagine describing Ottawa in such a way.
"If someone says Ottawa is a hotbed of infidelity, I have to ask myself, 'Is this true?'" she says
There is no published, peer-reviewed research that maps infidelity by region across Canada, and the number of accounts on Ashley Madison don't necessarily match up to the same number of people - someone could have multiple accounts or accounts could be spam bots, for instance.
"As a social scientist, when I see numbers like that, I have a lot of questions," Harasymchuk says. "Do they know that every member is in a relationship or is it just a convenient place to meet people?"
McGarvie says she has at least three different profiles on Ashley Madison, and says the numbers are probably inflated as they include non-active members.
But others say one website's numbers underplay the real extent of infidelity across Canada, and elsewhere.
John Sullivan is general manager of the Triangle Investigation Agency in Ottawa. He heads a team of private investigators specialising in matrimonial surveillance, and told PRI's The World whatever the exact number, he knows it's high.
"Given the national divorce rate is 55%, and adultery is probably 80% of the cause, I was surprised [at the 20% figure]." Sullivan says. "There's a lot more than that."
But infidelity, he pointed out, is not special to Ottawa.
"I have conducted surveillances for Triangle in England, in South America, Miami, California, Hong Kong, Peru, Alaska. I travel all over the world doing these surveillances and nothing really changes," Sullivan said.
"I don't think the percentage is any greater or any less than any other city."