Fighting climate change in Texas with an eye on the bottom line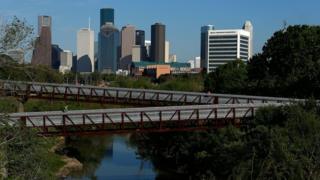 Houston has long been known as the heart of America's petrol industry - but can it also be a counterintuitive example of how cities fight climate change?
Houston is where the US petrol industry does business. Many of the world's largest firms - Exxon, Shell, ConocoPhillips - are headquartered or have offices here. Its location is key - the region is filled with oil fields, offshore rigs and refineries.
So it might be surprising to learn the city will soon have its own solar panel farm.
It's the latest chapter in Houston's unlikely green success story.
The city government's emissions are down 38% from 2007 and expected to drop another 5% in the next year. Houston's thrice-elected mayor is part of a steering committee of local leaders fighting climate change across the world.
And all of this is happening in a state where most political leadership doesn't believe climate change is human-made, if they believe in it at all.
Annise Parker isn't surprised. The outgoing mayor has been the face of Houston's green changes. The key to success, Parker says, is to tailor the message to the audience.
She rarely uses words like sustainability or climate change when she makes her pitch to cut Houston's carbon emissions. Instead the words are efficiency, savings, return on investment and quality of life.
"Every time I have a conversation with residents about why the city needs to be greener I talk about the bottom line," she says.
That conversation has led to an extensive list of carbon-reduction city projects - changing every one of the city's 165,000 street lights to more efficient LEDs, then all 21,000 traffic lights as well, moving the city's fleet to electric vehicles and retrofitting city buildings to be more energy-efficient. Houston expects to save $28m (£18.5m) over 10 years from the street light switch, and $3m a year from the traffic lights.
For several years, the city was largest municipal purchaser of renewable energy in the entire country (only recently overtaken by Dallas), buying wind power credits for just over 50% of the city government's power needs. Houston reworked its bus routes in 2015 for the first time in 30 years, cutting down on emissions.
And in November, the city council approved a 20-year contract to purchase power from a solar farm being constructed in west Texas. Because they've locked in a rate just above current traditional energy prices for the next two decades, the city expects to save as much as $19m, former sustainability director Laura Spanjian says.
Houston is divided politically, but as a whole tends to be more liberal than its home state. Still, that hasn't always translated to popular support for larger environmental projects.
Slowly that's changing - and in part because Houston is growing. The city's universities, tech scene and biomedical and hospital firms bring younger people to Houston, as well as transplants of all ages from the east and west coasts.
The new arrivals "expect a city to be operated in an efficient manner that has a more sustainable side" says Gavin Dillingham, a research scientist at Houston Advanced Research Center.
In order to attract and retain talent, the city is pushing quality-of-life changes. But many of these improvements - green space, improved air quality, the ability to get to work without sitting in traffic for three hours or more - also reduce carbon emissions.
Federico Marques, the owner of a green restaurant chain in Houston and a solar installation business, says many of his customers for solar installs are employed by companies like Exxon Mobil, Chevron and Shell.
Marques says his clients have "a certain amount of pride" about helping the US become energy independent from countries like Saudi Arabia. But they also don't mind independence from $400 a month energy bills.
But growth also means potentially more carbon emissions. Despite attempts to add density and a three-line light rail system, Houston is still a sprawling, car-dependent city. Its wastewater management system accounts for 50% of its municipal energy use - because the systems pumps water so far to so many individual homes.
And Texas is far and away the US's largest emitter of energy-related carbon emissions - double its closest state competitor, California.
Without fail, Parker and other Houstonians described the situation as a "challenge".
"As we grow… there are big opportunities," Parker says. "On the other hand there are more problems because the globe is increasingly urbanised and if we don't get it right, cities don't work."
Climate change activists are increasingly focused on cities, as urban areas are estimated to produce about 75% of worldwide emissions.
It will also be cities that will bear the brunt of the planning to deal with more hot days, heavy floods and stronger storms that are expected along with rising world temperatures.
"Cities are the one level of government that has to function every each and every day, 24/7," Parker says. "We are nothing if not pragmatic in cities."
Sam Adams, the head of the US climate programme at the World Resources Institute, says cities have control over many of their own significant contributors to carbon emissions - building construction codes, local infrastructure, transit and land-use policies.
"I shouldn't sugarcoat it," Adams, the former mayor of Portland, Oregon, says. "It's harder when there is national or state opposition."
But it's a "false choice," Adams says, to say a city can either improve the environment or improve its prosperity.
In Houston, it's been much harder to show return on investment for environmental-friendly projects as prices on petrol have dropped. But the silver lining is the ones that do succeed become business as usual.
"If you develop these projects right... you can do energy efficiency in any kind of market," Dillingham says.
Parker says Houston could make "great progress" if the state legislature would pass legislation to put pressure on the local utilities to encourage solar and selling excess energy back to the grid.
It's unlikely that's going to happen soon - while environmental legislation has its champions within Texas, it often doesn't get very far. The official platform of the Republican Party of Texas - which controls the state legislature - is that climate change is "a political agenda which attempts to control every aspect of our lives".
Marques' restaurant chain, Ruggles Green, bills itself as "the greenest restaurants in Texas". There are solar panels on some of their locations' roofs. All their lighting is done with LED. They buy the rest of their electricity as wind power and buy most of their food from local farms.
Marques laughs when asked if it's hard running a green business in Texas.
"I don't know how frank and honest I should be…It's not easy that's for sure."
But ultimately, Marques says, "if you give someone a compelling reason to do something better, then they understand that".
His pitch to investors for a green restaurant includes a lot of little changes that add up - charging a small fee for biodegradable takeout containers, lowering energy costs by installing LED bulbs and then insurance costs because the lights needed to be changed less often.
"We're sort of a laboratory, we try all these things and see what works."
"I hope we're around eight to nine years [to recoup the solar investment] but most restaurants don't see it that way," he says.
---
What some other US cities are doing about climate change
Milwaukee - mapping neighbourhood heat vulnerability by poverty, age and building code to determine where resources will be most needed during a heat wave, and assessing the best way of communicating what resources are available to residents
Los Angeles - all new or renovated houses must be built with "cool roofs" - to reduce the urban heat
Reno - entire residential energy load is covered by geothermal energy; has installed 1.1MW of solar capacity on and around city buildings.
Aspen - requires larger homes to generate their own electricity through renewable energy or pay a $1 per square foot fee. Part of the fee goes to rebates for home owners and businesses to take on energy efficiency projects
---
But what happens when doing something to combat climate change doesn't save money?
Violeta Archer is the president of Houston Renewable Energy Group, and says in her experience, Houstonians are happy to have a conversation about green projects - up to a certain point.
"You always hit a barrier when it comes to someone's job... the minute it starts threatening or discouraging the position for someone who works in the oil industry, it stops."
Parker says the answer to this question is a matter of "truly quantifying the costs" - determining what it will cost the city in damage, lost business or productivity if the change isn't made.
The city has tried to use childhood asthma as a way of quantifying how refineries are affecting air quality. Houston is also debating several options about how to prevent hurricane storm surges from flooding both residences and the refineries. Parts of the city have already been flooded several times this year by extreme rains.
"When I get together with the [Texas] Republican leadership - and it's all Republicans - we don't talk whether climate change is real or man-made or not man-made," Parker says. "We know water temperatures are rising, we know sea levels are rising.
"So what do we need - what are we doing to respond?"
It's a balance Houston's next mayor, Sylvester Turner, will need to learn quickly. Money can speak loudly, but when there's little to no interest in fighting climate change on its own, it's the only option.