Black pitmasters left out of US barbecue boom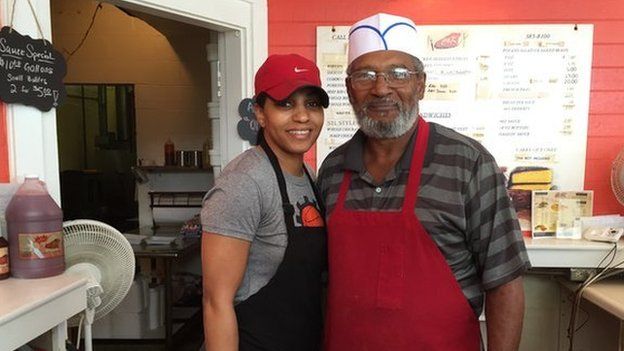 The US is in the midst of a barbecue boom. But as television programmes and restaurants celebrate mostly white pitmasters, are the cuisine's African-American roots being forgotten?
After a morning of peeling potatoes, Daryle Brantley sits at the only table outside of his counter-service restaurant C&K Barbecue. His daughter Jamila emerges from the midcentury building, a barbecue outpost that has been perched on a corner in north St Louis county since 1963. She has two white Styrofoam containers in her hands - rib tips with a side of baked beans and coleslaw, and the combination sandwich, which is two pieces of white bread piled with rib tips and crispy baked pig snouts. The meat is smothered in a tangy tomato- and vinegar-based sauce, which the restaurant is known for. Everything is made fresh each day, in house.
Since taking over from the original owner in 1983, the Brantleys have enjoyed a great deal of success with their traditional St Louis-style barbecue. There are lines out the door, as well as accolades from both local and national media, from Maxim magazine to PBS. There's even a line in the 2002 movie Barbershop extoling the virtues of the ribs at a fictionalized "C&K on 75th".
"You just got to believe in what you're doing and keep it consistent. That's why we've survived over the years," says Daryle, then gestures to the steaming boxes in front of him. "Once you taste that, you'll see."
But things aren't as good as they used to be. Daryle once had three locations and sold the sauce bottled at local supermarkets - today he only has the original shopfront.
The decline happened as factory jobs left St Louis and the recession of the 1990s took its toll. Once the outlook improved and he wanted to expand or make improvements, he found no bank would loan to him.
"All I ever heard is, they can't help us because I don't qualify. I don't have enough assets. My credit isn't good enough," he says. "Come on."
Daryle believes he knows exactly why he's had difficulty accessing capital.
"Racism," he says. "I didn't want to say it, but it's structured racism."
The US is undisputedly in the midst of a barbecue boom - there are currently more than 14,000 barbecue restaurants in the country - but African American restaurateurs and pitmasters may be getting left in the dust. Thanks to television and professional barbecue competitions, barbecue chefs have become celebrities with cult followings, but those celebrity faces are largely white.
"National press is infatuated with white, male hipster BBQ," writes Robb Walsh on the blog First We Feast. "Believe it or not, blacks, Latinos, and women are involved in the barbecue biz too."
The trend continues when it comes to new restaurants opening around the country.
"New barbecue joints generally are run by white men. That just seems to be the trend," says Daniel Vaughn, barbecue editor for Texas Monthly. "The movement that gets troubling is the, 'I'm a chef, I'm bored, I want to find my soul, so I'm going to go into barbecue now. That's going to be my culinary fling.'"
White ownership is, of course, not in and of itself troubling. But the assumption that the faces on television reflect the totality of successful pitmasters does trouble John T Edge, author and director of the Southern Foodways Alliance. That point came into sharp relief after a recent article was published on the Fox News website, entitled "America's most influential BBQ pitmasters and personalities." Of the dozen named chefs and writers, not a single one was African American.
"This shows no historical awareness of the central role that African American people and other people of colour have played in the most primal of American foods," he says. "I'm not saying it is a racist act. By way of its omission it is racist."
In some of its earliest days in America, barbecue was plantation feast food. Whole hogs were cooked in wood burning pits to celebrate the end of the summer growing season. While white plantation owners may have partaken, it was the black slaves who were in the pits working.
"Barbecue is long, hard, hot dirty work. When given an option, particularly in the south, that's not the work white people did," says Lolis Eric Elie, author of the classic barbecue tome Smokestack Lightning: Adventures in the Heart of Barbecue Country.
When the enslaved African Americans got pigs of their own, necessity inspired nose-to-tail consumption, as well as the ingenuity to create dishes to make the pig's least pleasant parts edible. Those culinary skills were vital after the end of slavery, when black men and women needed to go into business for themselves.
"An African-American man - or woman, but less often women - could literally dig a hole in the ground on the side of the road, lay on some bed springs, shovel in coals and start a business," says Edge. "Barbecue was a food with low cost of entry. It was the food truck of the 19th century."
Regional barbecue styles are distinct in cooking methods, sauces, specialties and the sides that are served. Below is a very brief overview.
St Louis - mainly pork, with a heavy tomato-based sauce
Kansas City - often slow cooked. A variety of meats are used, with a thick, sweet sauce.
Carolina - Pork based. "Eastern style" Carolina barbecue is dressed in a vinegar sauce, "Lexington" has a tomato-based sauce.
Texas - Much of Texas barbecue is beef-based. "East Texas" style involves beef or pork, chopped, in a sweet, smokey tomato sauce.
As the nation's highway system developed, the roadside stand was born. Black men and women began leaving the south, and their barbecue traditions went with them. Renowned pitmaster Mike Mills from 17th Street Barbecue in Murphysboro, Illinois, recalls that the barbecue stand in his town was run by an African American man named Mr Whitt. Mills says Whitt taught him everything he knew, and when Mills was broke, Whitt let him pay for his food with whatever game he caught that day.
"I can still taste his barbecue today," say Mills. "He was my idol. He was my mentor."
The 1960s and '70s saw the development of brick-and-mortar restaurants, where black chefs had the time and space to become true pitmasters who refined their techniques and built their reputations. Edge says this is where many of the regional styles we have today may have gotten their start.
"There's a big strong argument for African American expertise in how those styles developed," he says. "That [pitmaster's] style is copied by family, that style is copied by neighbours, then it becomes how you define barbecue in that place. It's based on what that one community did emulating that family."
Ed Mitchell, one of the most famous whole-hog barbecue masters in the country, recalls that roasting his first hog into the wee hours of the morning was a "rite of passage" in his family. He got his start barbecuing just to help keep his family's store afloat.
"African Americans have a tremendous cultural attachment to barbecue, as if we were Italians who came in and introduced pasta to our country," he says.
Part of the erasure of African American pitmasters from popular culture may have to do with rising barriers to entry. Competition barbecue events - often the ticket to fame in this culinary world - have expensive entry fees, and leaving the restaurant may not be an option for chefs of lesser means. Mitchell also points to the pricey modern barbecuing equipment, like smokers that go for tens of thousands of dollars, that are ever more popular and in some cases necessary in order to comply with modern fire codes.
"What we had were old barrels, or we dug a hole," he says.
And - as Daryle Brantley experienced - black-owned businesses have always received fewer federal loan dollars. That is especially true after the most recent recession. A Wall Street Journal assessment found that pre-recession, black business owners received 8.2% of Small Business Administration loans from the federal government. Post-recession, that figure was down to 1.2%, compared to 4.7% for Hispanic business owners and 20% for Asians.
Rodney Scott, another extremely well-regarded pitmaster of Scott's Bar-B-Q in Hemingway, South Carolina, remembers the day that a banker told him he would never make enough money to buy a home. He intentionally saved the man's business card.
"I put it on my refrigerator. I used it as inspiration every time I passed that refrigerator, I thought, 'I'm going to show you.' I built my house, I still have his business card," says Scott. "It's hard for a black business to gain or move up."
At least in Texas, there is evidence that there is a shift happening in barbecue restaurant ownership. Using data from the research firm CHD Expert, Vaughn wrote in a recent blog post that among independent establishments, the number of sit-down restaurants with servers, is growing.
"Overall, barbecue is much more popular than it was five years ago," he says. "But if you look at the number of independent-owner, counter-style - the traditional barbecue joint - there are actually fewer of them now than five years ago."
Full-service restaurants are far more expensive to open. And as barbecue grows more popular, so do the expenses. Even cuts of meat like brisket are rising in cost.
Elie agrees that the ranks of the tiny, black-owned operations may be eroding.
"What we find then as integration becomes reality, many of these black restaurants who were successful are telling their kids to go into other fields, to get an education and out of the hot, dirty work of the kitchen," he says.
That's what Ryan Mitchell, Ed Mitchell's son, says he experienced first hand. He was helping in his father's restaurant from an early age, but then left for college on a football scholarship and then pursued a career in banking after that. He says his initial reluctance to get into the family business had everything to do with painful history. He remembers listening to his grandmother's stories about working on a plantation.
"Growing up working in the restaurant, a lot of our customers were people that she had formerly worked for. It was still that resentment that I'm serving people who didn't necessarily like my family," he recalls. "So relating that to the actual restaurant business, it felt like I was doing the same thing. I was serving people even though we were entrepreneurs."
But Mitchell has since returned to the business and is helping his father with the opening of their next restaurant in Durham, North Carolina. He hopes to continue building on his father's success, and to "get him in a position where he's just kind of enjoying the fruits of his labour."
Ryan Mitchell has this in common with C&K's Jamila Brantley. Both have the same big dreams their fathers had, to grow the names and franchises, and achieve a level of financial success that may have eluded their parents' generation. It will be up to restaurateurs and pitmasters from their generation to diversify the ranks of the most well-known American barbecue stars.
"My dad started the business for his family and the plan was that we would have something of our own. We would have jobs and we would take it over," she says. "Now I want to take it to the next level and have something for my children."