Been and Gone: The director of I, Claudius and the gangster's moll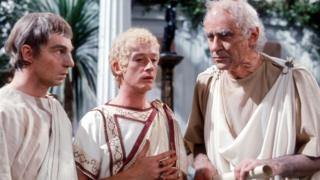 Our regular column covering the deaths of significant - but lesser reported - people of the past month.
When the BBC dramatisation of I, Claudius was first broadcast in 1976 its director, Herbert Wise, found his scenes of sex, violence and nudity, causing outrage among moral campaigners. They were unaware at the time that Wise had actually been forced to take out even more graphic scenes at the insistence of a nervous BBC management. In the event it won him a Bafta. He went on to direct what many horror fans believe is the definitive version of The Woman In Black, broadcast in 1989 on ITV and rarely seen since. Wise's subtle direction, in stark contrast to the hysterics of the 2012 film, raised the horror quotient enormously. Born Herbert Weisz in Vienna he fled the Nazis as a 14-year-old aboard the Kindertransport. He cut his teeth in theatre before moving on to TV where his first big job was directing the 1971 BBC series, Elizabeth R.
Record producer Bob Johnston defied Bob Dylan's management and persuaded the singer to go to Nashville to cut an album with local session musicians. The result, Blonde on Blonde, is rated by many critics as one of the great albums of the 1960s. Johnston had already worked with Dylan on a previous album, Highway 61 Revisited, and the pair had quickly established a rapport. He went on to produce other Dylan classics including John Wesley Harding and Nashville Skyline. He also produced Simon and Garfunkel's breakthrough album, Sounds Of Silence in 1966 and Fog on the Tyne, the record that broke the Newcastle folk outfit, Lindisfarne. Johnston played a major part in reviving Johnny Cash's career, arranging the live prison concerts at Folsom and San Quentin and producing five other albums for The Man in Black.
The actress Peggy Evans was a product of the Rank studio's "charm school", a training ground for cinema that launched the careers of many actors including Christopher Lee, Donald Sinden and Diana Dors. Evans was discovered after entering a creative writing competition, making her cinema debut as an extra in the late 1930s. She went on to appear in a string of Rank productions throughout the 1940s, including Bulldog Drummond. In 1951 she secured the part for which she is best remembered, that of the gangster's moll in The Blue Lamp. With her striking looks and defiant attitude she perfectly complemented her boyfriend, played by Dirk Bogarde, the tearaway who shoots dead an inoffensive police officer named George Dixon. Dixon came back from the dead in the BBC television series, Dixon of Dock Green, but it was the high point of Evans's career. She turned down the opportunity to go to work in Hollywood and instead devoted her time to raising her children.
Ieng Thirith was a classical scholar and devotee of Shakespeare who became a senior figure in the Khmer Rouge, the regime which brought terror to Cambodia in the late 1970s. As social affairs minister under Pol Pot, her brother-in-law, she was responsible for hospitals and medical care, the lack of which caused the death of tens of thousands of Cambodians. She blamed the high mortality rate on the work of foreign agents, rather than the corruption and cruelty of her own government. She had joined a Marxist-Leninist study group in Paris in the early 1950s where she was studying for an English literature degree at the Sorbonne. The group became the core of what would become the Khmer Rouge. On her return to Cambodia she worked as part of the movement to overturn the government of King Sihanouk. Arrested in 2007 she was charged with genocide and crimes against humanity but released in 2012 after being declared mentally unfit to stand trial.
Colin Fry fronted a number of television programmes in which he claimed that he was able to communicate with dead friends and relatives of this studio audience. He said he had first discovered he had psychic powers when he was just four years old and, as a teenager, appeared in a number of spiritualist churches in his home area. He began touring his one-man show in theatres before he was offered a TV series, The Sixth Sense, which began on the channel, UK Living, in 1992. As well as his UK work he appeared on TV shows in New Zealand and Norway. Fry claimed he practiced something called clairsentience, using thoughts to connect with "the other side". However his critics claimed he was actually asking carefully phrased questions of his subjects and reading their body language, a technique known as cold reading.
Among others who died in August were:
Cilla Black, singer and TV presenter
Marcy Borders, the "Dust Lady" from the famous picture from 9/11
Teresa Gorman, maverick Conservative MP who rebelled over Maastricht
Stephen Lewis, actor best known as Blakey from On the Buses
Jack Gold, director of The Naked Civil Servant and Aces High
David Nobbs, writer who created Reginald Perrin
George Cole, actor famous for Minder and the St Trinian's films
Les Munro, last surviving pilot from the Dambuster's raid
Subscribe to the BBC News Magazine's email newsletter to get articles sent to your inbox.