Is insulting women's looks the same as mocking Trump's hair?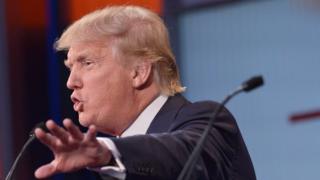 Donald Trump has a history of making derogatory comments about women's looks. But he argues he suffers similarly when people make fun of his hair. Is there a "double standard" at play?
In a new profile of Donald Trump in Rolling Stone magazine, the presidential hopeful and real estate mogul is described watching Fox News on his private plane after a campaign event in Hampton, New Hampshire. As the camera cuts to Carly Fiorina, the former Hewlett-Packard CEO who is also campaigning for the Republican nomination, Trump makes a "sour" expression.
"Look at that face!" the story quotes him saying. "Would anyone vote for that? Can you imagine that, the face of our next president?!
"I mean, she's a woman, and I'm not s'posedta say bad things, but really, folks, come on. Are we serious?"
In a subsequent telephone interview with Fox and Friends, Trump claimed he was insulting Fiorina's "persona", not her actual appearance.
"When I get criticised constantly about my hair, nobody does a story about, 'Oh, isn't that terrible? They criticised Donald Trump's hair,'" he continued.
Trump has used this defence before - as far back as a 2012 Twitter spat with actress Bette Midler, when he wrote, "@BetteMidler talks about my hair but I'm not allowed to talk about her ugly face and body - so I won't. Is this a double standard?"
But now that he has deployed this tactic in the political arena, the rules of engagement are different, says Jennifer Lawless, a professor at the School of Public Affairs at American University.
"Fellow opponents are not condemning his hair. Late night comedians are," she says. "Jimmy Fallon is not running for president."
Trump has criticised and insulted many women about their appearance. In a New York Times article earlier this year, he simultaneously vowed not to attack either Fiorina or Democratic presidential candidate Hillary Clinton for their looks, and then commented, "Heidi Klum. Sadly, she's no longer a 10." His feud with Fox News debate moderator Megyn Kelly began after she questioned him for calling women "pigs, dogs, slobs and disgusting animals".
"Only Rosie O'Donnell," he countered, a reference to his long Twitter fight with the former host of The View.
Trump also made a direct equivalence between Fiorina's appearance and her fitness for office, which has a lot of historical context, says Kelly Dittmar, a scholar with the Center for American Women and Politics.
"The historical diminishment of women based on their appearance is something men have not experienced to the same degree or in the same way," she says.
"He can try to compare one comment to another comment individually, out of context, but the historical context is women have been degraded to just what they look like for decades, centuries. So it does have a different connotation to women when you say, 'Look at your face.'"
Male politicians have suffered ridicule over their appearance as well. Take John Edwards' infamous $400 haircut and the video of him primping before an interview. More recently, shirtless photos of former Maryland governor Martin O'Malley gained a foothold on social media after he announced his presidential bid.
But there is research that suggests even mentioning a female politician's looks in the media - regardless of whether it is in a positive or a negative light - can hurt her campaign. One study, using fictional candidates, found that when potential voters read a news article containing a positive, negative or even neutral description of a female candidate, the respondents were less likely to want to vote for her. A similar effect was not found for the fictional male candidate.
"It has a detrimental effect on taking a woman candidate seriously," says Dittmar. "It raises different expectations and stereotypes."
However, Lawless says it's difficult to discern political lessons from these remarks - or even gain insight about Trump and his attitudes toward women.
"I'm not sure that if there was another candidate on the screen, that at that point in time had the potential to ultimately pose a threat to him in the next presidential debate, that he wouldn't say that about a man," she says.
In this, as in other things, she says, candidate Trump is rewriting the rules of modern elections.
"If there's one thing we've learned about him is no rules or trends apply."