How big will rugby players get?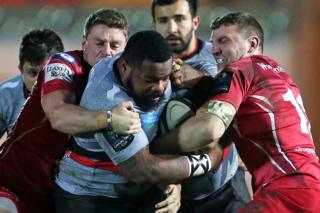 This year's Rugby World Cup has been billed by some as a kind of gladiatorial contest - rugby players have always been big, and in recent years they have been getting bigger. But has that growth now reached its limit?
It's a remarkable fact that in this tournament the Welsh backs - whose job it is to race fleet-footed down the pitch - have the potential to be heavier on average than New Zealand's forwards - the big men of the scrum - were in 1987.
The forwards in the New Zealand All Black side that walked out on to the pitch for the World Cup final in that inaugural tournament weighed on average 99.5kg a man (15st 9lb, 220lb). But if Mike Phillips, Jamie Roberts and George North all start for Wales, the average weight of the team's seven backs will be more than 100kg (15st 10lb, 221lb).
But is it true that modern international rugby players are getting bigger and bigger?
Data from the National Institute of Sport and Physical Education in France shows that between 1987 and 2011 the weight of rugby players did increase at each World Cup - but the size of the increase slowed as time went on.
So the average weight of a forward between 1987 and 1999 increased by 5kg (11lb), while the average weight of a back increased by 5.6kg (12lb).
However, between the 1999 and 2011 tournaments forwards gained 3.9kg (9lb) on average, and the backs only 2.9kg (6lb).
Experts point to two reasons for this slowdown.
One is that professionalisation causes a rapid increase in players' weight - partly because they have more time to train - and this process, which began in the 1990s, is now over in most rugby-playing nations.
The other is that the nature of the game is changing, and becoming faster.
Biggest forward in 2015 Rugby World Cup
Weight: 145kg / 22st 12lb

Height: 197cm / 6ft 6in

Position: Prop

Country: France
Getty
According to Dr Grant Trewartha, a Bath University bio-mechanics expert who specialises in rugby, the average weight of players in the top tier of international rugby has actually started to plateau.
"If you look at the data for the size of elite rugby players, say the ones playing in England, overall there has perhaps been at most an increase of 2kg in their average weight since 2002.
"At some point there has to be an upper limit to the useful size of a rugby player, in terms of their ability to actually play at the pace that the modern game demands."
The players in the 2015 England side that played Fiji in the opening game of this year's tournament were in fact on average 1.4kg (3lb) lighter than those in the England side that won the World Cup back in 2003.
According to Neil Back, a flanker on that winning side - and one of the smallest England players of his generation at 178cm (5ft 10in) and 93kg (14st 9lb, 205lb) - coaches came to realise that in order to be successful a team must have the ability to unlock a defence with skill rather than just brute force.
"I think the players now are physically as big as they need to be. The trend within the game is to focus in on how you attack the opposition with pace and skilful precision. If you're going to be the world's best side you have to be the most skilful side not just the most powerful."
Biggest back in 2015 World Cup
Weight: 125kg / 19st 10lb

Height: 194cm / 6ft 4in

Position: Centre

Country: Fiji
Getty
Data from sports statistics company Opta Sports underlines that players are now required to be able to run faster and for longer and generally to work harder.
For example, there were 94 tackles and 164 passes in the average World Cup game in 1991. But 20 years later the figures had roughly doubled. In 2011 there were an average of 197 tackles and 253 passes.
This increase in activity is widely considered to be the main reason why the size of elite rugby players is no longer increasing at its former rate - and may even have reached a plateau.
Restarts from the scrum and the lineout after the ball goes out of play have also substantially fallen meaning there a fewer breaks within a match for players to catch their breath.
Average number of events per World Cup game
1991
1995
1999
2003
2007
2011
Tackles
94.3
111.7
161.1
186.7
168
197
Kicks
66.1
66.3
63.7
60.9
64.7
51.8
Passes
164.3
192.6
223.6
258.6
194.8
252.9
Rucks
49.4
72.7
110.8
132.7
127.6
151
Scrums
27.9
23.4
22.2
21.9
21.8
16.5
Lineouts
35.3
37.5
30.5
33.4
31.3
23.6
Source: Opta Sports
"What is clear is that the increased work rate of rugby players on the pitch is making the game a better spectacle," says Nick Bentley from Opta Sports.
"The increase in passes and tackles underlines how the game is now more skilful but also how the game has become more competitive."
During the course of the 2015 tournament the world's biggest players such as Uini Atonio, Mathieu Bastareaud and Nemani Nadolo will no doubt attract a lot of attention.
But there are still some players who would fit in a phone box.
At the start of Back's career there was a debate about whether he was too small to play international rugby. But after winning 71 international caps, Back thinks he answered that question.
"For me, I believe that if you're good enough to play international rugby you're big enough."
England rugby players' weight
2003 World Cup team
Weight (kg)
Position
2015 World Cup team
Weight (kg)
Josh Lewsey
87
15
Mike Brown
89
Jason Robinson
84
14
Anthony Watson
93
Will Greenwood
101
13
Jonathan Joseph
91
Mike Tindall
101
12
Brad Barritt
96
Ben Cohen
103
11
Jonny May
92
Jonny Wilkinson
88
10
George Ford
84
Matt Dawson
90
9
Ben Youngs
88
Trevor Woodman
111
1
Joe Marler
110
Steve Thompson
115
2
Tom Youngs
104
Phil Vickery
120
3
Dan Cole
123
Martin Johnson
118
4
Geoff Parling
115
Ben Key
112
5
Courtney Lawes
109
Richard Hill
101
6
Tom Wood
104
Neil Back
93
7
Chris Robshaw
110
Lawrence Dallaglio
112
8
Ben Morgan
115
TOTAL
1536
TOTAL
1523
Average (mean)
102.4
Average (mean)
101
Source: ESPN Scrum
More or Less is broadcast on BBC Radio 4 and the World Service
Subscribe to the BBC News Magazine's email newsletter to get articles sent to your inbox.