Hygge: A heart-warming lesson from Denmark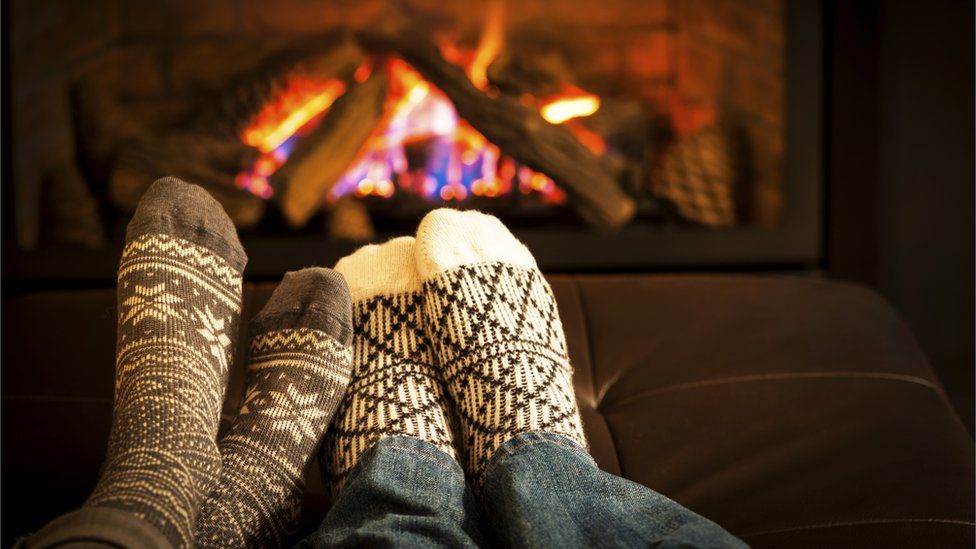 A UK college has started teaching students the Danish concept of hygge - said to make homes nicer and people happier. But what exactly is it and is it exportable?
Sitting by the fire on a cold night, wearing a woolly jumper, while drinking mulled wine and stroking a dog - probably surrounded by candles. That's definitely "hygge".
Eating home-made cinnamon pastries. Watching TV under a duvet. Tea served in a china set. Family get-togethers at Christmas. They're all hygge too.
The Danish word, pronounced "hoo-ga", is usually translated into English as "cosiness". But it's much more than that, say its aficionados - an entire attitude to life that helps Denmark to vie with Switzerland and Iceland to be the world's happiest country.
Morley College, in central London, is teaching students how to achieve hygge as part of its Danish language course. "We have long, cold winters in Denmark," says lecturer Susanne Nilsson. "That influences things. Hygge doesn't have to be a winter-only thing, but the weather isn't that good for much of the year."
With up to 17 hours of darkness per day in the depths of winter, and average temperatures hovering around 0C, people spend more time indoors as a result, says Nilsson, meaning there's greater focus on home entertaining.
"Hygge could be families and friends getting together for a meal, with the lighting dimmed, or it could be time spent on your own reading a good book," she says. "It works best when there's not too large an empty space around the person or people." The idea is to relax and feel as at-home as possible, forgetting life's worries.
The recent growth in Scandinavian-themed restaurants, cafes and bars in the UK is helping to export hygge, she adds, with their intimate settings, lack of uniformity in decor and concentration on comforting food. Most customers won't have heard of the term, but they might get a sense of it.
In the US, the wallpaper and fabric firm Hygge West explicitly aims to channel the concept through its cheery designs, as does a Los Angeles bakery, called Hygge, which sells traditional Danish pastries and treats.
"The rest of the world seems to be slowly waking up to what Danes have been wise to for generations - that having a relaxed, cosy time with friends and family, often with coffee, cake or beer, can be good for the soul," says Helen Russell, author of The Year of Living Danishly: Uncovering the Secrets of the World's Happiest Country. "Hygge seems to me to be about being kind to yourself - indulging, having a nice time, not punishing or denying yourself anything. All very useful come January when in the UK everyone's on diets or manically exercising or abstaining from alcohol.
"There isn't so much enforced deprivation in Denmark. Instead you're kinder to yourselves and so each other. Danes don't binge then purge - there's not much yo-yo dieting in Denmark. No wonder they're happier than we are in the UK."
The adjectival form of hygge is "hyggeligt", a word offered as a compliment to a host after a pleasant evening at their home.
"Hygge isn't just a middle-class thing. Absolutely everyone's at it from my dustbin man to the mayor," says Russell. "Hygge is so crucial to living Danishly that the other day on the motorway, I saw a camper van driving along with lit candles in the windows. This is probably illegal but Vikings don't tend to be too hung up on health and safety.
"My most hygge experience to date was probably watching the sun set from a hot tub in a blizzard in January, beer in hand. But it needn't be anything quite so dramatic. I generally light a candle at my home office desk while I'm working."
There's increased discussion of hygge in the UK. "I think I first saw the word in Trine Hahnemann's book Scandinavian Christmas, and it immediately made sense to me," says Kayleigh Tanner, author of the Hello Hygge blog. "It's a pretty hard thing to describe because it's so abstract, but I think it resonates with a lot of people.
Term comes from a Norwegian word meaning "wellbeing"
First appeared in Danish writing in the 19th Century and has since evolved into the cultural idea known in Denmark today
"It's interesting that the word doesn't really translate into other languages. Hygge isn't restricted to Denmark, so why is it so hard to describe without borrowing a Danish word?"
It sounds a bit like the English word "hug", for which the Oxford English Dictionary lists no origins. The 19th/early 20th Century philologist Walter William Skeat thought it might be of Scandinavian origin. Notionally the effect of hygge and a hug is similar - comforting and secure. An obsolete meaning of hug is "to cherish oneself; to keep or make oneself snug", according to the OED.
"Sometimes you see or do things that you would call 'hyggeligt' in the UK but you wouldn't use that word to describe them because people wouldn't know what you're talking about," says Nilsson.
Some older Danes feel that hygge isn't what it used to be, as the stress on socialising has lessened. It's now generally considered hyggeligt to watch TV alone or watching a DVD set, perhaps while eating crisps.
Hygge was never meant to be translated - it was meant to be felt
Thinkstock
Other countries and cultures have similar expressions. In German there's Gemutlichkeit, a sense of wellbeing based on good food, company and perhaps a drink. But Danes insist hygge is unique.
The blogger Anna Lea West, has offered "cosiness of the soul" as an English definition. "Hygge was never meant to be translated. It was meant to be felt," translator ToveMaren Stakkestad has written. Maybe the only way to understand this slippery cultural idea is to visit Denmark, rather than read about it.
"It's an idea so rooted in the Danish sense of togetherness, and perhaps even in Denmark's social democracy, that a Brit might struggle to grasp its historic and social significance," says Patrick Kingsley, author of the travel book How To Be Danish.
"But that said, in essence hygge is about a group of slightly gloomy friends huddling under the duvet on a cold winter's night. And there is little more British than that."
The UK has a reputation for poor work-life balance and days full of hurry and worry. Is Denmark an example to follow?