Why Warhol painted Barbie
By Hannah Moore
BBC News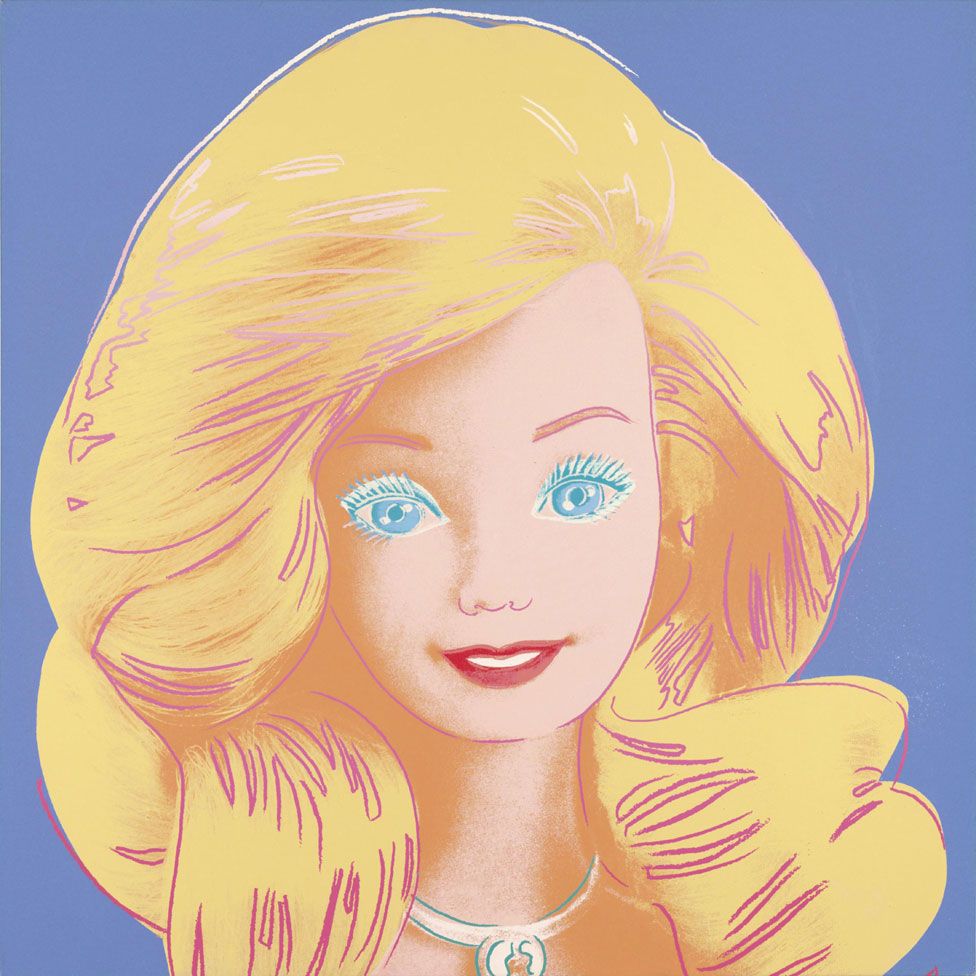 The pop artist Andy Warhol made his name creating images of iconic American names and brands, from Elvis to Jackie Kennedy, Marilyn Monroe to Micky Mouse - not to mention soup cans, Coke bottles and dollar bills. The last of these works, painted in the year before he died, was a portrait of his muse, a 23-year-old jewellery designer called BillyBoy* - in the form of a Barbie doll.
Not many people would have turned down the chance to have their portrait done by Andy Warhol, but BillyBoy* categorically refused.
"For many, many, many years he wanted to do a painting of me. And for some reason I didn't appreciate that idea," Billy explains.
"I felt it was futile. It would really get on my nerves that he just insisted and insisted on doing this painting, and sometimes we would argue about it."
Warhol had met Billy as a teenager in New York in the 1970s. The pair would be found at the fanciest bars in the city, or on shopping trips where Billy would choose stylish outfits for the artist. In his diaries, Warhol, commends the young designer for his "good eye" and his skill in picking out "the good stuff".
And it was on one of these shopping trips, to the 23rd Street Flea Market in Manhattan, that Billy finally relented to Warhol's demands for a portrait - in a way.
"Out of annoyance I said to him, 'Well if you really want to do my portrait, do a portrait of Barbie because Barbie, c'est moi.
"He took it literally. He took a Barbie that I had given him and turned it into a portrait and called it 'Portrait of BillyBoy*'."
By the mid-1980s BillyBoy* was synonymous with Barbie. He owned tens of thousands of the dolls.
A 1984 project had seen his collection dressed by the most famous fashion designers of the day, including Yves Saint Laurent, Christian Dior and Kenzo. A major exhibition of the dolls followed - installed in a TGV train, it toured France and stopped in all major cities, drawing thousands of visitors.
Then, BillyBoy* designed two Barbie dolls for Mattel - Le Nouveau Theatre De La Mode and Feelin' Groovy Barbie. He was the first designer to have his name written on her box.
"If you speak to most collectors today who are middle-aged, they'll all say they started collecting Barbie in the late 1980s and early 1990s, and that comes directly from my influence," says BillyBoy*.
Warhol's 1986 painting, Barbie, Portrait of BillyBoy* shows Barbie with blonde hair and bright blue eyes, against a powder blue background, which Warhol dubbed "Billy Boy blue". A later version of the same painting, simply titled Barbie, switches the blue for red.
Barbie in art and fashion
Barbie went on to be depicted by artists such as Kenny Scharf and David Levinthal, and she remains an inspiration to fashion designers
Jeremy Scott based his 2015 spring and summer collection for Moschino on the glamorous doll, sending models down the catwalk in plastic crop tops and dresses with long bleach-blonde wigs
Shoe designer Sophia Webster has just collaborated with Mattel on a range of hot pink heels and trainers emblazoned with the doll's iconic logo
BillyBoy* kept the portrait until last year, when it was sold at Christie's for £722,500 ($1,161,780), more than double its estimate. He stopped collecting Barbies a long time ago.
"I think Barbie is no longer touching on the zeitgeist of the moment," he says.
"If I had a daughter I would not give her Barbie dolls. I wouldn't want my child to be constantly obsessed with getting something, and that immense preoccupation with high-heeled shoes and clothes."
Rather than dressing and undressing dolls, he thinks it makes more sense for children today to spend their time making videos.
Warhol once famously declared: "I love LA. I love Hollywood. Everybody's plastic, but I love plastic. I want to be plastic."
To him and others, Barbie is the perfect symbol of glamour, fun, superficiality and consumerism. A plastic face to represent not just his friend BillyBoy*, but something deeper about Western culture.
* BillyBoy* spells his name with an asterisk
Related Internet Links
The BBC is not responsible for the content of external sites.