How hospices care for the dying
The UK has been named as the best country in the world at providing end-of-life care. Much of this work is done by hospices. How do they bring comfort to patients and their families?
"I once looked after a patient for about a year by text messaging him," says Ros Taylor. "The man was a husband and father and he and his family didn't want people visiting. They wanted their privacy."
It's not a statement you'd expect from a former manager of a hospice. The general impression is of an institution taking in patients with terminal conditions, such as inoperable cancer or heart disease, who die soon afterwards. This can scare those affected and their families - who get a troubling sensation that, once you enter, you won't be coming out.
But around half the patients who use the UK's more than 200 hospices are discharged and given help to cope with their condition at home. They receive longer-term medical help and counselling, while staff help to prepare families for bereavement.
"A lot of people are really fearful of hospices, thinking that their visit is their last, when, in actual fact, it can make them feel better," says Taylor, who now works as director of the charity Hospice UK.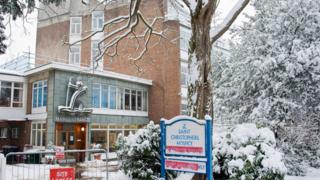 It's currently Hospice Care Week and the Economist Intelligence Unit has named UK end-of-life care the best in the world. About 30% of people dying the UK receive help at some stage from hospices, with about one in 10 people dying in one of the beds they provide. Many of the remaining patients die at home.
As well as end-of-life care, hospices provide palliative care, controlling symptoms such as pain or breathlessness early on in an illness, and respite care - admitting the patient for a period so that relatives get a break from looking after them. They offer work-shadowing experience to NHS doctors and nurses.
"Patients say some really positive things to me," says Diane Laverty, a nursing consultant specialising in palliative and respite care at St Joseph's Hospice in Hackney, east London. "We try to let people know what their options really are and how they can improve the quality of life. That can be life-changing for them."
Laverty, who worked as an NHS nurse for 18 years before starting at St Joseph's, adds: "We're in a privileged position here because we get more time with patients than staff in hospitals do. Some of them are with us, using our various services, for up to four years or so. We try to make the whole thing as seamless as possible."
Before the NHS's foundation in 1948, most people in the UK died at home, tended by their families. This changed with free health care for all, but Cicely Saunders, a Christian doctor looking after patients with terminal illnesses, thought the system wasn't doing enough to make their last days as pleasant as possible. In particular she rejected the system of offering painkillers on demand - in other words, only when a patient was in agony - in favour of a regular, preventative supply.
Saunders, widely regarded as the founder of the modern UK hospice movement, campaigned to set up an institution dedicated entirely to helping those with terminal conditions. St Christopher's Hospice opened in Sydenham, south-east London, in 1967. It had 54 patients, a residential wing for older people and a bereavement service. Within two years St Christopher's started providing home care teams for people with terminal conditions living in the area.
---
Cicely Saunders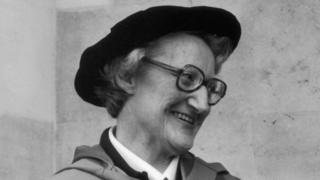 Born in 1918, she studied philosophy, politics and economics at Oxford University, but abandoned the course to become a student nurse
After having to quit nursing because of a bad back, she retrained as a social worker, volunteering as a church worker in London's Archway Hospital
While there, she met dying Polish emigre David Tasma, where they discussed the idea of setting up a home for the terminally ill
Saunders then trained as a doctor, specialising in pain management
She raised enough to set up St Christopher's hospice and was made a dame in 1980
---
The word hospice was first used in 19th-century France to describe a place specifically for the dying. During the Middle Ages religious orders had employed the term - from the Latin "hospitium", meaning a lodging or inn - for shelters they established at important crossroads on the way to religious shrines. Many pilgrims travelled with chronic and fatal illnesses, often dying en route.
After Saunders' pioneering work, UK hospices began to be founded as independent institutions with a Christian ethos. They are now secular and open to all, although many, such as St Christopher's, Newcastle's St Oswald's, Birmingham's St Mary's, Greater Manchester's St Ann's and Newport's St David's, retain their original names.
The NHS provides 32% of total funding for adult hospices, although this varies by health authority. The rest comes from charitable donations. "The things that make the most difference to people aren't expensive," says Taylor. "You could do something like take your time when you are taking a blood test so it's not carried out in a brusque way. Or maybe it's discussing the risks and benefits of treatment. It's very patient-focused."
Around 125,000 people volunteer at UK hospices each year, many running shops and tea rooms or talking to patients. Marylyn Johnson has helped out at St Richard's, in Worcestershire for 15 years. Her tasks have included walking a patient's dog while he was incapacitated. "I would regularly pop in for tea and a chat and we became friends," she says.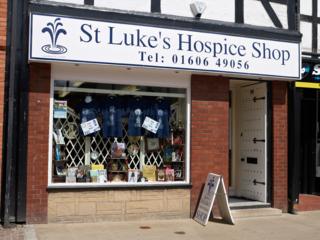 Saunders believed in what she called "holistic" treatment for those with terminal conditions - all services coming via the same hospice. There are home visits, while phone calls and social media allow patients to stay in touch.
Hospice buildings are designed to be as uninstitutional as possible, architects concentrating in particular on peaceful gardens. St Richard's chief executive, Mark Jackson, emphasises the "therapeutic" nature of the main building, most of its inpatient rooms looking out over a pond.
But the basic task of hospices is not a pleasant or easy one. This is particularly the case where children are the people dealing with life-limiting illnesses. The charity Together for Short Lives says 49,000 have health life-threatening or life-limiting conditions. Fifty-three specialist children's hospices services around the UK provide palliative care and, when death is judged to be imminent, end-of-life care.
But the majority of people using hospice services are elderly, the demand set to grow as the UK's population ages. "I'd expect our services to become even more in-demand over the next few years," says Jackson.
Cicely Saunders was made a dame in 1980. In 2001 she was awarded the Conrad N Hilton Humanitarian Prize, worth £700,000, for her life's work caring for the dying.
Dame Cicely died in 2005, at the age of 87 - in St Christopher's.
Below is a selection of your comments.
"My partner died within 24 hours of being admitted to the John Taylor Hospice in Birmingham. I honestly believe he died because he finally felt he could "let go". I was there as he died and, it sounds mad, but it was an incredibly uplifting experience. I can't thank them all enough for what they did."
Jackie Staniforth, Sheffield, UK
"My elderly mother was transferred to the North London hospice from hospital in August as she was suffering from an acute circulatory disorder for which there was no treatment possible, apart from palliative care, owing to her great age and frailty. She was there for only a short time before she passed away but I am so glad that we decided to make the transfer as the care and compassion she received from the doctors and nurses were second to none. She died peacefully and free from pain. I cannot thank the staff enough."
Nichola Vincent, Brussels, Belgium
"My late wife had terminal secondary cancers following initially successful chemotherapy and operation for ovarian cancer stage 4b. Palliative care was the only option and for six weeks before her death she was cared for and treated at Rotherham Hospice in the most wonderful, caring and understanding manner. Her dignity was preserved to the end and her pain-management was undertaken with expertise and great patience.My family and I cannot thank the doctors and staff at the Hospice enough for their part in my wife's last weeks being so comfortable, peaceful and pain free."
John Beaven, Rotherham, UK
"Oakhaven Hospice in Lymington, Hampshire sent a private ambulance to collect my husband and cared for him amazingly until he died and me too. I will always owe everything to this hospice, they saved my husband and me and allowed him to die in a loving and safe environment and supported me throughout and gave me counselling afterwards."
Jeanette Chapman, Southampton, UK
Subscribe to the BBC News Magazine's email newsletter to get articles sent to your inbox.