Plugging genealogy's 30-year gap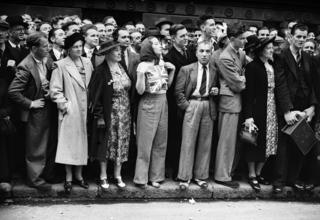 The findings of a one-off survey of the public from 1939 are about to be released, allowing genealogists to fill a 30-year gap in census records. What will it reveal of a country just beginning to fight a war?
The war with Germany had just started and officials had little time to lose in preparing for the fighting and privations to come. So on 29 September 1939, just 26 days after hostilities had been declared, a survey nicknamed the UK's only "instant census" took place.
The findings enabled the issuing of identity cards and ration cards. The register applied to all civilians.
It had been eight years since the last proper census, in 1931, and the next wasn't due until 1941.
The details requested were:
Membership of naval, military or air force reserves, auxiliary forces or civil defence services or reserves
Now individual returns in England and Wales from the register are being digitised and are expected to be released next month.
They are highly valuable to genealogists because all information in the 1931 census relating to England and Wales was destroyed by a fire at an Office of Works store at Hayes, Middlesex, in 1942. Investigators suspected that a dropped cigarette was the cause, but this was never proved. All safeguards in place, including a sprinkler system, failed, meaning nothing whatsoever remains.
And in 1941 the government did not carry out a census because it was too impractical and labour-intensive with the war much intensified by then. This means genealogists in England and Wales face an information gap of 30 years from 1921 to 1951.
"Any census return is a valuable record of who we were and where we came from," says historian Ellen Leslie. "It describes the household dynamic and how people related to each other. Our knowledge of our ancestors would be so much poorer without these amazing documents.
"The 1939 National Register is particularly poignant because it reveals to us a nation set to be irrevocably changed by six years of conflict."
Censuses have been carried out since 1801 and have recorded the names of all people in households since 1841.
"They are the most democratic documents," says Else Churchill, of the Society of Genealogists. "They tell a lot of stories which allow us to piece together the past, so the publication of the register is important. I was a genealogist for about 20 years before I found out my grandparents had divorced. So I want to find out where they were living in 1939. It's exciting for me."
---
How ID cards came and went
National Register of ID cards was introduced during World War Two
The scheme was scrapped in 1952 by Winston Churchill's government - during peacetime, they were thought to be hindering the work of the police, because so many people resented being asked to produce a card to prove their identity
The National Register became the NHS register
Source: BBC News
---
Like a census, the address given for the register shows only where a person was staying on that night. If they were in hospital, away on holiday or business, or having an affair, the detail given might be different. But the register won't necessarily give a true glimpse into everyone's personal lives because officials took responses at face value, rather than double-checking them.
In addition, not everyone's details will be released. Those who featured in the 1939 register but who are younger than 100 today will have entries relating to them redacted. This applies unless it's proved that they have died, by researchers cross-referring with births, deaths and marriages data.
Centenarians, of whom there were an estimated 14,450 last year, will have no such protection.
"It's going to be a bit of a culture shock for experienced genealogists, who are used to seeing whole census documents, when dealing with the register," says Churchill. "They might feel they've missed something. But the release of the register is going, in some way, to help answer this 20th Century problem of missing two censuses."
The register was of vital importance to the government in 1939. It rushed through a National Registration Bill, passed into law on 5 September, two days after the UK entered the war.
Sir Sylvanus Vivian, registrar-general for England and Wales, appeared on radio on the evening of 29 September to remind people to fill in forms.
Some 65,000 officials handed forms to householders in the run-up to that date and collected them afterwards. They checked forms and issued a completed identity card for each resident.
The onus was on families to let the authorities know of any subsequent movements, or face possible hunger. "The ration books may not be posted for some weeks," the Times reported. "If you move before receiving a ration book you cannot expect it to follow you about."
The register, in the absence of more up-to-date census material, formed the basis of the records the National Health Service used when it was founded in 1948. As a result, the NHS Information Centre holds the records today. Genealogist Guy Etchells challenged its refusal to release the information and in late 2009 received a ruling in his favour from the Information Commissioner.
Find My Past, in association with the National Archives, is digitising the information, consisting of 40 million entries across 7,000 volumes.
---
Where and when can I read a UK census?
The current policy is that there has to be a 100-year gap before any individual's census details can be released
Some previous censuses have been released early - including details from the 1911 census, published in 2009 - after 98 years
The Office for National Statistics is due to release the next census - that of 1921, in January 2022
---
The current policy is that any census returns carried out after 1920 cannot be released for 100 years. The next, from 1921, is due out in January 2022. After that, the next instalment will be in 2052.
"There's been something of a golden age of genealogy for the last 15 years, where we've had digitised full censuses available," Churchill says. She worries that confidentiality and privacy concerns mean that documents other than censuses might be harder to digitise in future.
"In the future, old Facebook pages may be the only decent source less than 100 years old that we have to look back on to find out about the lives of relatives," she says. "For instance, if we are curious about a great aunt, such as why she posted so many pictures of her cats, this might be where we'd go. It's not official, but it might be fun."
There are no plans to release widely the details of the 1939 register in Scotland and Northern Ireland.
---
More from the Magazine
In 1911, a new expanded census form was evidence of a government's thirst for knowledge in their efforts to help a population stricken by poverty, bad nutrition and high infant mortality. How has the form changed?
---
Subscribe to the BBC News Magazine's email newsletter to get articles sent to your inbox.