Must China's leader wear a bow tie to the Queen's banquet?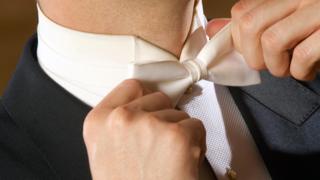 When Chinese President Xi Jinping attends a state banquet at Buckingham Palace he is unlikely to wear a white tie and tails, or to bow to the Queen. Why is this?
On this kind of occasion, Buckingham Palace advises guests to wear evening dress - white tie with military decorations if you have them, full ceremonial evening dress for serving officers or national dress.
But it's keen to stress that this is not obligatory - simply guidance for guests to interpret how they wish. No strict dress code is enforced.
And while some heads of state, such as US President Barack Obama, have appeared smiling in a bow tie and tails next to the Queen, others have shied away from wearing something they see as "too pompous and colonial-looking", according to Prof Kerry Brown, director of the Lau China Institute at King's College London.
He's never seen Xi Jinping - or any other modern Chinese leader - wear a dinner jacket and bow tie on a state visit to another country. "In America last month he went to the state banquet at the White House in a Sun Yat-sen suit… so I imagine that's a decent compromise because it's kind of a national costume."
Xi would want to emphasise China's distinctiveness, he says, rather than appear to be slavishly copying the West.
"Seeing him wear a white tie would make it seem like he was some captain of industry and they're not, they're the leaders of the Communist Party of China who believe in Marxism, Leninism, and therefore it would be pretty toxic having photos of him all decked out in a bow tie looking like some sort of leader of a super-capitalistic company."
As for bowing at a meeting with the Queen, Buckingham Palace says, once again, there are no hard and fast rules.
"There are no obligatory codes of behaviour - just courtesy," says the royal website, detailing the traditional forms of greeting. "For men this is a neck bow (from the head only) whilst women do a small curtsy. Other people prefer simply to shake hands in the usual way."
But Xi Jinping won't want to look subservient, says Brown, it wouldn't go down well in China, so a bow is unlikely.
A Briton, Lord Macartney, faced a similar dilemma when he led Britain's first real trade mission to China in 1793.
"They spent days squabbling about whether Lord Macartney would kowtow to the emperor and he refused to. So I think this taps into this weird reciprocity between the UK and China, where we're both sticklers for face… we're two quite pompous nations in a way," says Brown.
Two-hundred years ago, a compromise was found - according to the Encyclopaedia Britannica, Lord Macartney went down on one knee, as he would before the British ruler, rather than kneeling and touching his forehead on the ground at the emperor's feet.
As for Xi Jinping, says Brown, "He might politely tip his head."
Subscribe to the BBC News Magazine's email newsletter to get articles sent to your inbox.