How tall is Xi Jinping?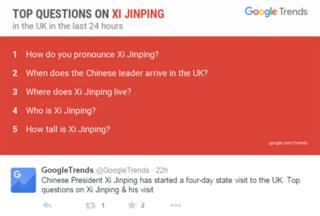 One of the top questions typed into Google in the UK at the start of Chinese President Xi Jinping's state visit was: "How tall is Xi Jinping?" He seems to be quite tall, compared with some of his predecessors. But can we be more precise?
The Wikipedia entry on Xi Jinping says he is 180cm (5ft 11in) tall, but the source cited is an April Fool's joke from 2011, headlined "The 'rise of China' takes on new meaning", so we can't take it at face value.
The most accurate way to establish Xi Jinping's height would be to measure him, but given his busy schedule over the next few days this is unlikely to be possible - we have even failed to get through to the Chinese embassy's press department. So we are going to try a different approach - studying the photographic evidence.
There is plenty of this, as statesmen tend to be photographed a lot with other statesmen.
For example, we can see that UK Prime Minister David Cameron is about the same height as President Barack Obama - about 185cm or 6ft 1in.
From the many photos of them together we can also see that Xi Jinping is shorter than Barack Obama, although it is difficult to be sure how much.
So, we need a statesman who is the same height as Xi. Former Australian Prime Minister Tony Abbott seems to fit the bill.
So how tall is Tony Abbott? Wikipedia says he too is 180cm (5ft 11in) but can we trust it? Fortunately the recently toppled prime minister is keen on sport, and has often been photographed with sportsmen, whose heights are generally well known.
Here is Tony Abbott with the England cricket squad during the Ashes series in Australia in January 2014.
He is shorter than England captain Alastair Cook (188cm or 6ft 2in) to his left, but looks about the same height as Ian Bell, to his right. Ian Bell, we know, is 178cm (5ft 10in) tall.
Clearly this is not an exact science. The angle of the photographs and the thickness of their heels are factors it is hard to control for. But on the face of it, Xi Jinping is about the same height as Tony Abbott, who is about the same height as Ian Bell. So he too is, very roughly, 178cm (5ft 10in) tall.
One other clue is that Xi is often said to be the tallest Chinese leader since Mao. So how tall was Chairman Mao? Well, he was a bit shorter than Richard Nixon...
More from the Magazine
The syllable xi is always pronounced shee (-sh as in ship, -ee as in meet), whether in Xí Jìnpíng or móxī (the Chinese name for Moses).
Xi Jinping: SHEE jin PING (-sh as in ship, -j as in Jack, -i as in sit, -ng as in sing)
How do you pronounce Xi Jinping?
Subscribe to the BBC News Magazine's email newsletter to get articles sent to your inbox.