Five numbers that sum up China's one-child policy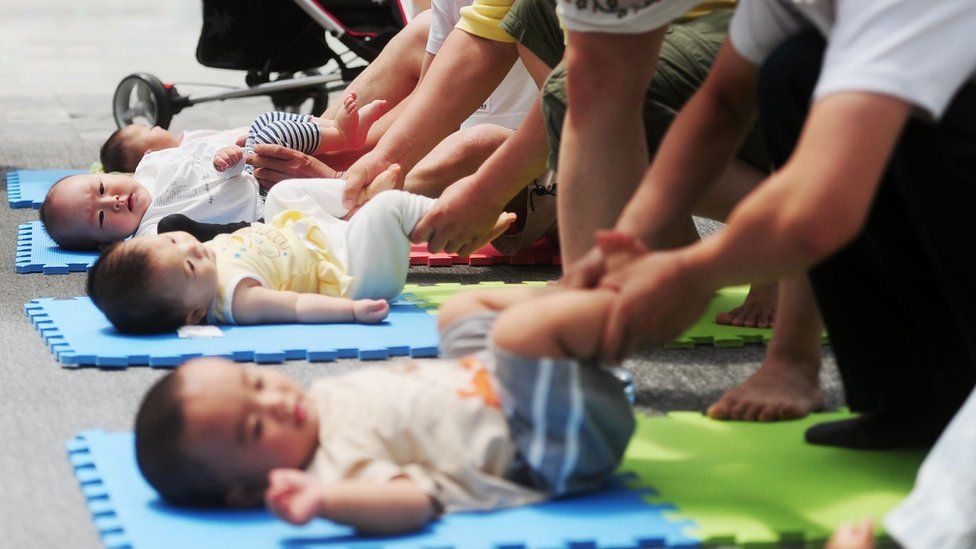 China has announced it's abolishing its one-child policy, which was introduced to limit the birth rate, amid concerns that the country's population is ageing too quickly. What difference has it made, statistically speaking?
400 million births prevented
China's government says the one-child policy, officially in place since 1979, has prevented 400 million births. Parents have faced fines and other punishments for having more children.
It's "highly unlikely" that the policy had such a significant impact, though, says Stuart Gietel-Basten, associate professor in social policy at Oxford University. He argues that the majority of the decrease in China's fertility rate happened in the 1970s. It dropped from 5.8 children per woman in 1970 to 2.7 in 1978. Despite the one-child policy the rate had only fallen to 1.7 by 2013.
By 2007, China claimed that only 36% of its citizens were limited to having one child. This was partly due to a relaxation in the rules, stating couples could have two children if they had both been only-children themselves.
"The 400 million figure is based on the assumption that if the one-child policy hadn't come in, the fertility rate would have stayed the same," says Gietel-Basten. This would have been unique to China among countries experiencing similar industrial and economic developments in that period, he adds.
For South Korea and Singapore the fertility rate in 2013 was 1.2 and in Japan, 1.4. It was three in the Philippines and 2.3 in Indonesia.
Another expert, Cai Yong of the University of North Carolina, has suggested the one-child policy may have caused anxiety, prompting people to have children younger, which could increase the likelihood of having a second.
21:28 - infant deaths ratio
The one-child policy has been blamed for more families killing their daughters, who are traditionally seen as less able to get well-paid jobs than sons.
Since the one-child policy was introduced, infant girls have become more likely to die than boys.
In the 1970s, according to the United Nations, 60 males per 1,000 live births died under the age of one. For girls the figure was 53. In the 1980s, after the one-child policy became official, the rate for both was 36.
By the 1990s, 26 males per 1,000 live births died before the age of one - and 33 girls. The 2000s saw 21 boys per 1,000 live births dying and 28 girls.
Of course, infant mortality figures cover all reasons for death, including accidents and illness, but the change is notable. It would be a "fair inference" to suggest that infanticide has had a role in this, says Jonathan Cave, an economist at Warwick University.
Actual infanticide, the purposeful causing of a child's death, is rare, though, says Gietel-Basten, but some families, faced with limited resources, may have chosen to prioritise boys in terms of healthcare and nurturing. Couples in rural areas were permitted to have a second child if the first was a girl - this was partly an effort to reduce neglect and infanticide, says Cave.
1.16 boys born for every girl
For each girl born in China there are 1.16 boys, according to the official Xinhua news agency. The CIA World Factbook states that only Liechtenstein has a higher ratio, of 1.26 boys born for every girl.
Sexually selective abortions have been cited as a major cause of China's unusual imbalance.
But Gietel-Basten says the data for China is "poor", and the births of many girls are not registered if parents have broken the rule by having two children. When it comes to school age, the number of boys and girls enrolling tends to become more equal, he adds, saying officials often turn a blind eye.
"I'm sure the one-child policy has had a marked impact in some areas in terms of the balance between boys and girls," says Gietel-Basten. "But overall it has probably been relatively modest. In places where you would expect it to have the highest impact - poor, rural areas - it hasn't. In fact, in some of these places the rule was reformed as early as 1984 to allow people to have two children."
But it's estimated there are now 33 million more men than women in China.
With the ageing of China's population and the continuation of the one-child policy, a "4:2:1" home is the description given to households in which there are four grandparents, cared for by two working-age parents, who themselves have one child.
This is said to place a large burden on the parents, particularly the mother, in a society where families tend to look after their elderly relatives and social services are far from comprehensive.
By 2050, it's predicted that a quarter of China's population will be 65 or older. It was 9.7% in 2013, according to the data company Statista. The predicted decline in the number of people of working age is thought to have persuaded the Communist Party to drop the one-child policy.
China's government has collected two trillion yuan ($315bn, £206bn) - in extra-child fines since 1980, the Economist suggests.
The highest single penalty is believed to be 7.5m yuan ($1.2m, £772,000). Filmmaker Zhang Yimou and his wife were hit with this punishment last year for having a third child.
"It represents a monetising of the reproductive urge," says Cave.
To prevent the rich having children and simply paying what would, to them, be an affordable fine, the amounts charged varied according to income. In future, fines will only apply to those having more than two children.