The rise and rise of pumpkin spice everything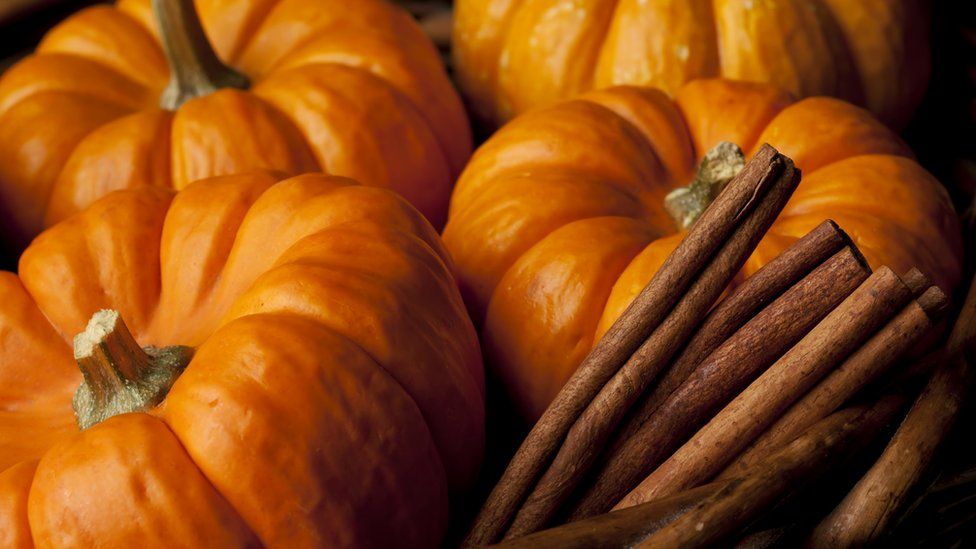 The US is awash with pumpkin spice everything during Halloween. But when did this craze start and is it is here to stay?
It's hard to escape America's love affair with Halloween, with pumpkins proudly paraded in windows, homes covered in spider webs, and ghoulish fancy dress outfits and grisly confectionery on sale in shops.
But the last few years has also seen an explosion of pumpkin-spice products.
There are pumpkin donuts, bagels, muffins and hamburgers and chips. Pumpkin-spice beers and liqueurs are beverage options. Pumpkin-spice yogurts, salty snacks, almonds and cheese are on offer.
More bizarre pumpkin products - such as dog treats and toothpaste - are also available.
The US pumpkin-spice trend is bigger than ever, according to Nielson. It says sales of pumpkin products have grown by 79% since 2011, totalling $361m (£233m) in the year ending 25 July, compared with $201m (£130m) five years ago.
And nearly 40% of consumers purchased a pumpkin-flavoured item last year.
Commentators have made fun of American's commercialisation of pumpkins.
"Enough with the Pumpkin Spice, America. It's getting embarrassing," the Washington Post's Karen Attiah wrote earlier this month. "This is what happened when I lived off pumpkin spice for a day," said the New York Post's Reed Tucker, alongside a picture of a pumpkin being sick.
Pumpkin spice also divides Americans, with many dismissing those that buy into the craze as "basic".
But the pumpkin-spice paraphernalia shows no sign of abating.
Nostalgia, clever marketing, media coverage and hype by companies such as Starbucks, Dunkin Donuts and Hallmark led to people believing they like this spice mix, according to Kantha Shelke, a food scientist and spokesperson for the Institute of Food Technologists.
"Pumpkin is not a favourite food. Children and many adults often avoid pumpkin as they do rutabagas and some root vegetables," she says.
"But many of us believe we should be happier (and nicer and more giving) during the holidays and pumpkin-spice products are just one of those things - like juniper and pine and wood burning stoves and fireplaces - that can change our frame of mind."
Starbucks is frequently credited with skyrocketing the trend with its pumpkin spice latte back in 2003.
The company only added "real" pumpkin to its pumpkin spice latte earlier this year. Even now, it contains 2% or less of fruit and vegetable juice, according to its website.
"What coffee connoisseur wants a shot of pumpkin puree in their coffee? Pumpkin puree is largely water, with some fibre and very little taste, which comes from the way it is cooked - boiled, broiled, roasted, etc - and with what else it is cooked - butter, sugar, cream, marshmallows, spices, etc," Shelke says.
Pumpkin spice mix is made of cinnamon, cloves, dried ginger and sometimes nutmeg and other spices.
The flavour of pumpkin spice isn't pumpkin, or the spices added to typical baked pumpkin dishes or beverages, but due to the combined effect of the spices when baked or brewed, according to Shelke.
Food historian Dr Megan Elias says Americans have used spicing that comes from Medieval European culinary traditions to add flavour to pumpkins for years.
"Most people couldn't afford those spices regularly till the 20th century, so spiced pies and cakes were holiday fare. Pumpkin is a late fall crop, so it ends up at Thanksgiving. The trend is very new but the spicing combination is very old," she says.
Mace was usually included in the spices, she adds, citing a recipe from Amelia Simmons' 1798 cookbook, which is often considered America's first cookbook.
So it could be argued that it's odd that it has taken so long for pumpkin-spice products to become so widespread.
The hottest sellers on the pumpkin market are more established products, such as pie filling ($134m / £86m in sales last year), pumpkin cream ($47m / £30m) and pumpkin coffee ($32m / £20m), according to Nielson.
But pumpkin dog food sales fetched $12m (£7.7m), and milk $5m (£3.2m).
The proliferation of pumpkin spice hasn't done much for actual pumpkins, however. Fresh pumpkin sales dropped in 2011, 2013 and 2014, Nielson says.
Elisa says history suggests pumpkin-spice products are here to stay - and might become available all year.
"Hazelnut coffee and 'French vanilla' creamer both became ordinary. Another flavour that had a sudden surge is pineapple in the 1950s, but that was the fresh fruit, not synthetic. Also bubblegum flavour in the 1980s," she says.
Shelke cites pomegranate as another flavour that suddenly surged in popularity but has now become mainstream.
At one point, demand was so high in the US that producers and developers had to be warned not to create new pomegranate-flavoured products for a while, she says.
But pumpkin spice fans and their pups don't need to panic.
"Flavour companies use minuscule amounts of flavour compounds in pumpkin spice flavouring and such a shortage is unlikely," she says.