The towns transformed by budget airlines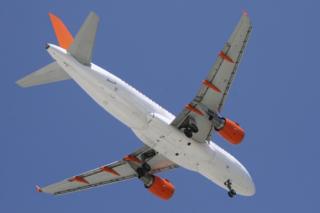 It's 20 years since Easyjet's first flight. In that time the aviation industry has changed almost beyond recognition, taking tourists to towns previously untouched by holidaymakers.
"People say it's like landing on the moon," says Steinthor Jonsson.
As planes approach Iceland's Keflavik Airport they fly over dark, volcanic rock, sparsely covered in grass and edged by the frothing Atlantic Ocean. Bristol, Stansted, Edinburgh, Luton, Gatwick and Belfast feel far more than three hours or so away.
The airport, its main building featuring a large glass wall, has handled more than four million passengers already this year - more than 12 times the size of the island's population.
But has Keflavik itself benefited from the boom, or does its airport feel more like an Icelandic Luton (the UK airport strongly associated with budget air travel), existing mainly to transport visitors to the capital Reykjavik, 52km (33 miles) away?
Steinthor, who owns the Hotel Keflavik, remembers the town - whose population has grown from 10,500 to 14,800 in 15 years - being very different. It was a "dirty" little place where the main industry was fishing, he says. The only planes that came were visiting a US airbase, strategically important during the Cold War.
"When we opened the hotel in 1986, there was nothing in Keflavik at all, so we were considered a little bit strange to do that," says Steinthor. "We had no Blue Lagoon, no museums, nothing that we have now. Everything has changed. It is completely different."
By 2005, only two carriers operated all year round. Now nine do so, including Easyjet, which started flights in March 2012. The number of passengers at Keflavik dwarfs that in Reykjavik's domestic airport, which had fewer than 300,000 passengers last year.
The arrival of nearly one million tourists in the country last year, around a fifth of those from the UK, has created jobs as hotels and restaurants spring up, according to Bjorn Jonasson , director of the company which runs the Viking World museum in the nearby seaside town of Reykjanesbaer. He says visitor numbers have quadrupled in recent years, with UK schoolchildren a growing demographic. He hopes it will attract 40,000 people by 2017.
"What budget airlines and Easyjet in particular have added is winter tourism, especially from the UK. While there are 10,000 Brits here in July, there are 20,000 in November. This is a seismic change."
November 1995 marked Easyjet's first foray into commercial air travel when it took passengers from Luton to Glasgow. Seven months after its creation, and three years before the airline would sell its first seat online, Easyjet was in business. It's expanded to carry 60 million people a year between 130 destinations.
Between January and March this year, more than 50 million passengers passed through UK airports, the highest for that period since the recession hit in 2008.
The tourism industry in many parts of Europe is reliant on low-cost airlines who can bring people at cheap prices, says air transport consultant John Strickland, who advised Keflavik airport on their expansion.
"You can wax lyrical about what your country has to offer but if they can't get there affordably, you're impeded in developing that part of the economy."
Frankfurt-Hahn in Germany is one of Ryanair's airports. Serving Frankfurt and the Moselle Valley and Luxembourg, it has all the ingredients for a budget airline destination.
Like many airports, officials incentivise airlines to encourage more passengers through their doors. On top of landing and take-off fees, it charges operators 5.35 euros (£3.80) per passenger up to 100,000 people in a calendar year. This charge falls to 2.24 euros (£1.59) if a carrier can get more than three million to use the airport.
The airport is actually 125km (75 miles) from the city itself. It's not the only "budget" airport to be a fair way from the main city served. In 2002, Ryanair was forced to change its route to "Copenhagen" in Denmark which was actually landing in neighbouring Sweden, 62km (38 miles) away. "Bologna" airport wasn't what it seemed, either, located some 60km (37 miles) from its promised destination, in Forli.
Another city served by Easyjet is Bari, in the southern Italian region of Puglia. "It's changed a lot," says Silvia Zacchia, who works for a marketing agency in London but grew up in the town of Monopoli, near Bari.
"When the flights started coming, they realised that facilities had to be improved. It's been prettified and there's more going on. I just wish it had been like that when I was younger and lived there."
Bari is the capital of the Apulia region, known for its cheeses, wines and olive oil. "It's still at the stage where, if you didn't already know about it, you probably wouldn't visit, although I've noticed some advertising on the Tube," says Zacchia. "My only fear is that tourism could be overdone, turning the city into something like Magaluf. But there's been nothing like that so far, and I can't see it happening."
While some places have undoubtedly benefited from the economic and cultural effects of the Easyjet influx, some have fared less well. When Easyjet announced it was pulling out of East Midlands airport, hundreds of jobs were lost.
Ryanair, Easyjet's main competitor for the UK budget flights market, has faced the same criticism. Whereas airlines are in a strong position to negotiate because, by their very nature, stock is movable, airports are geographically constrained. One such example is Girona, near Spain's Costa Brava.
At its peak in 2009, when it was Spain eighth most popular airport, more than five million passengers passed through.
"People who needed to go to Barcelona or to the Costa Brava found it was more comfortable and cheaper to fly in to Girona," says Mireya Renjifo, director of an English language academy near the airport. People used to come from everywhere and fly to all kinds of places from Girona."
In 2010, Ryanair started flying to Barcelona 120km (75 miles) to the south and, by last year, the number of passengers using Girona airport had fallen to just over two million, the lowest for more than decade.
"We used to take students to England for the summer," says Renjifo. "It used to be extremely easy for us because from we could fly direct from Girona. But now, having to go to Barcelona with a big group of children is much more complicated."
Ryanair says Girona is a key airport in Catalonia, contributing strongly to the company's growth in the region, but due to a shortage in aircraft capacity, it has reduced the number of routes for summer 2016. It expects to carry more than 1.2m passengers to and from there next year.
The success of airports is not guaranteed. Manston airport in Kent closed last year with the loss of around 150 jobs while commercial flights ceased at Blackpool International Airport just months later.
But there are other better signs in some locations. Castellon, a small city on Spain's Mediterranean coast between Valencia and Barcelona, received its first commercial flight in September, four years after it was built.
"There is twice as much flying going on as there was 20 years ago within Europe and all of that growth is accounted for by the low-cost airlines," says Simon Calder, travel editor of the Independent newspaper. "Wherever you are, your life has probably been improved by a low-cost airline."
In Keflavik, Steinthor has plans to improve his hotel, including converting the top floor of his hotel into luxury suites.
"Nobody would have believed that the first five star hotel would be in Keflavik, I can tell you that," he says. "Even today, people are doubtful that will happen."
---
The Magazine on flying
Why does fog still disrupt flights? (November 2015)
The pilots who fly tiny planes over the Atlantic (October 2015)
Is this the perfect size of carry-on bag? (June 2015)
---
Subscribe to the BBC News Magazine's email newsletter to get articles sent to your inbox.