Richard Dadd: The art of a 'criminal lunatic' murderer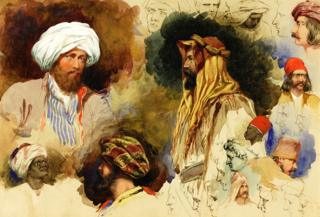 Promising artist Richard Dadd murdered his father in the summer of 1843. Detained as a "criminal lunatic", he continued to paint during his incarceration. He is now remembered as one of the Victorian era's most accomplished artists.
"Richard Dadd was a real bright young thing in the late 1830s and early 1840s," says Victoria Northwood, director of the Museum of the Mind at Bethlem Hospital in south London.
The museum is hosting a major retrospective of Dadd's art - with works from both before and after his detention.
"Dadd lost his mother when he was young, and his father remarried," explains Northwood. "They were from Chatham in Kent originally - but moved up to London.
"By his 20s had been shown at the Royal Academy."
Dadd sketched the self-portrait above in 1841 - and around the same time he created this circular depiction of Shakespeare's mischievous elf character, Puck, from a Midsummer Night's Dream.
The following year, Dadd was asked by Sir Thomas Phillips - a Welsh lawyer and politician - to document his grand tour of Europe and parts of the Middle East.
Here, Dadd depicts Phillips in Turkish dress.
"The tour was fast-moving and inspirational for Dadd," says Northwood.
He used sketch books to record their travels - planning to paint in detail on his return home.
The next image is somewhere between a sketch and a finished work.
Dadd returned from the grand tour in 1843, earlier than planned.
He was not well. Friends and family suspected heatstroke or some sort of mental crisis. He went with his father back to his childhood home in Kent - and it was there, as they walked in Cobham Park near Gravesend, that he murdered his father.
Dadd had been under the delusion that he was the son of the Egyptian god Osiris - and that his father was, therefore, an impostor.
He fled to France, but was tracked down.
Dadd never stood trial but was instead sent - as a "criminal lunatic" - straight to Bethlem Hospital, which at the time was on the current site of the Imperial War Museum in south London.
The image above, originally published in the Illustrated London News, shows how conditions would have been for Dadd in Bethlem from the early 1850s.
Victoria Northwood says when Dadd first arrived there, in the mid-1840s, asylum life would have been tough.
But the following decade saw significant improvements to conditions for some patients thanks to the hands-on approach of Sir William Charles Hood - the hospital's first resident physician.
It was thanks to Hood that Dadd was able to continue painting.
The above photo - one of dozens taken of Bethlem patients by photographer, Henry Hering - shows Richard Dadd working on a painting called Contradiction.
The next three images come from Dadd's Passions series, which looks at human conditions and emotions.
Dadd's depiction of Insignificance or Self-Contempt features a short, well-dressed gent carrying a portfolio of artwork to Mr Crayon the drawing master.
Next to it, Agony - Raving Madness carries a stereotypical Victorian view of a "madman". "These would not be the conditions which Dadd experienced," says Northwood.
"This tomb in the woods is rather beautiful," she continues.
It is Dadd's interpretation of Grief or Sorrow.
This next work - one of Dadd's best known - is called Sketch of an idea for Crazy Jane.
Victoria Northwood says there is a school of thought which believes the character in the watercolour - while based on a poem about a woman who loses her wits - could be Dadd himself.
Rochester Castle, which is close to where he was brought up, can be seen in the bottom right of the painting.
In the mid 1860s, Richard Dadd was transferred from Bethlem to the newly-built Broadmoor Criminal Lunatic Asylum in Berkshire.
He would stay there until his death in 1886.
"Mental health treatments in the mid-19th Century were rudimentary," says Northwood. "There were sedatives, but none of the drugs of today or talking therapies."
Dadd was allowed to carry on painting in his new home. He created a number of sympathetic portraits of those who cared for him - not just doctors, but also orderlies and nursing staff.
This final work from Richard Dadd is an oil painting said to be of Dr William Orange - Broadmoor's superintendent from 1870. But photos of Dr Orange have emerged recently, casting doubt on the identity of this man.
"It is important to note," says Victoria Northwood, "that there was no dramatic change to the appearance of Richard Dadd's work once he became unwell".
"After his incarceration his world became limited. He was not mixing with other artists. And yet he still felt the need, and was able, to create."
The Art of Bedlam: Richard Dadd can be seen at the Bethlem Museum of the Mind in Beckenham, south London, until 6 February 2016.
BBC Your Paintings - see more paintings by Richard Dadd.
All images subject to copyright.