Has the Kremlin been meddling with its Arctic friends?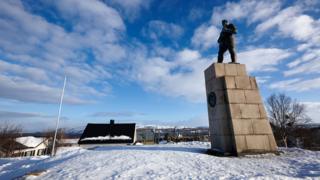 Russian shoppers fill its supermarkets. Russian boats throng its harbour. Its museum celebrates the Red Army. But the little town of Kirkenes isn't in Russia. It's in Norway. It's a tiny bubble of cross-border friendship in a Nato country. Now, though, as East-West tensions rise, the sacking of a prominent local journalist has highlighted the fragility of the special relationship.
The wild, desolate coast of the Arctic Ocean is an ideal environment for journalist Thomas Nilsen.
A lean, rugged, outdoor type with greying hair but a boyish intensity, he likes nothing better than exploring the rocky inlets and boggy forests that stretch between the far north of his native Norway and Russia's adjoining Kola peninsula - on foot or cross-country skis, by boat or canoe.
He's been an environmental campaigner and guide for adventure tours as well as a journalist. But all his work has involved bringing Norwegians and Russians closer together.
Nilsen lives in the small town of Kirkenes, where until recently he edited an online newspaper, the Barents Observer, with a mission to break down barriers in a region which was one of the world's most dangerous and sensitive during the Cold War.
Russian submarines with nuclear warheads are still based just across the border.
But Kirkenes has become what Nilsen calls a "laboratory of East-West contacts."
Local people from both countries enjoy visa-free travel across the border. Russians shop in Kirkenes for babies' nappies, clothes, and a huge variety of food - providing a bonanza for the town's economy. Some have moved to Kirkenes to live and work.
Meanwhile, Norwegians go to Russia for cheap petrol, vodka, haircuts, and dentistry.
"It's High North - low tensions," says Nilsen, referring to the Norwegian government's policy for the region. "It's a slogan, but it's also quite serious for Norway, because Norway is a very little country. We are five million people - and we are neighbouring the biggest country in the world."
Now some fear the relationship is under threat - and they're worried partly because of what has happened to Thomas Nilsen.
Last month he was suddenly sacked as editor of the Barents Observer in a row with its owners, a group of local councils in the north of Norway, over editorial freedom.
The disagreement stemmed, Nilsen says, from the paper's coverage of Russia - particularly an article he wrote during the Ukraine crisis criticising Russian president Vladimir Putin's increasing crackdown on independent media and voluntary organisations.
"The head of the board called me into his office and said, 'You're sacked. Please take your things and leave the office by the end of today.' I'm very frustrated that something like this could happen in Norway in 2015."
In Norway, proud of its record of media freedom, the incident became a political sensation - particularly after the state broadcasting company, NRK, claimed the Russian security service, the FSB, had demanded Nilsen's removal.
That was angrily denied by the Russian Embassy in Oslo. But Nilsen says the Russian consul-general in Kirkenes had earlier told him, "There are some facts in the Barents Observer that Moscow doesn't like very much."
Nilsen says: "I think no Norwegian politician could actually receive orders from Russia. I think it's more the stupidity of our owners, because they don't want to harm the traditionally good relations over the border."
The paper's owners say Nilsen's sacking had nothing to do with the paper's Russian coverage, and they never had any contact with any Russian official. But it's raised questions about whether the intricate web of cross-border ties can survive the current East-West tension, with Western sanctions against Russia and a Russian ban on Western food imports.
The friendship dates back to the end of World War Two, when Soviet troops liberated Kirkenes from German occupation.
Local author Olaug Bye Gamnes, now aged 80, remembers watching them arrive in October 1944 when she was a nine-year-old girl. "We really looked upon them as saviours," she says.
"During the year they stayed, they supplied the population here with food. They even went to Russia to get it. They didn't take houses from people, like the Germans did. They stayed themselves in the open or in tents, and let people have what was left of the buildings."
Later, during the Cold War, the relationship was put on ice. The outgoing mayor of Kirkenes, Cecilie Hansen, grew up in sight of the border - but didn't cross it until she was 14.
Now she goes regularly to Russia - and last year 320,000 Russians came to Kirkenes. To welcome them, many signs are written in Russian - particularly in the town's three shopping centres.
Hansen says they even buy expensive Norwegian alcohol - while Norwegians get their drink in Russia. "The Russians trust Norwegian products - but when we go to Russia, we don't care, as long as it's cheap and there's a high percentage of alcohol, we don't care what's inside," she says.
More vital for the local economy is co-operation in the oil and gas sector. A Norwegian company, Norterminal, organises the transfer of Russian oil to Western tankers in Kirkenes Fjord - because it would be uneconomic for the small Russian tankers, which are built to break through Arctic ice, to transport the crude further West.
But though the oil trade is not directly hit by sanctions, technical co-operation in the energy sector is. That's put joint projects to develop the vast new deposits discovered under the Barents Sea on hold.
"The challenge now with these sanctions is that a lot of business is experiencing a decline," says Odd Arne Haueng of Norterminal. "And if you are going to do business it has to be predictable. You need to know what's coming… A lot of businessmen actually just give up."
Fewer Russians have come to Kirkenes this year. Mayor Hansen says that's partly because of the fall in value of the Russian currency, the rouble, but also perhaps because of a more anti-Western mood on the other side of the border.
Norwegian fishermen who used to export to Russia have been badly hit by Russian counter-sanctions. But still flourishing is a business at Bugoynes west of Kirkenes, where massive king crabs - some 1.5m long - are packed and transported live to some of the world's smartest restaurants, under the supervision of a Russian marine biologist, Roman Vasiliev.
King crabs were originally introduced to the region in the 1960s by Soviet scientists - and regarded by many Norwegians as alien invaders, destroying existing sea life. Later, however, local fishermen realised what a valuable catch they were. "I would call them a gift from Russia to Norway," Vasiliev says - though he admits that the creatures, which can easily crush a man's finger, are dangerous.
"They will fight to the end. In some ways they are like Russians!" he says. It's a joke, of course, but in the current political climate a slightly uneasy one.
Thomas Nilsen, the journalist, is now setting up a new online publication of his own to cover events in the region.
He blames the Russian authorities for "building mistrust against the West" - and rejects any suggestion that Norwegian media should keep quiet about problems in Russia as a price to ensure good relations. But he hopes that any chill between the Norwegian and Russian governments won't damage the cross-border friendship that ordinary people living far away in the High North have forged.
"This laboratory up here proved that co-operation is important," he says, "and especially that's true in times of trouble, in times of cold winds between East and West."
Listen to Tim Whewell's report on Crossing Continents on BBC Radio 4 at 11:00 on Thursday 12 November, or catch up later online.
Subscribe to the BBC News Magazine's email newsletter to get articles sent to your inbox.