The students running 'white unions' on US campuses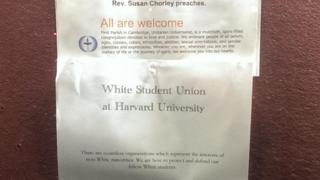 Dozens of "White Student Union" pages have appeared on Facebook, claiming to represent white students at US universities. While many turned out to be hoaxes, some are run by real students hoping to tackle "anti-white belief" on campuses.
The first page created, "Illini White Student Union", was launched in response to a black student solidarity rally on 18 November, according to the University of Illinois' student paper.
The page described itself as "a new page for white students of University of Illinois" committed to working "against the terrorism (students) have been facing from Black Lives Matters activists on campus".
It reportedly asked students to send in photos of "anti-whites" who had taken part in the rally and was quickly removed by Facebook.
But the page started a trend, with at least 30 White Student Union pages appearing on Facebook. Many originated from a post the Daily Stormer, a white supremacist site "attempting to preserve Western Civilization".
The post called on readers to make pages for "various universities" in retaliation for the removal of the University of Illinois' page - even if they are not students.
Others are linked to a similar post on 4Chan, a bulletin-board site allowing users to comment anonymously.
The post encouraged people to create pages "at the most leftist colleges and universities in the western world" and has since been removed.
Fake photos
The University of Missouri's White Student Union page - which has now been removed - claimed the group had met on campus to raise money for Generation Identitaire, the youth wing of a French nativist movement, and Students for Western Civilization, a group that wants to "organize for and advance the interests of Western peoples".
But the photo it used - showing three girls dressed in pink shirts - was of three sorority members from a different university, raising money at a suicide-awareness bake sale.
Jaynie Coffman, the sorority's PR administrator, was sent a link to the photo.
"I couldn't believe that this organisation used our picture for something so horrible. They edited our sorority letters off their shirts," she said.
"Our sorority is out there and associated with this group. If we weren't contacted about our image being used, it could have been on the internet for thousands of people to see without any explanation."
New York University administrators also condemned a White Student Union page created using the school's name, saying it had used the NYU logo "illegally and without permission".
Maria Josefina Saldana-Portillo, a professor at the university's School of Social and Cultural Analysis, called the page "a parody" aiming to "belittle the language of black student movements".
'Anti-white abuse'
But while most of the pages are run by internet "trolls", some are managed by students looking to end "anti-white beliefs" on their campuses.
The BBC spoke to a number of them. While they asked to remain anonymous, they agreed to video chat and make contact using their university email addresses.
One student, known only as Ajay, runs the Iowa State White Student Union Facebook page. He says he started the page after experiencing racial discrimination on campus.
"When on campus I will attend rallies of different ethnic support groups to hear their message. A lot of time they tell me to leave because I'm just there to make fun of them, or tell me I will not understand because I have not experienced racism," he said.
The group held a meeting on campus, he added, and plans to contact the university's president to gain official recognition.
While Harvard University's page has received more of a backlash, its admin insists its goals are the same.
Eric - not his real name - studies biology at the university. He created the page with two friends and hopes it will grow into an official union.
The group has met three times and consists of three members, "all white Europeans - although we have also coordinated with a Korean friend of mine," he says.
The group discussed how to gain official recognition on campus and tried to identify sympathetic professors.
Many ethnic minority students say the pages have made them feel unsafe on campus.
Rowa Mohamed, a student living in Canada, says a page using her university's name shared her information after she complained to officials.
"I feel unsafe walking alone on campus and I am always with others. Because they maintain their anonymity while harassing me, I never know who it could be," she said.
"I haven't been comfortable attending classes. It's really increased my anxiety and I've had to rely heavily on my friends of colour for comfort and protection on campus."
The page - which calls itself "Western White Student Union" - is thought to be one of the first in Canada. Others have also been reported in Australia.
Joanna Thompson, a lecturer at the University of Illinois' Department of Criminology, Law and Justice, says media depictions of black people as "violent animals" play a part in the creation of white student unions.
"Young people see so much these days, not just on the news but through social media," she said.
"If they are being bombarded by negative images of blacks, the fear could lead them to need a space where they feel safe and where they can regain that top spot on the racial hierarchy."