American airports: The good, the bad and the ugly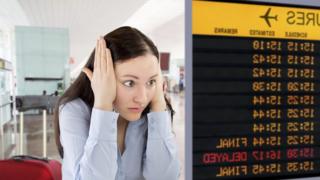 Air travellers in the US often complain about the state of American airports, and when a recent Magazine story asked why, hundreds of you contacted us to share your best and worst experiences.
In our recent article we reported that US airports are consistently outshone by their Asian rivals - Singapore's Changi Airport boasts butterfly, orchid and cactus gardens, while South Korea's Incheon, has an ice-skating rink and a golf-driving range.
But it's a different story in the US where exasperated American passengers have dedicated entire blogs to an array of gripes.
Here are some of your emails about the airports you love, the ones you hate, and some ideas for improvement.
1. The best US airport is Hilo Airport in Hawaii. Gracious, open to the breezes, with living-room style sofas to relax on and free Hawaiian music and hula dancers! G Dickson
2.Portland International Airport in Oregon is doing it right. Even the carpet became so beloved that when they decided it was time for it to be upgraded, there was a huge outcry. It spawned an entire line of consumer goods - socks, blankets, T-shirts etc - with the distinct carpet design. Oregonians flying in and out of PDX typically take pictures of their feet on the carpet when leaving or arriving to post on social media. Flying always has its frustrations, and every airport has its moments of tedium. At least PDX has personality. Julia Webster, Jefferson, Oregon, US
3.San Francisco International Airport has fantastic food, inspired art, free wi-fi and powerful coffee. I fly in and out of it at least 15 times a year, and despite occasional delays due to the infamous fog, always enjoy the experience. Lu Ellen Schafer, Palo Alto, US
4. We have been through Charlotte a couple of times and the general atmosphere plus the lovely white rocking chairs make it a very pleasant experience. The first time we went, there was even someone "tinkling the ivories" of a grand piano! Sue Derbyshire, Honiton, UK
5. Palm Springs, California. You have to go there to experience it. After leaving Canada at minus 30C you deplane, pick up a coffee and sit outside under the palm trees. Yes it is quite small but I pass up landing in Los Angeles any time to land there. Anthony Bishop, Edmonton, Canada
6. A modest defence of LaGuardia - the Marine Air Terminal (which admittedly handles only a tiny fraction of flights at LaGuardia) has to be one of the most beautiful airport interiors in the world. A stunning building from a more gracious time. Jennifer, Teaneck
7.Indianapolis is brilliant - clean, spacious, efficient security process, and the planes leave on time. Paul Gallagher
8. Raleigh Durham International - recently remodelled and upgraded, it is a pleasure to go through or hang about in, and streamlined immigration makes the best place to enter from the UK. Very user-friendly for parking, for drop-off, or pick-up unlike most European airports or other US airports. Patrick O'Callaghan, Bristol, UK
9. I would like to note that the Jackson Mississippi airport is an unusual surprise. I have encountered fresh cut flowers in the WC. Amazing for a US airport. Ed Jablonski, Raleigh, North Carolina, US
10. I am from the UK living in Colorado. DIA (Denver) is the best US airport I have used by quite some distance. Very spacious although even it can get overcrowded in security. But once on the concourses, it's not too bad. David Lloyd, Clifton
1. Miami. Took three hours to get into the place after landing - we queued in front of empty passport control desks, no nearby toilets or seating and no information - and two weeks later a further three hours to get out again. A handful of toilets for hundreds of women, very limited and uncomfortable seating, horrible food with one outlet serving it, and the cockroaches scampering across our feet were the final delight. I have never been back to the States since. Geraldine Blake, Worthing, UK
2. Los Angeles (LAX) is old and dilapidated, badly laid out, dangerous (transit buses cross runways), dirty and neglected. Overseas "visitors" are treated with disdain and herded like cattle, and generally, the concept of "customer service" is completely lacking. If one looks at an old movie from, say, the early 70s, the airport hasn't changed since then. It should be pulled down and rebuilt. Michael Purtell, Launceston, Australia
3.Houston airport. I'm a repeat visitor and I've never had anything less than at least a two-hour wait to get through immigration after a 10-hour flight - quite simply awful, awful, awful. Rude, officious staff and a truly miserable experience. If I didn't have to go for work I'd happily never bother to visit the US ever again. Jamie Robinson, Crawley Down
4.Chicago O'Hare is so bad in my experience that I refuse to fly into it any more. I have never spent less than three hours on my feet at Chicago. John, Liss, UK
5. I found the moon buggy experience between terminals at Washington's Dulles very unsettling. Passengers are herded into these buggies without any idea of what they are. The funnels give the appearance of chimneys. Expecting the usual ''shuttle" I was alarmed to find myself crammed into a room with other passengers, with no apparent exit. Deborah Allsop, Horsham, UK
6. It's no less than tragic that so many visitors from other countries are "welcomed" to the US at JFK. It is an abomination and a stain on President Kennedy's memory. James McDonald, West Hollywood
7. Orlando. It took three hours to get through immigration. First question was: "What are you doing here? Where are you stopping?"
"Disney."
"Prove it." Barnsley, UK
8. BOS (Logan International Airport, Boston) is a joke. Yes they do an admirable job clearing the snow all winter, but the four terminals are not integrated together, there are not enough gates and the immigration lines are terrible. It took us more than four hours to clear the airport this summer, and that was travelling with three small kids. We touched down early but there was no gate available so we waited 40 minutes on the taxiway. Tessa Murray, Quincy, MA
9. My least favourite airport is definitely LaGuardia. I was just there on 22 November and as soon as I arrived (two hours before my flight) I was told my flight had been delayed two hours. There was a cafeteria on the level below but after sitting down there for 30 minutes I had to leave as it was more akin to a weird bus terminal with the less than desirable food options and relatively dirty atmosphere. Once I finally made it through security (the line was agonizingly long) I still had to wait an hour-and-a-half at the gate - problem was, there was nowhere to sit, people everywhere, no food options other than a small news-stand. Did I mention the giant cracks in the cement floor, the tiles missing from the ceiling and the giant air vent making crazy noise in the middle of the terminal? It was hellish. My good friend flew out of LaGuardia the same day and her gate was changed four times before she finally left. Kate D, Pittsburgh
10.Denver Airport is huge, confusing, and intimidating to someone who hasn't learned how to navigate it. I will drive for days to get somewhere rather than put myself through the agony of the airport. Janet Switzer, Beulah, Colorado
1. The customs and immigrations officers can be rather intimidating in their approach to dealing with new arrivals. They ask a constant barrage of questions about your visit to your intended destination as if all passengers are terrorists. Akash Giani, Barking, UK
2. Needless finger-printing of all fingers and thumbs [should be stopped]. Liz Brindley, Baiona, Spain
3. When did it start that the majority of airport dining options consist of fast food, junk food, and bad food? Granted, airports are trying to change this and healthier eating options exist, but it doesn't come cheap, in fact it's largely highway (or airport) robbery. I'd almost rather a single cafeteria at each airport with a menu like we had in elementary school. Rick Bridges, Boston, US
4. Security checks are ridiculous. I am an 86-year-old male, not a danger to the flight my wife and I are wanting to take, or to anyone in the airport, but there is no profiling so we take off our belts, our shoes, our jackets, our wallets - damn nonsense. Ray Richards, West Vancouver, Canada
5. When I think of people from other parts of the world coming to America I am ashamed. What must they think of us? That we don't care enough to mop the floors?G Kohl, Portland, US
6. Luggage carts contribute to American's worst image for airports. In any Asian airport, the luggage carts are free, plentiful and always accessible, and are of good, sturdy, high quality. What kind of welcome does America give when the passenger has to look for, and then pay for, this expression of hospitality and facility of movement? Alden, Spain
7. Why on earth do those in transit have to collect their hold bags, clear US immigration and then check all the way back in? The number of staff, and the obvious costs, of getting me out and into the airport is senseless and the system does nothing more than clog up the terminals for everyone. Daniel, UK
8. My biggest gripe has always been that a lot of the flights I get out of the USA back to the UK are some of the last ones out the airport... it seems crazy to me that at most of the airports I fly out of, everything closes at 9pm. Bill C, London
9. Most US airports don't have decent bookstores, so as you're likely to be waiting for ages, you'd better bring plenty of books and newspapers with you. M Flynn, San Jose, US
10. It's amazing how something free can lift your spirits. I believe one of the reasons Munich does so well is Lufthansa's free coffee, tea and hot chocolate machines dotted around the airport. They also give away international newspapers. It's a nice touch. Robert Lo Bue, Cardiff, Wales
Compiled by Vanessa Barford
Subscribe to the BBC News Magazine's email newsletter to get articles sent to your inbox.