APT tilting train: The laughing stock that changed the world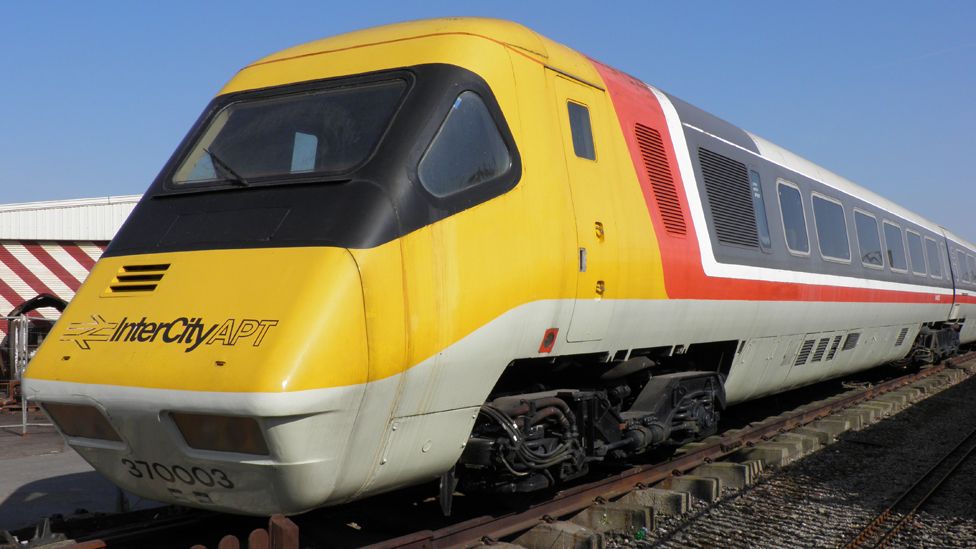 It's 30 years since the Advanced Passenger Train carried its last passengers. In its short life it attracted scorn and mockery, but did the APT actually revolutionise the world of travel?
Once upon a time, trains didn't tilt. They just ran quickly along straight lines and then slowed down when they came to a bend.
These days, passengers on Italian-designed Pendolino trains on the UK's West Coast Main Line think nothing of listing as they make their way to destinations at speeds well in excess of 100mph, even through windy sections. Those travelling in Switzerland, China and Japan experience the same sensation.
What's often forgotten is that much of the technology enabling trains to tilt as they enter bends - using sensors and hydraulic jacks - was developed in the UK. The Advanced Passenger Train was in service in short patches from 1981 until it was finally removed in the winter of 1985/6.
In its brief life the APT, with its futuristic sloped front, was vilified as a waste of money - £47m in total - and mocked by the press.
The project began in the 1960s, with the British Rail research team at Derby briefed to create a train that could maintain high speeds on the largely 19th Century-built network, much of which was very bendy.
So, the APT was designed to tilt as it went into curved track sections, rather like a motorbike on a winding road, allowing it to go up to 40% quicker than non-tilting trains. It also included innovations such as lighter aluminium body shells and articulated bogies [the undercarriages with the wheels].
In tests, the APT reached a maximum speed of 160mph. At first it was limited to moving at 125mph on the network because slower trains got in the way. Even so, this was to cut the London-to-Glasgow journey time to four hours and 15 minutes.
Following testing of gas-turbine powered prototypes, three electric trains were built in 1981. The APT's maiden Glasgow-to-London run happened on 7 December of that year.
Journalists on board complained that the tilting mechanism caused motion sickness, nicknaming the APT "queasy rider". In response, trip organisers suggested the journalists were already the worse for wear, having drunk copious amounts of free alcohol the night before.
It was reported that stewardess Marie Docherty, when asked about jerkiness on board, replied: "Just stand with your feet apart." The train experienced mechanical problems on following journeys over the next few days, amid snowy conditions.
The PR battle was already lost.
A cover of Private Eye magazine showed an APT, complete with the mock announcements "Welcome aboard the APT, stopping for repairs at Penrith, Crewe, Glasgow, Penrith, Crewe" and "The APT arriving at Platform 4 is fifteen years late".
Further problems in bad weather meant it had to be withdrawn from service before Christmas 1981, after just a couple of weeks. So, why did British Rail launch it at a time of year when rail services are so prone to elemental disruption?
"At that time BR was desperate to get some good publicity," says Bob Gwynne, associate curator of vehicles at the National Railway Museum in York. The organisation had an "undeserved reputation" for poor service at the time and wanted to impress ministers, so brought the APT into service "prematurely".
BR hired former Blue Peter presenter Peter Purves to make a film demonstrating the virtues of catching the APT from Glasgow Central to London Euston. As he arrived at Euston, Purves, sitting on a tartan-covered seat, having eaten an "excellent breakfast in the most delightful surroundings", informed viewers: "It's smooth. It's quiet - and an altogether delightful experience." But as he did so there was a slight shudder of the camera, the sound of rattling cutlery and crockery clearly audible.
Engineers spent more than two years making technical modifications and the APT re-entered passenger service in August 1984, to less publicity but a much better press. The Times reported that the ride was now "firm and smooth".
In December that year one of the three APTs in service set a record for the London-to-Glasgow run of three hours and 52 minutes. But, in the same month, BR announced the trains were to be withdrawn from passenger service. It had already dropped plans to order a fleet of 60 next-generation Squadron APTs.
"The APT is a symbol of good ambition that crumbles as the politics change around it and the idea of what are seen as state vanity projects dies a death," says Gwynne, noting that France's high-speed TGV trains had a far larger budget, including funding for building a dedicated network between major cities.
The diesel-powered InterCity 125 - with a similarly sloping nose but lacking the APT's tilting technology - had already become a success since its introduction in 1976. It's still in service and is due to be replaced only from 2017.
However, 1984 wasn't the last time the APT carried passengers, as BR kept the stock in use as a relief train - filling in when others were unavailable - until the winter of 1985-86.
"The rail industry is traditionally very conservative and in a way the failure of the APT has reinforced that mentality, the idea that it's better not to be too innovative," says Simon Iwnicki, director of Huddersfield University's Institute of Railway Research. "It could be argued that in some ways this has held us back while others are prepared to be more radical."
The Italian firm Fiat bought the patents for the APT's tilting technology and used these to help develop its Pendolino trains, now manufactured by the French multinational Alstom.
Virgin Trains has used Pendolinos on the West Coast Main Line - the route the APT was designed to serve - since 2002. "British Rail had had Pendolinos and they hadn't worked out," Virgin Trains founder Sir Richard Branson has said. "Our team had been brave enough to say, 'Even though they failed, doesn't mean they won't work for us'."
"It's often forgotten that Concorde cost more than £1bn and was a commercial failure," says Gwynne. "There was no market for what it offered - supersonic passenger flights across the Atlantic. Clearly there was and is a market for fast trains from London to Glasgow."
A six-car APT, including a driving trailer and buffet carriage, is in place at Crewe Heritage Centre. It's clearly visible to passengers passing by on the adjacent West Coast Main Line where it ran for a few months.
The APT is available for hire as a birthday party venue and offers visitors a "tilting experience" in one of the carriages. "It's our most popular visitor attraction, followed by our miniature railway," says the centre's general manager, Mike Lenz.
Iwnicki thinks the biggest problem with the APT, devised in an atmosphere of "blue-skies thinking", was that it included too many innovations at one time. The casing, bogies, tilting and other features were all new - setting itself an impossibly high benchmark for success. But these have since become commonplace around the world, he adds.
"If the APT team had just developed one novel aspect, such as the tilting, the whole project might have succeeded," Iwnicki says. "And who knows? We might be sitting on UK-built tilting trains today."
A new Japanese train is arriving on British shores to replace the much loved InterCity 125. Will people take it to their hearts in the way they did its veteran predecessor?