They made the world care - but where are they now?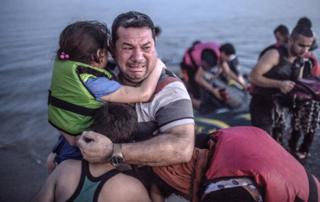 Every so often, a striking image captures the struggle refugees and migrants face on their way to northern Europe. For a while, it catches the public's attention - but what happens to these people after the cameras leave? Katie Razzall met three of them.
Laith Majid: photographed 15 August 2015
"I wish I would never see this photo again," says Laith Majid. The picture above, taken as he landed on the Greek island of Kos with his family, became a symbol of the agony many refugees face on their journey to Europe. He broke down when I showed him the image. "It brings back the distress and suffering I experienced with my wife and children when we nearly died."
The tears are hardly surprising when Laith describes what happened on the small dinghy four months ago. "It was the smell of inevitable death. It was indescribable. It was overwhelming. People started to die, we started to drown, we felt weak. We thought we were dying with our children."
Pain, relief and sheer terror are etched on his face in the photograph. Even now, with the family living in Germany, his wife Neda says people still recognise him, such was the picture's impact.
"Everywhere we go, they say to him, 'We remember you, you are in the photo. We hope you are safe, you are happy.'"
The attention has surprised Laith: "I wouldn't have thought that such a photo would attract all this sympathy from Germans and friends across the world. I feel simultaneously happy to have made friends from all over the world and profoundly sad at the sight of that photo."
---
Find out more
Katie Razzall spoke to Laith Majid, Ossama Abdul Mohsen and Mohammad Zatareyh for Newsnight on BBC2.
---
They have four children - the youngest still can't sleep soundly at night, traumatised by what they saw in the water and the violence they experienced at home. The media originally described the family as Syrian, because others on their boat were from Syria - but they're actually Sunnis from Iraq. Laith who worked as a mechanic and owned a shop, and Neda, a teacher, felt they had no choice but to leave Baghdad when gangsters threatened them.
"They wanted to kidnap my child and I'd already paid a ransom twice to keep my children safe," says Laith.
Neda tells me they paid four million Iraqi dinars ($3,615; £2,400) to make the gangsters go away. "They don't go. They say another time, 'Give me money. If you don't pay, I burn your house. I kill your husband… and I take one of your kids," she says.
"Here in Germany, I feel safe and people treat me very well," says Laith.
They are living in an old army barracks with hundreds of other refugees and migrants - each family has one room.
His elderly mother is still in Iraq though. He wants to bring her over as he's worried about her safety. But the family's papers haven't yet been processed. They worry they'll be refused asylum and will have to return to Iraq where Neda says they will be killed. "There is no choice for us. If Germany says 'No,' we return to our home."
Ossama Abdul Mohsen: filmed 8 September 2015
"Now I forget this accident and I'm looking for the future of my family and son, especially since at first, I was extremely angry," says Ossama Abdul Mohsen.
The Syrian football coach was carrying his young son, Zaid, as they fled from police at the Hungarian border, when he was kicked by a camerawoman and fell to the ground. It looked deliberate but the camerawoman has since apologised saying she acted in self-defence. The footage, filmed by a German journalist, went viral.
At the time, Ossama said he would never forgive the woman who tripped him up, but now he's changed his mind. While the camerawoman lost her job, he was offered a position at a Spanish football club with a flat thrown in.
Real Madrid even invited father and son to a match, and Zaid walked out on the pitch with Cristiano Ronaldo. "It was like a dream come true," says Ossama. "My son said: 'Is it possible to meet Ronaldo in the flesh?' After the match, Ronaldo gave him his T-shirt and Zaid refused to take any other players' autographs until Ronaldo came and signed it."
While Ossama is building a new life in Madrid with two of his sons, his wife and their two other children are stuck in Turkey. He hopes the Spanish authorities will offer them asylum too.
For him, the most striking thing about Europe is freedom: "Freedom of thought… the complete freedom of expression. Being a free man is a very beautiful sensation. I was also surprised by the warm Spanish welcome. They all wanted to offer help and advice. This has made a huge difference to me."
Mohammad Zatareyh: filmed 4 September 2015
In September, Mohammad Zatareyh and thousands of others were corralled in Keleti train station in Budapest when Hungary cracked down on migrants to try to stop them travelling through the country.
"After suffering four days there, I get this plan that I have to walk," he says.
The 26-year-old from Syria persuaded about 1,000 other people to leave the station with him to walk 180km (110 miles) to Austria.
"I told them 'Don't be afraid. We can walk today 8 hours and second day 8 hours and we can stop every time we are feeling tired.'" He invited three camera crews to join them. "I think the police or the government, they can't hurt us because we will be on TV." Those almost biblical scenes, beamed around the world, came to define the crisis facing Europe. Eventually, the Hungarians relented and sent buses to carry people across the border to continue their journey.
Mohammad now lives in Germany, waiting for the paperwork he needs to work and begin his new life properly. Despite attitudes to migrants hardening here, he doesn't believe Germany will change its policies. "They need more people because there are a lot of people here, they are really old. Germany wants people to work…. I would like to build my future here, work, have a house, get married… I think this is a good place to build my future and this is a good country."
He'd always dreamed of travelling to Germany: "When I was a kid, I like to come to Germany because I am just a little bit addicted to cars and I really like BMW and I like Mercedes. I just wish to go and visit the factories." He hasn't managed that yet.
But he does still think about his role in the march: "I feel proud," he says. "This picture - maybe I will show it one day to my children. I will show them what their father did and I think they're going to be proud of me."
Katie Razzall spoke to Laith Majid, Ossama Abdul Mohsen and Mohammad Zatareyh for Newsnight on BBC2.
Subscribe to the BBC News Magazine's email newsletter to get articles sent to your inbox.