That Dragon, Cancer: Coping with a son's diagnosis through a video game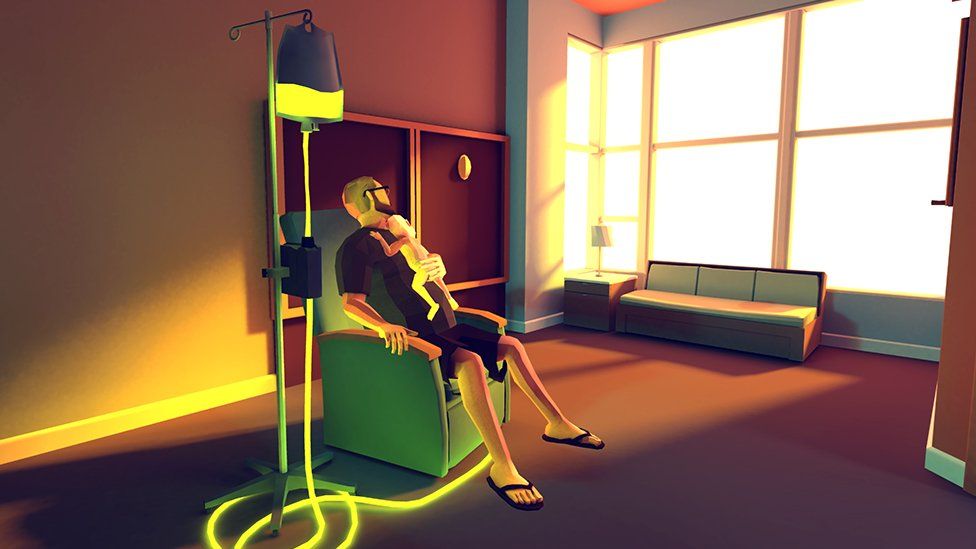 One couple's attempt to cope with their infant son's terminal cancer is now a "profound" and "heartbreaking" new kind of video game.
The day before the release of their video game - a project that has taken three years to complete - Amy and Ryan Green were feeling "a little raw".
"It's a little surreal," says Amy from their home in Loveland, Colorado. "I think we deeply want it to matter to regular people."
The game - entitled That Dragon, Cancer and available beginning today - is unlike any other. It's a digital journey through the diagnosis, treatment and - ultimately - the death of their son Joel at age five from a rare and aggressive form of brain cancer.
The release date also falls on what would have been Joel's 7th birthday. It's a way to honour his memory, but it will also mark the end of a project that became a way to channel the couple's grief.
"After Joel died we kept making the thing we were making before Joel died," says Amy. "I think we're looking at the next few days like, 'What is life like when we don't have this passion project we're working so hard on?'"
When the Greens began the project in 2012, they didn't know that Joel would die. The game could have told the story of a medical "miracle" - when Ryan began working on it, Joel had already survived years longer than his doctors initially thought possible.
The idea began after a particularly traumatic night in the hospital - Joel was dehydrated but so sick from chemotherapy he couldn't keep liquids down. Ryan says he tried everything to soothe Joel, but nothing worked. As Joel's cries grew wilder, Ryan dropped into a chair and started to pray. Suddenly, the crying stopped.
"I wanted to share that moment of, sometimes we feel hopeless but then there's grace," Ryan explains.
Ryan, an experienced computer programmer, turned to the medium he knows best - video games. He began conceptualising a game that would document his family's struggle.
He illustrated an abstract version of himself in a darkened intensive care unit room. Joel is a disembodied cry - the Greens didn't want to actually show Joel in pain - but the player understands through the narration that Ryan is trying to calm Joel down, reaching for boxes of apple juice, rocking him. Ultimately, the player can do nothing to calm Joel down - until Ryan starts to pray.
Ryan realised he was on to something after he brought the hospital room scene to a gaming conference in San Francisco in 2013. Game testers were moved to tears.
"We will all meet this thing, or have already met it," wrote one prominent tech blogger who said the scene reminded her of her own mother's fight with cancer. "That Dragon, Cancer is about sustaining the hope and joy of life for just as long as we can."
Even though the premise seemed too dark for a video game - Amy initially thought it was a terrible idea - financial backers stepped up after the conference. Then a documentary crew began filming the Green family for a movie called, "Thank You For Playing". A Kickstarter campaign added more than $100,000 (about £69,000). Ryan and his team at Numinous Games began working on the project full time. Amy came on board to write and act.
"Things started to snowball," says Ryan. "This seemed bigger than us from the very beginning."
It wasn't all runaway success - there were times the couple lived off of loans and donations to keep afloat.
And as the game came together, Joel's health began to deteriorate. Real life developments made their way into the game - like the day when the couple is told that Joel's tumours are inoperable.
Ryan illustrates this in the game by showing the doctor's office filling up with water from a torrential downpour in the ceiling. In another dreamlike scene, Joel flies into the night sky on balloons that keep popping when they're stuck with the spines of black cancer cells.
Joel died at home on 13 March, 2014. Ryan and Amy spent the next year trying to translate this devastating event into the game. They settled on a sequence in a cathedral, and a meeting with Joel in an afterlife-like scene - the player can blow him bubbles, or make Joel his favourite food, pancakes.
The game contains actual audio of Joel giggling.
"We've had to re-evaluate the story we were telling," says Amy. "We kind of settled on, does this really show what it was like to love Joel?"
"Joel didn't have the chance to make an impact," says Ryan. "We can show the world how important Joel was to us. Loving him and losing him was the richest part of our life so far."
Not everyone has been a fan of the concept. The Greens say they have been accused of self-indulgence, or being morbid or maudlin.
"Our goal is not to hurt people," says Ryan. "We hope that people will experience it and feel their life has been added to."
While the game has already gotten much favourable press and critical acclaim, the Greens say their real reward will come from fan reaction after the release. They've already heard from many others who've lost a child or family member to cancer, and hope that the game will resonate with families like theirs.
"It's just meant to share something, share a moment I think every parent can relate to," says Ryan. "Life is not just one thing. It's not all the wins. It's the bitter and the sweet."