A black Nancy Drew? Rebooting old favourites with new faces
By Taylor Kate Brown
BBC News Magazine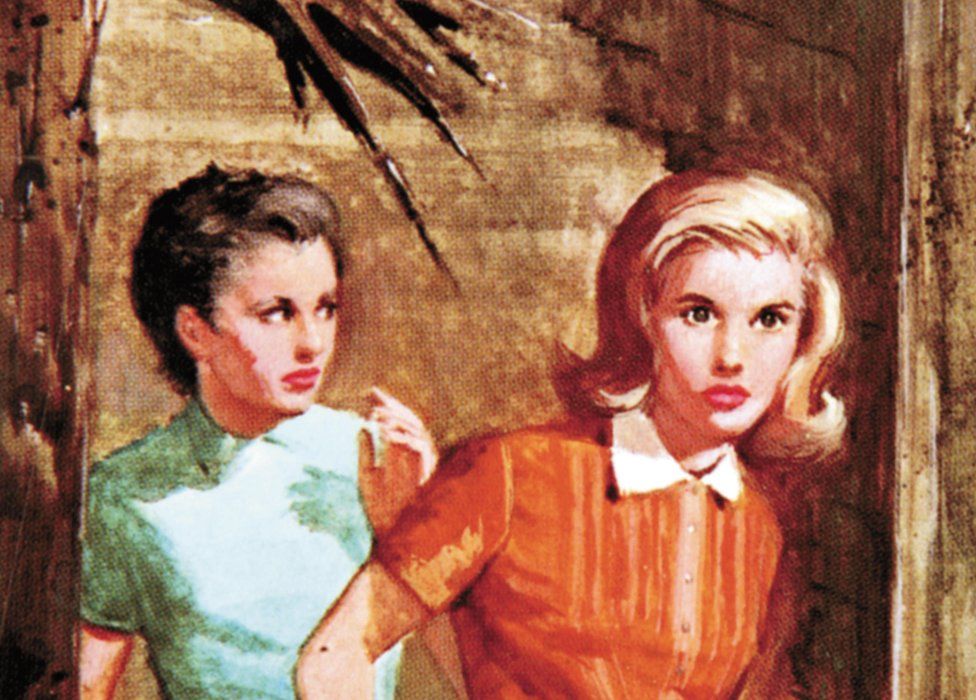 Beloved detective Nancy Drew is returning to TV - but she'll look different from how fans remember. American network CBS is pledging that the new Nancy Drew won't be white.
At the Television Critics Association press previews last week, the head of the CBS entertainment division, Glenn Geller, told reporters his network wanted to focus on diversity, including shows designed around characters who were black and Latino.
"We're not casting colour-blind, we're casting colour-conscious," he said.
In an interview with the Hollywood Reporter after his session, Geller gave one specific way how the network plans to actually cast colour-conscious - Nancy Drew won't be white.
Geller said while the actress who will play the much-loved detective in the network's television reboot hasn't been decided, "she is diverse, that is the way she is written" and specifically said this Nancy - a woman in her 30s in the network's new show - won't be "Caucasian".
As part of a broader push in the US for more diverse stories, TV and film creators have turned to familiar stories or franchises with modern upgrades. But returning to old favourites, regardless of character changes, can be a high-risk, high-reward strategy.
"A big problem for reboots is when they stray too far from what made the first incarnation of a show successful," Maureen Ryan, a TV critic for Variety says, calling it a "tricky balance" because viewers don't want to watch a carbon copy and "most concepts need to be updated or revised for the current era".
"The era of most protagonists... being middle-class, heterosexual white people is or should be a thing of the past," Ryan says.
"That's not our world, and reboots can catch up to the present by acknowledging that fact."
Nancy Drew wouldn't be the first time a character originally conceived or cast as white or male, would be changed for a reboot.
CBS's own Sherlock Holmes story, Elementary, cast Lucy Liu in the Watson role. Hawaii Five-0 switched one of their supporting characters from male to female - but the leads remained white males.
The most recent version of the film Annie cast black actors in some of the main roles, including Quvenzhane Wallis as the title character. The dramatically restructured Battlestar Galactica over a decade ago made one of the main characters a woman. The forthcoming Ghostbusters reboot switches both the genders of the main team and their receptionist. Michael B Jordan, a black actor, was cast as the new Johnny Storm in the Fantastic Four reboot.
Shilpa Dave, a professor of media studies at the University of Virginia, says TV networks which rely on advertising have to think about a changing audience that is more multiracial, and reboots offer an attractive way to gain crossover audiences.
"Something like Nancy Drew, a staple and a brand, is going to be a thing you can really promote - not only to people who've read it... but to new audiences, especially if she's going to be a woman of colour," Dave says. "You can get a majority white audience if you want - but other people are going to be at least intrigued because of the casting."
Fans of the original who want characters that look more like them can be a powerful audience.
"When I was a kid, there were so few shows centring people of colour. Often the one non-white character, if there was one, occupied a sidekick/punchline sort of role," Nicole Chung, managing editor of the Toast and a Nancy Drew fan says.
But for Chung, the idea of a non-white Nancy Drew particularly excited her because she grew up reading the books.
"Having Nancy played by a woman of colour would provide a great opportunity for some viewers to see themselves represented in a medium that often still struggles when it comes to diversity," she says.
There's often backlash to reboots, though, especially from fans invested in the original. Ghostbusters and Annie were the subjects of loud social media outcries.
And Ryan remembers a "huge backlash in some quarters" when the female Starbuck was introduced in the new version of Battlestar Galactica.
But ultimately because the character was compelling and the show was getting a lot of critical attention, it was a moot point.
"If you wanted to watch this great show, you had to accept that Starbuck was a woman - whether you wanted to or not," Ryan says.
A polarised fan base is not necessarily a bad thing in executives' eyes. "I think they love it," Dave says, "Because it gives them publicity."
But does it work commercially and critically? Marvel Comics found success with two titles that created new variations of familiar superheroes - Ms Marvel and Spiderman - while keeping the original white characters on in different titles. Collected volumes featuring the new Ms Marvel, a Pakistani-American Muslim teenager named Kamala Khan, debuted three times on the New York Times best-seller list for paperbook graphic books
"Fans respond with their dollars," Axel Alonso, the editor-in-chief of Marvel Entertainment, told the New York Times when the new Ms Marvel was introduced.
But it doesn't make sense to "just replace one character with another skin colour and not do anything to the world which that person occupies", Dave says.
She suggests what's really important for reboots with dramatically alerted main characters "is not just who's in front of the screen, but who is writing it, who's the showrunner, who's producing these narratives?"