Missing US children from 1979 identified after BBC story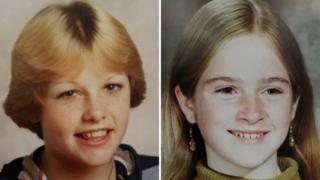 In 2012, the BBC highlighted the tragic case of two teenagers whose remains were found in 1979 dumped near a main road in west California.
They had almost certainly been murdered and their bodies were so badly decomposed that they were never identified. The case went cold.
But 36 years later, thanks to advances in DNA and digital imaging, we now know who they are. And detectives are a big step closer to finding their killer - or killers.
The victims are Kerry Ann Graham, 15, and her friend Francine Trimble, 14. They were last seen alive in December 1978 when it's believed they left their homes in Forestville, California, to visit a shopping mall in the Santa Rosa area.
For more than three decades their fate remained a mystery. Nobody realised that the unidentified bodies found in July the following year off Route 20 near Willits - 80 miles (129 km) away - were Kerry and Francine.
But that changed shortly after the BBC published a series of features in 2012 highlighting the work of forensic artists at the National Centre for Missing and Exploited Children (Ncmec), Alexandria, Virginia.
Ncmec was using cutting edge technology to create 3D images of the teenagers' faces based on digital scans of the unidentified skulls. The remaining bones were exhumed for reexamination, and pieces sent to the University of North Texas Health Science Center (UNTHSC) for DNA sampling.
As a result of the publicity and renewed focus on the case, a woman who wishes to remain anonymous contacted the authorities. She said that one of the teenagers might be her sister Kerry.
Researchers at UNTHSC compared DNA from the mystery bones with samples supplied by the relatives of Kerry and Francine and made a positive match. The result has now been confirmed by the Mendocino County Sherriff's Office.
"We very much appreciate the BBC and Ncmec for getting this started and refocusing the sheriff's office (on this case)," says Sheriff Tom Allman. "We now need to know what happened in the 24 hours before they went missing."
"We had resigned ourselves to not knowing where they had disappeared," says Will Walsh, uncle of Francine Trimble. She would have been 51 years old this year. "It's like we're just learning of her death, like it just happened. I'm very impressed that so many people here cared. We thought it was a forgotten case until Ncmec contacted us for DNA."
Delays in identifying the girls may have been caused by a mistake in 1980 when the two skeletons were classified as male and female. Until the DNA tests, investigators believed they may have been trying to identify a brother and sister.
But Joe Mullins, the Ncmec forensic artist who created the 3D images says the features would have been almost the same, regardless of gender.
"My images are only as good as the information I have in front of me. But that face still goes on that skull," he says.
"It's been such a collaborative effort giving these victims back their names - an identity that has been lost for 30-plus years. It's extraordinary that we were able to help the investigation and these families find answers to their questions. I can't sum up how incredible that is. I feel that my job has meaning."
Ncmec is using 3D imaging and other technologies to help identify the remains of more than 700 children. Since 2011 around 60 cases have been solved.
"I would love to have no more skulls sitting on shelves - and we're slowly making progress," says Mullins.
Now that Francine and Kerry have been identified, detectives are appealing for people to help reconstruct their last movements. They are particularly interested in tracking the girls as they planned their trip to the mall in December 1978, just before Christmas. It's not known how they travelled and whether they might have hitchhiked.
"This is a big step in this case," says Detective Quincy Cromer who is heading the investigation at the Mendocino County Sheriff's Office. "It opens up all sorts of possible avenues."
But he is reluctant to reveal new leads in case of false claims and misleading information.
In 2000 a man in a New Jersey state prison confessed to killing the girls. But after investigating the claim, it was discovered that he'd taken the story from newspaper accounts.
In spite of the time lapse, investigators are optimistic that they can still solve this case.
"We're not satisfied with identification - we are dedicated to finding out what happened," says Detective Cromer.