Sophie Tucker: Everybody loves a fat girl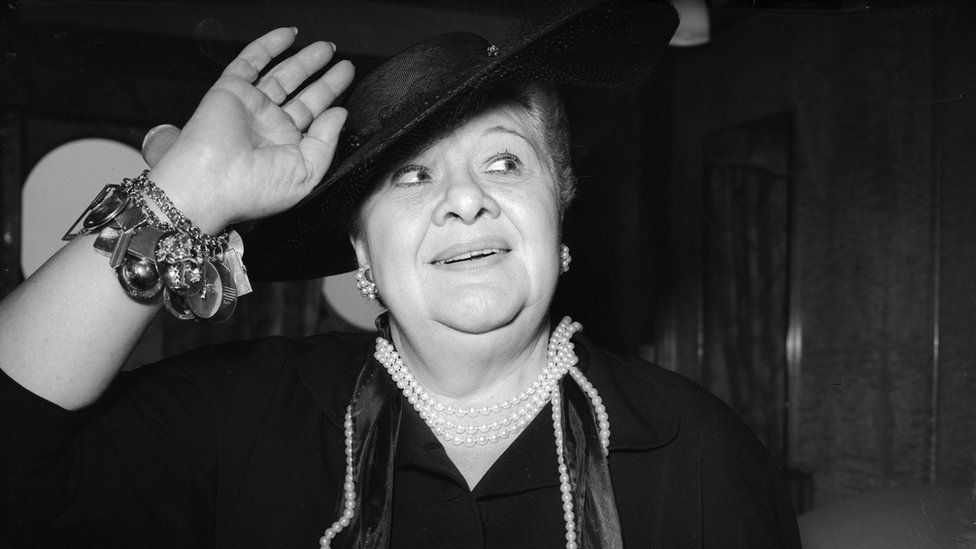 The American singer Sophie Tucker, who died 50 years ago on Tuesday, was one of the most successful recording artists of her day. She was on intimate terms with presidents and gangsters, and she showed that it was possible for a female artist to get to the top of show business on her own terms.
In 1962, when Americans were asked what they thought when they heard the name "Sophie" 95% answered "Tucker".
By this stage, the singer had gambled a fortune away and also given millions to charity. She had known seven US presidents and counted both Chicago mobster Al Capone and FBI boss J Edgar Hoover as close friends. She smoked so much that a parrot, belonging to one of her friends, would cough every time her name was mentioned.
Tucker was known as "the last of the red hot mamas", a nickname from one of her most popular songs. She would appear on stage and TV shows wreathed in yards of silk and sequins, to deliver songs and skits with her pianist, Ted Shapiro. The material was saucy but always delivered straight, in Tucker's prim-and-proper New England accent, and accompanied by little waves of a chiffon handkerchief.
Lois Young-Tulin, Tucker's first cousin once removed, recalls a joke from the elderly singer's act. "She always had a pretend boyfriend, Abe, in her jokes. So Abe came to her and said, 'Sophie, I'm tired of waiting for you - I'm going to get myself a 30-year-old girlfriend.'
"And Sophie said, 'Go ahead. I'm going to get myself a 30-year-old boyfriend. But just remember, 30 goes into 70 a lot more times than 70 goes into 30.'"
Besides sex and ageing, Tucker's material focused on her size. She called herself a "perfect 48" and sang numbers with titles like "Nobody loves a fat girl", "I don't want to get thin" and "I'm bigger and better than ever". ("I can offer post-war romance just the way men love it," she sings in the last of these numbers, "The quality's improved - and there's a hell of a lot more of it.")
"She was an incredible woman - so strong," says Sue Kelvin, who played Sophie Tucker in a one-woman show in the UK. "She just was this kind of larger-than-life character who just didn't give a damn about traditional ideals of being beautiful, or being thin or any of that."
This was the woman who greeted George V, in her 1934 Royal Command performance, with the salutation "Hiya King!"
Hers was the archetypal American story - a child of poor immigrants, she made a success of herself through chutzpah and hard work.
She was born on the road, to Ukrainian Jewish parents fleeing persecution, and named Sonia Kalish. There is some uncertainty about the date. It's now thought she was born on 25 December, 1886, although Tucker later decided her birthday was 13 January. ("I don't want to share my birthday with any other god," she is supposed to have said.)
From the age of nine Sophie was to put to work in her parents' Kosher restaurant in Hartford, Connecticut. She married a delivery man named Louis Tuck and had a baby boy, Bert. But the marriage was short-lived, and Sophie felt frustrated by the poverty and narrowness of her situation.
So in 1906, to the great shame of her parents, she ran away to New York, leaving Bert in the care of her little sister.
She dreamed of becoming a big star, but "starved" in the city. A promoter told her she was too fat and ugly to be a singer, but she would do in blackface, so she spent a year and a half touring as a minstrel singer. She disliked this work, however, and started to sabotage her own act.
"Against the rules, first she would take off a glove and show that she had a white hand, at the end of the act," says Lloyd Ecker, a self-confessed Tucker obsessive, who with his wife Sue has written a book about the singer and produced a documentary film. "Then it went a little further - she would pull her wig off and show her blonde hair - and the audience loved it."
Finally, on the way to a show in Chicago, Tucker contrived to "lose" her luggage containing all her make-up. She went on stage as herself - Lloyd Ecker says - wearing an overtight dress and three-inch heels.
"She went out and she knew that she was going to fall over. And she did. And then she said things like, 'Hey, what are you laughing at? I'm doing the best I can!' And she played the audience and then unleashed the humour of Sophie Tucker into 1907."
A stint at the glitzy Ziegfried Follies was short-lived - she made the mistake of upstaging the star - but it got her noticed by William Morris, whose talent agency was to become one of the biggest in America.
One day Tucker was interrupted in the middle of a card game by her maid, who told her to come and hear something written by one of her friends, a young black songwriter named Shelton Brooks. Reluctantly Tucker went along and heard the song that was to make her rich, Some of these Days.
The number was one of 10 that she recorded on wax cylinders for the Edison Company in 1910 and 1911, for a fee of $1,000.
A lot of stage stars were wary of recording technology - they thought it would undermine their stage act - but Sophie embraced it. "She adapted to changing trends," says Richard Martin, an owner and producer at Archeophone Records, which has reissued her early recordings.
Later on, she was able to adjust her singing style to the invention of the microphone, the decline of vaudeville and the arrival of the jazz age. "She's really prescient in the way she anticipated new jazz phrasing," says Martin. "She's able to play with the rhythm, accelerating it and retarding it with her delivery." In the Eckers' film, The Outrageous Sophie Tucker, Tony Bennett calls her "the most underrated jazz singer that ever lived".
She was good friends with many black stars - and not, Ecker says, in a "some-of-my-best-friends-are-black" kind of way.
One was the tap dancer Bojangles, Bill Robinson, who had started out on vaudeville at the same time as Tucker. When, in the 1920s, Tucker threw a big party for her sister's wedding, she invited Bojangles along.
"It was in a very fancy-smantsy hall in New York," says Ecker. "And whoever the doorman was said, 'OK, well all of you can come in, but the N-word go through the kitchen.'
"Sophie happened to be at the front door greeting all the guests, saw this happen, almost killed the doorman, closed the front door and said, 'OK - everybody goes through the kitchen.'"
Tucker was high-handed, egotistical and boastful, yet people loved her warmth and honesty. After a concert, she would set up a card table to sell copies of her autobiography. Fans weren't given the time of day unless they purchased a copy - and those who did were not to expect small change.
But if you accepted those rules of engagement you could expect warm conversation, unsolicited marriage advice, and an ongoing relationship with a big star. She wrote everybody's name and address down in her binder, and before her next tour she sent postcards to let them know she'd be in town.
By the time she died, she had collected over 10,000 addresses in this way.
It was one aspect of Tucker's astonishing nous for marketing and business. Early in her career, she took out ads for shows in magazines, and endorsed endless products, from milk to rowing machines. In 1924, she went on a tour where she insisted on taking a percentage of the gate, rather than receiving a fee.
"I've always made up my mind to do what I wanted to do," she told the BBC in 1964. "With numbers, with songs, with dresses, with anything with people. If I make up my mind that's what I want to do it's done. I get what I want, I do what I want, I am the boss."
Sophie Tucker never hid the fact that she was Jewish. One of her biggest hits was the tearjerker, My Yiddishe Momme, which she recorded in English and Yiddish.
It was in relation to this song that Lloyd and Sue Ecker had one of their best finds as they ploughed through Tucker's archive. One morning Lloyd woke Sue up at 04:00, after working through the night, and told her to read a letter.
"This is the way it happened," an ex-soldier, Robert Knowles, wrote to Tucker in 1952. "During the war I was with the 12th Armoured Division… there was a young Jewish boy in my company who talked of nothing but the famous Jewish entertainers that we have in our country."
This Jewish friend, Al, dreamed of playing My Yiddishe Momme, which was banned in Nazi Germany, on the streets of Berlin. Sadly, he was killed before he got the chance, but Knowles related how he found a phonograph and got an electrician to wire it to a truck's battery. Then he made his friend's wish come true.
Tucker's personal life never went smoothly. Her relationship with her son was a mess and her three marriages all ended in failure. The reason, Tucker said, was "no red-blooded man would stand to be a Mr Tucker".
She remained a force to be reckoned with right up to her death. Her friend Doreen Lewis remembers visiting her shortly before her death in 1966. By then Tucker was in a wheelchair, and Lewis recalls her whingeing in Yiddish about the fact that the nurse had attached chiffon tassels to the chair that did not match her dress. Shortly afterwards the same nurse wrote a letter to Lewis detailing Sophie Tucker's final moments.
"She called the nurse, because she felt she was going, and she said 'Bring me my chiffon hanky, bring me my wig," says Lewis. "And she lay there and did some of the dialogue of her act. And then she died."