How I hit the headlines on Siberian TV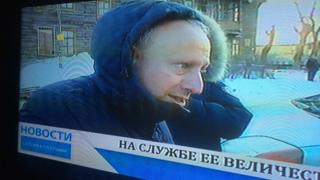 On a recent trip to Siberia, the BBC Moscow correspondent, Steve Rosenberg, was pursued by a local journalist. The next thing he knew, he was featured on the TV news and criticised for showing a less than idyllic view of Russia.
When morning breaks over the River Ob, the commuter trains rumbling across the railway bridge disappear into clouds of mist. They are the ghost trains of a Siberian dawn. Through a pink-and-orange sky bursts a golden sun, and the Ob is bathed in light. But it is bitterly cold. The wind sweeps across the frozen river and chills to the bone. What could be colder than a Siberian winter? I'll tell you what - the icy reception we're about to receive in Novosibirsk.
We're out on the streets filming a report about the Russian economy. Suddenly I hear a voice.
"I'm from Novosibirsk Television - are you the BBC?"
The reporter from this pro-Kremlin channel has tracked us down and his cameraman is already filming me.
"The journalist community of Novosibirsk wants to know why you are here? What kind of film are you making?" he asks. He informs me that a recent BBC Panorama programme on alleged Kremlin corruption was a "pack of lies… a provocation".
"Are you making the same kind of film here?" he barks.
I tell the journalist, whose name is Alexander, that we're making a news report about life outside Moscow. "Is that a problem?" I ask.
"Yes it is," he replies, "judging by the kind of programmes the BBC makes."
In the hotel that evening, I switch on the TV to see what kind of programmes Siberian Television makes - rather imaginative ones, judging by its main evening bulletin. "BBC in Novosibirsk" is headline news. But it's more fairy tale than fact. The newsreader introduces us - incorrectly - as the same BBC team that made that Panorama programme about the Kremlin.
---
Novosibirsk
Third most populous city in Russia after Moscow and St Petersburg, situated in south-western Siberia
Population of 1,473,754 according to the 2010 Census
Founded in 1893 at the future site of a Trans-Siberian railway bridge across the River Ob
Summer temperatures can reach 30C while winter temperatures can fall to -30C
---
"Now they've received a new assignment straight from BBC headquarters!" says the reporter, as if this is some kind of spy thriller. The reporter says that we've been filming things which we haven't. And, at the end, the newsreader makes this announcement:
"Tune in tomorrow to find out what the BBC's report is really about."
Next morning we drive to a business centre to interview the head of a local internet company about Russia's recession. And who should turn up uninvited? Yes, it's Alexander again with cameraman and questions.
"I want to know what kind of a report about Russia are you making?"
By now it's clear we're being followed. I tell Alexander it's very strange that we are being pursued.
"I haven't been following you," he replies. "I just got a telephone call telling me you're here."
I tell Alexander I don't think it's very polite to barge in to someone's private office.
"But we're doing the same job," he explains. "You're making a report about Russia - and so am I."
We get on to the subject of Russia's economic crisis. "Yes, but everyone's got economic problems now, haven't they?" says Alexander. "There are problems in Britain, in America..."
"Yes," I respond, "but Russia's economy - much more than Britain's - is reliant on its energy exports, so when global oil prices fall, Russia is hit badly."
Watch the encounter here (in Russian)
That night, when I sit down to watch the local news there we are again. Not surprisingly the part of the conversation that mentioned being followed, barging in and Russia's oil dependency didn't make it into this report. Instead, in his news piece, Alexander declares, sarcastically, that "the BBC knows how to show the 'pretty side' of Russia," accusing us of filming "food markets, bus stops and private houses".
"We may have plenty of dirt in our city," he says, "but there's plenty of dirt in the West, too."
And in a bizarre attempt to prove his point, he shows some photographs of dilapidated homes in the Essex seaside town of Jaywick - officially the most deprived neighbourhood in England. "The BBC would never show this," he declares.
I'm not too surprised by Siberian TV's frosty coverage of our visit. As relations between Russia and the West have deteriorated, the amount of anti-Western reporting on pro-Kremlin TV channels has risen. The Russian authorities, too, often complain about what they see as increasing anti-Russian rhetoric in the Western media.
But I wonder how effective this message is in Russia? Next day, out on Lenin Square, I interview some pensioners who are protesting against the government's economic policies. "Hang on, I saw you on TV last night. You're that British journalist aren't you? You're bad!" one woman suddenly says to me.
"Do you believe everything you see on pro-Kremlin channels?" I ask. "You've come on to the street to criticise your authorities. So why are you so ready to believe that the BBC is bad?"
"Well, it's all right for us to criticise our government," she replies, "but if we complain to you about our government, that's not patriotic."
How to listen to From Our Own Correspondent:
BBC Radio 4: Thursdays at 11:00 GMT and Saturdays at 11:30 GMT
Listen online or download the podcast.
BBC World Service: At weekends - see World Service programme schedule or listen online.
Subscribe to the BBC News Magazine's email newsletter to get articles sent to your inbox.