What writing about death taught one woman about life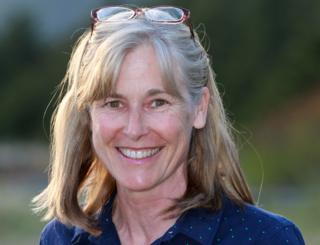 When Heather Lende was asked to write an obituary for her local paper in Alaska, she had no idea that over the following 20 years she would go on to write hundreds of them - all for people she knew. She also became an unofficial bereavement counsellor for the town of Haines.
"A friend's mother was old and dying at home. Nedra was her name, Nedra Waterman, and she was a pretty opinionated old gal," says Heather Lende.
Nedra had made it clear that she didn't want the reporter on the town's newspaper to write her obituary. But there was only one reporter, so the editor asked Lende, a writer, to step in.
"You write about living people so you can probably write about dead people too," he told her.
"Since then I've pretty much done them all," says Lende.
Everyone she writes about is from Haines, home to 2,400 people, or the nearby village of Klukwan. It's an isolated place - the state capital, Juneau, is a four-and-a-half-hour ferry ride away.
"The people who live here are fishermen, merchants or schoolteachers - people who work for the state or federal government, social services or wildlife and fisheries management.
"We all know each other pretty much - carpenters, artists, regular folks, mums and dads, or sometimes quite adventuresome people."
Over the past 20 years Lende has written about 400 or 500 of them, mostly for the Chilkat Valley News.
On one occasion someone who was still alive asked her to write her obituary.
Rene Pisel Walker had lived in Haines as a young woman before she got married and moved to Juneau. The family kept a cabin in Haines, and Walker would travel on the ferry service between the two homes.
Lende bumped into her one afternoon on the boat.
"I knew she'd had breast cancer… and she said 'My expiration date was a month ago, and I'm still here. Would you write my obituary?'
"What can you say to that except 'Of course'?"
---
Heather Lende spoke to Boston Calling on the BBC World Service - listen to the interview here
---
Lende has two grown-up daughters in Juneau so she would drop in on Walker when she visited the city.
"She was very brave and very organised. She told me all the things she wanted in there, different times in her life, names and dates - things her husband might not know.
"She gave me the names of people I could talk to who she worked with, friends in Haines or Juneau, how she wanted her children to be listed - with their middle names or not.
"It was really sad and also really remarkable, to see someone so prepared for their own ending. I wouldn't necessarily say at peace, but just recognising the reality of her situation.
"Her motivation was that she didn't want her family to have to do it. She wanted to have everything taken care of as best as possible, to make it easier on them when she left.
"That's the only one I've done like that and I didn't write it ahead of time, because I didn't want to jinx her. She actually lived another year-and-a-half or so after that."
When Walker finally reached the end of her life and was at home in bed, she asked Lende to come and see her.
"She knew it was time to die and she was OK with that. But she said, 'The hardest thing is that all the people around me aren't, and my family's telling me to hang on a little while longer. You're the only one who understands that I'm not giving up, it's just how it is. None of us live forever and this is my time.'"
The obituary that Lende found hardest to write was about 20-year-old Olen Nash, who died in a fishing accident.
"He was with two of his brothers and a friend, and they were crewing the family boat. The dad wasn't fishing that week - he gave it to the boys to catch their halibut quota. There was a storm and the boat sank," she says.
Olen, the youngest brother, drowned while diving for a life raft that he thought would save them all. The other three were rescued by the coastguard.
"His parents are my son's godparents and the thing I think about with that one all the time is that my son grew up to be a fisherman as well," says Lende.
"He's 26 and has been fishing since he was a teenager. He became a deckhand for Olen's father, Don - fished with him for many years and now fishes on a larger boat."
It's not so much the dangers of fishing at sea that occupies her thoughts though, but "how life can turn on a dime".
Olen's mother told her he had lived for 20 years and died in a minute and she was keen to ensure that his death wouldn't become his story.
"She wanted to share his life," says Lende. "I think about that when I write any obituary. The immediate tendency by the family is to talk about how they died. But good grief, they had a big life before the end. My job is to focus on that.
"When I only have 500 or 600 words, the death is just a sentence. The rest of the story is how they lived.
"With Olen there were stories about a dog he had, or how he was a snowboarder, a surfer, an artist who won prizes at the fair for his carvings of birds. He was an outdoorsman with sweet and shiny eyes - that kind of kid. So there was plenty to write about."
Lende also says she started to realise that the time she spent with grieving families - the cups of coffee and tearful walks, the cookies and the leafing through photo albums - was more important that the obituary itself.
"It's helping someone grieve. I can get all the details I actually need to write the piece in the first 20 minutes. But people are sad and they want to talk about all kinds of things.
"They might talk to me for two hours about the end of the life, or the cousin that won't come and that they haven't been reconciled with for years. Or the child that was fighting with the parent."
These are details that never make it into an obituary, "but they weigh on people and they want to tell me - it's more about them and how they're feeling," says Lende. "It's like I'm an inadvertent grief counsellor."
She's also come to the conclusion that acknowledging faults in the people she writes about can be a good thing - a reminder that the living still have an opportunity to put things right. "We're still a work in progress," she says.
And she has learned to value everyday contact with people in the community. Clyde Bell ran a fish shop in Haines, where he had lived for most of his life. He died relatively young "organ failure at 60," she says.
"He liked to drink beers and smoke cigarettes, but was always out on the sidewalk talking to people. He was a very bright guy and when he died suddenly there was this void in town. We had this big memorial service for him that I think his family was really surprised about.
"Clyde's rather sudden death taught me that there's all these people around who make my life better, that I need to make sure I acknowledge."
---
Lende's five tips for a happy life
Pretty good is better than perfect
Draw lines in the sand so you can move them
Send a forwarding address - Lende wrote about a man who lost touch with his family for 37 years after moving from the east coast of the US to Alaska
Tell them you'll miss them when they're gone
Be kind - that's what everybody needs more than anything
Heather Lende has written about her time as an obituarist in her book, Find the Good.
---
And if she has to write about someone she didn't like so much? "You can tell sometimes when it's somebody that wasn't particularly generous or kind," she says, laughing. "Theirs tend to be shorter."
"I try very hard to find somebody that will say something nice about them. Frankly there have been some where everyone in town knows there wasn't particularly much there - so then you just stick to the biographical details.
"They may have been very good at their job, or built something in town that everybody recognises as a building we all use and like. But I tend then not to embellish a whole lot."
Having written so many obituaries Lende is often asked what makes a good life. She thinks it comes down to one thing - relationships.
"When we go, do we leave behind people that will miss us? If you want to have a lot of friends, you have to be a good friend. I take that to heart. It's something I have learned in writing obituaries."
In some ways she feels her writing has desensitised her towards death, though it can still be a blow, she says, "to realise this force in your life was gone for good".
That's how it should be in her view, "Death should be a little bit of a stunner - it should wake us up to how we really want to live."
With thanks to the families of Nedra Waterman, Olen Nash, Rene Pisel Walker and Clyde Bell for the use of their pictures.
Subscribe to the BBC News Magazine's email newsletter to get articles sent to your inbox.