How to fake a US presidential campaign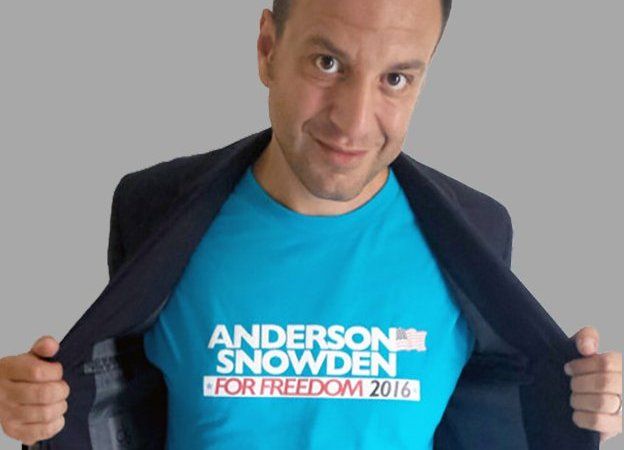 An Italian novelist who's been leading a double life as a US presidential candidate is coming out, admitting he's a fake - but he says he'll keep his bogus campaign website and Twitter feed going because he's got so many American fans.
For the past eight months Alessandro Nardone has been posing online as Alex Anderson, a telegenic California congressman running against Donald Trump for the Republican nomination.
"When my wife and my daughter go to bed and America begins to wake up, I sit down at my computer and start living the life of Alex Anderson, sort of like Clark Kent when he goes into a phone booth and turns into Superman," says the 39-year-old marketing consultant and former local politician from northern Italy, who also writes novels in his spare time.
Nardone and a group of friends in Campione d'Italia, on the Italian-Swiss border, used social media to build up support for Alex Anderson. His Twitter account - @Americaisnow - has 26,400 followers and more than 200,000 unique visitors have clicked on his fake campaign website, America is Now.
He's had invitations from across the United States to join in debates and do media interviews - a California lawyer repeatedly asked Anderson to appear on her radio programme, and a talk show host in Flint, Michigan invited him to a debate of alternative presidential candidates that the "mainstream media refused to cover".
Nardone came up with the idea of creating the internet persona as a marketing ploy for his self-published thriller, in which Alex Anderson is the protagonist. To his surprise, people started taking the character seriously. Nardone had T-shirts, mugs and posters printed. A campaign video purportedly set in Los Angeles was shot at the corner bar in Campione d'Italia with a group of friends, locals and staff he recruited from a nearby casino to pose as a diverse group of American supporters.
"We started it as a joke, but week after week it became really serious because we were getting a lot of mail and contact from the USA," says Andrea Balzaretti, who's been pretending to be Anderson's campaign manager.
"In my real life I'm a cleaner at the casino," says Lordina Haiford, a Ghanaian who posed as an African American supporter. "But I've always dreamed of going to America."
As the fictional campaign began taking on a life of its own, Nardone started working through the night so as not to miss the US news cycle, calculating carefully the nine-hour difference from Campione to his fake campaign headquarters in Los Angeles.
He has had conversations with dozens of Americans via Twitter, messaging apps and email. His wife, Irene Colombo, thought he was crazy.
"We live by day and night," she says. "During the day he has his main job, but during the night his whole American world lights up."
Some fans wanted to send donations - Nardone took none, and instead asked for retweets, although he does sell merchandise.
Every time he bashed Hillary Clinton on social media, candidate Alex Anderson picked up supporters.
But it was his decision to name Edward Snowden - who leaked information about surveillance by the US National Security Agency - as his running mate in October that attracted the largest following. At that point, Nardone decided to continue the ruse in order to stimulate debate in the US presidential campaign about the dangers of NSA spying on civilians.
"Many Americans view Edward Snowden as a traitor, but for me he's a hero. I decided to use Snowden's name to insert the issue into the centre of the electoral debates."
While Snowden did not give his permission, Nardone says no-one has complained and many of Alex Anderson's backers are also fans of Snowden. Others follow him because he is a fan of Reaganomics.
When I quizzed Nardone he couldn't name the capital of California, yet his well-researched, strategically hashtagged tweets and slick website convinced thousands that he was criss-crossing the US in his campaign bus when he was actually sipping cappuccino at a corner cafe in northern Italy or sitting bleary-eyed in front of a laptop in a corner of his living room.
Some, however, quickly realised that Anderson wasn't a genuine presidential candidate - two Washington journalists called to talk about it, but then started following him and offered advice on how to appear more credible.
Alex Anderson even managed to register as a legitimate political force. On 5 September, the top four US political topics gleaned from real-time tweets being tracked by German researchers at the Big Data Analytics Research Lab at Goethe-University in Frankfurt were related to the character.
He defends his months-long game of deception by saying it morphed into a socio-political experiment that has illustrated the superficiality of the web, where media-savvy poseurs can easily manipulate others.
"If I can run a fake campaign from here in Italy and convince thousands of Americans to consider voting for someone who doesn't exist, then so can anyone. How do we know that Donald Trump isn't just pretending for a new television series to compete with House of Cards?"
Even though Nardone is now telling the world the truth about Alex Anderson, he's going to keep the character alive. "The support for his ideas is real, so I want to keep the campaign going as long as I can."