Who most earned the title 'fifth Beatle'?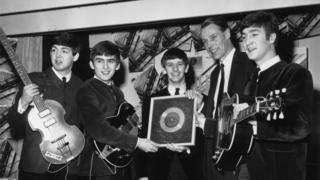 Paul McCartney has paid tribute to The Beatles producer George Martin saying he had earned the title of "fifth Beatle". But where did this phrase come from and who else has it been applied to?
John, Paul, George and Ringo. The Beatles were a tight-knit gang of four - christened the Fab Four in 1963 after the press picked up the term from the sleeve notes for their second album.
The term "fifth Beatle" was first used a year later when they crossed the Atlantic in an attempt to crack America.
"It's part of the mythology that the American DJ Murray the K was the first to name himself the 'fifth Beatle' on air," says Beatles expert Stephanie Fremaux, from Birmingham City University. "He probably did that as he was heavily promoting their first US visit in 1964 and playing their music on the radio."
Since then around a dozen people connected with the band have been awarded the title by fans or the press.
When it came to the band's distinctive sound, Sir Paul is now in no doubt that The Beatles owed the most to their record producer Sir George Martin, who has died, aged 90. "If anyone earned the title of the fifth Beatle it was George," he wrote on his blog.
Under a photo of them recording, he described how Martin convinced him to try Yesterday with a string quartet instead of solo with a guitar.
"George was the fifth Beatle when it came to their records," agrees music journalist Paul Gambaccini. "He was interested in creating a painting instead of a photo. He wanted to help them achieve what they wanted to convey, not just capture their performances.
"However, Neil Aspinall [The Beatles road manager] was fifth when it came to arrangements and their itinerary."
The Beatles were influenced and helped by many people. In 1988 George Harrison said both Aspinall and their PR man Derek Taylor could be considered "fifth Beatles". In 1997 Sir Paul gave the title to their manager Brian Epstein. So is it possible to have just one fifth member?
"I don't think we can say there is a definitive 'fifth Beatle', but I think there are people with a stronger claim to the title - George Martin and Brian Epstein," says Fremaux.
"When The Beatles first came to London to audition they were very rough. George Martin polished them and helped them develop their sound. Brian Epstein didn't quit until he got the band a contract and worked on their stage presence. He made sure the press thought of them as four cheeky boys."
She adds that we shouldn't forget Stuart Sutcliffe who was a member of the band in 1960, although they were then known as the Silver Beatles.
"Sutcliffe bought a bass guitar and played with the group in Hamburg. He couldn't play it very well and used to stand with his back to the audience and he quit soon after. He had a small role but he was one of the original members of the band."
Sutcliffe is pictured on the third row of the Sgt Pepper's Lonely Hearts Club Band album cover.
Pete Best has also been named a fifth Beatle. He was the original drummer from 1960 to 1962 and played gigs in Liverpool and Hamburg, before he was eventually dismissed and replaced by Ringo Starr.
Drummers Andy White, who performed on the single version of Love Me Do in 1962, and Jimmie Nichol, who replaced a sick Ringo Starr for a fortnight on the 1964 world tour, are also in the mix.
Pianist Billy Preston is another excellent candidate fifth Beatle. He was the only musician to be credited on a Beatles recording, apart from the original four members. The 1969 single Get Back was credited to 'The Beatles with Billy Preston'. A bootleg session tape of Let it Be revealed John Lennon even wanted to make Preston an official band member.
So why then has there been such a determined search for a fifth member?
"The Beatles are so far ahead of every other popular music act that we are desperate to introduce a connection between them and us," says music journalist Paul Gambaccini. "We needed to introduce an intermediary between us and them. People like George Martin are our way in to the records."
Guitarist Eric Clapton has also been recognised. He was a close friend of George Harrison and played the solo on While My Guitar Gently Weeps on the White Album. But Fremaux says Clapton didn't want his role acknowledged.
"He recognised that The Beatles were an idea and that shouldn't be altered."
For John Lennon it was artificial to be obsessed about who was "in" and who wasn't. "I'm not the Beatles. I'm me. Paul isn't the Beatles. Brian Epstein wasn't the Beatles, neither is [music publisher] Dick James," he told Rolling Stone Magazine in 1971.
"The Beatles are the Beatles. Separately, they are separate. George was a separate individual singer, with his own group as well, before he came in with us, the Rebel Rousers. Nobody is the Beatles. How could they be? We all had our roles to play."
Follow Claire Bates on Twitter @batesybates
Subscribe to the BBC News Magazine's email newsletter to get articles sent to your inbox.