New faces in the US National Portrait Gallery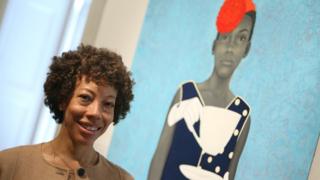 The tone of the 2016 presidential campaign can give the impression that many Americans are angry, frightened of change, fearful of Muslims and never more racially divided. All those things may be true. But for an alternative view of how Americans are grappling with the issues they face, a trip to the National Portrait Gallery in Washington might prove instructive.
Race, poverty, gender identity and immigration are all featured in the work of 43 artists in The Outwin 2016: American Portraiture Today, an exhibition and competition that attracted 2,500 entries from around the country.
"Portraiture is extremely relevant in the contemporary art world right now," says exhibition curator Dorothy Moss.
"People are thinking about the issues in the news and creating works of art about those issues as a way to allow a conversation that can't be had when reading a newspaper or watching the news."
In a full length photograph of herself, Jess T Dugan stands in a provocative pose reminiscent of a male stripper. The raised t-shirt exposes the scars from surgery to remove her breasts and displays the hair under her arms. The image combines male and female sexuality.
"I thought it was a little brave of the jurors to pick that image because I perceive it as being more confrontational than some of the other works in the portrait gallery," she says. "I was pleased they were willing to include it and address the issues [of gender identity] head on."
Dugan grew up in Arkansas feeling that she was neither male nor female. She now identifies as a female-bodied, masculine-presenting person. Through portraiture she explores the attitudes surrounding gender identity and the rapidly shifting culture in the US.
"People's hearts and minds are changed through knowing somebody individually," she says. "So if people feel that they know someone who is gay or transgender, it becomes so much harder for them to blindly discriminate against them as this abstract group of people."
Hidden portrait 'found under Mona Lisa'
Saatchi Gallery's first all-women exhibition
Racial identity is the theme of the winning portrait by Baltimore-based artist Amy Sherald who grew up in Georgia where she was conscious of the way society expected a young African American girl to behave.
Her portrait, Miss Everything (Unsuppressed Deliverance) depicts one of her friends, an African-American woman, wearing a formal dress, white gloves and red hat, and holding an oversized tea cup. Her skin is painted in hues of gray which, Sherald says, "omits" her colour.
"I want my portraits to create a space where blackness can breathe," she says. "It was about creating a space where people could see the humanity of a person of colour and for people of colour to look at a portrait of themselves."
Californian artist Joel Daniel Phillips takes a different approach to race. In contrast to the "respectable" Miss Everything, his Eugene #4 portrays a man he encountered on the corner of Sixth and Mission Streets in San Francisco.
"It was full of drug addiction, poverty, homelessness and prostitution, all the things that cause the vast majority of the population of San Francisco to walk around," he says.
"These are the people we don't know how to respond to in society, who we don't make eye contact with. I wanted to tell the narrative of these people who are social dark matter and bring them into the light."
The anonymity of Eugene #4 is in marked contrast to the many portraits of famous people hanging in the hallowed halls of the National Portrait Gallery.
Presidents mingle with rock stars and America's great and not-so-good peer down at visitors from gilded frames. The museum tells the story of the nation through the pictures of the people who made it.
But that history - and the future - also belongs to those unknown individuals portrayed in this latest exhibition. The paintings, drawings, sculptures and photographs show children living in poverty, women with their babies, unnamed immigrants crossing the border, men and women, Africans and Europeans.
Curator Dorothy Moss says all of them merit a place in the museum.
"We were looking at the mastery over the medium, the quality of the work of art and whether it is museum quality. So while these issues are an important part of the work, the work really needed to rise to the occasion as a significant art work."
Amy Sherald receives $25,000 (£17,470) for her winning entry and a commission to create a portrait of a living person for the museum's permanent collection.
The subject has not been decided, but Sherald says the tennis player Serena Williams, the actor Spike Lee and President Obama and his daughters all appeal.