Why Rob Ford was a typical Canadian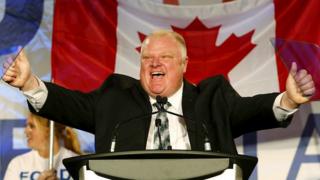 Canadian journalist Jordan Michael Smith reflects on the outrageous life of Rob Ford, the former mayor of Toronto. Was an overweight, crack-smoking loudmouth really so out of character compared to his fellow Canadians?
It is fair to say that Rob Ford brought more attention to Toronto at one time than the city has ever received in its history.
The former mayor, who died on Tuesday, made the Canadian city internationally notorious in May 2013 when a gossip website described a video showing him smoking crack cocaine.
The revelation was soon followed by an astonishing series of events: Ford's admission of crack-smoking, reports that the house where Ford was videotaped was well known for attracting drugs and violence, another video showing him drunk and using racial slurs, and yet another video showing him again smoking crack.
Part of what made Ford so headline-grabbing was, of course, the simple fact that he was a mayor engaging in felonious behaviour.
That behaviour was tied into his entire persona, which seemed made for sensationalistic coverage - boisterous, boorish, and boozy.
But another reason Ford became globally infamous was that he ran so contrary to national stereotypes.
"Toronto's crack-smoking, hard-drinking mayor seems so, well, un-Canadian," as the Irish Times put it.
"This is Canada we're talking about, supposedly an endless land of clean water, maple trees, Mounties and French secessionists," Time magazine summarised.
But Canadians defy popular notions of all kinds.
They are among the heaviest drinkers of alcohol and smokers of marijuana in the world and they rank with the most obese and dependent on antidepressants.
In light of this evidence, Rob Ford isn't so un-Canadian.
Perhaps that's why many Torontonians simply didn't care about his conduct.
It wasn't that shocking to them. And it was hardly unknown.
By the time he was first elected mayor, after all, in October 2010, he had already faced charges for assaulting his wife; he had become drunk and yelled obscenities at an ice hockey game; been forced to leave an event for the Canadian armed forces because he was inebriated, and he had admitted to failing a breathalyser test - all while he was a City Council member.
The crack-smoking was a new degree of criminal activity to city residents, but it was only the latest in a long string of outrageous incidents engaged in by Rob Ford.
And on the video watched around the world, Ford also made typically bigoted remarks, calling the man who is now Prime Minister, Justin Trudeau, a "fag" and made obscene slurs against football players he coached, calling them "minorities".
Even still, many voters continued to support Ford.
The revelations about Ford's fondness for crack cost him only a temporary dip in the polls.
It was only after cancer forced Ford from his re-election campaign that his eventual successor, John Tory, knew he would win.
Even though he campaigned mostly from his hospital bed, Ford won re-election to the City Council in October 2014.
An exception to his hospitalisation was when he was kicked out of three advance polling stations by election officials.
Ford's supporters didn't care much about these activities.
He had a deserved reputation for being personally and swiftly responsive to his constituents' concerns.
His foibles made him seem like an approachable, normal guy.
Born wealthy
"They see him as a big dumb guy like them - a Rodney Dangerfield type who just can't get no respect," a University of Toronto political scientist explained.
"I'd much rather a crack addict than some Ivy League nepotistic scum any day," one of his voters said.
Ford had a less-deserved reputation for being a man of the people - he was born wealthy, his signature concern was low taxes, and he expressed contempt for women, gays, blacks, Jews, Italians, Asians, and most other people who didn't look like him.
But even if he didn't like people very much, people liked him.
Rob Ford wasn't an everyman but he played one in real life.
He drank, swore, and committed crimes while in office that should have delivered him to prison under an equal justice system.
And in all this, Rob Ford wasn't un-Canadian. He was every bit as Canadian as clean water, maples trees, and Mounties.
Update 8 September 2016: A reference to seal hunting has been removed from this report because of a discrepancy over figures.