Brussels attacks: Molenbeek's gangster jihadists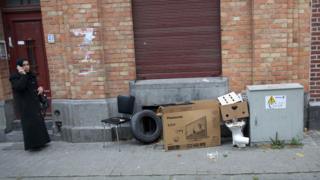 In the poor inner-city areas of Brussels, deprivation, petty crime and radicalisation appear to have gone hand in hand. The BBC's Secunder Kermani has been finding out how drinking, smoking cannabis and fighting - combined with resentment towards white Belgian society for its perceived discrimination against Arabs - prepared some young men for a role as fighters in Syria, and terrorists in Europe.
Molenbeek is a place full of contradictions.
It's just a few minutes away from the heart of the European Union, but this densely populated district of Brussels has 40% youth unemployment.
It's been in the spotlight ever since the Paris attacks in November when it was revealed that the ringleader, Abdelhamid Abaaoud, and three of the other attackers grew up in Molenbeek.
They include Salah Abdeslam - who was arrested after a four-month manhunt back in his home neighbourhood.
How did he manage to stay hidden for so long? And why have so many young people from Molenbeek ended up as jihadists?
Most people in Molenbeek are rather sick of journalists - they resent the way they are portrayed in the media as a "jihadist capital of Europe". But one phrase you often hear when foreign journalists attempt a vox pop is that "terrorism has nothing to do with Islam".
Certainly, many of those who joined IS from the area did not come from particularly religious backgrounds.
Salah Abdeslam and his elder brother Brahim - who blew himself up in the Paris attacks - used to run a cafe in Molenbeek that sold alcohol and was closed down for drug offences. One friend of the brothers who used to hang out there told me he would regularly see Brahim Abdeslam "watching IS videos, with a joint in one hand, and a beer in another". He said Brahim would spout off radical statements but that no-one took him seriously.
Another friend showed me a video from a Brussels nightclub of the two Abdeslam brothers on a night out with girls, drinking and dancing - this was February 2015, just months before they started to plan the attacks in Paris.
The network that the Abdeslam brothers had around them - based as much on personal loyalty, disenchantment and petty crime as radical ideology would be key in helping Salah escape after the Paris attacks. The network was not just in Molenbeek but stretched across the so-called "croissant pauvre" (poor crescent) of Brussels - a semi-circle of deprived inner-city neighbourhoods including Schaerbeek, where Salah had a safe house, and Laeken, where some of those who helped hide him grew up.
While making a documentary for Panorama, I read the transcript of the interrogation of two of Salah Abdeslam's friends, whom he called on the night of the Paris attacks asking for help.
Hamza Attou and Mohammed Amri tell police Abdeslam said he had had a car accident and needed to be picked up. Attou claims that once they arrived Abdeslam threatened "to blow up the car if we didn't take him to Brussels".
But Amri then goes on to describe how the three men drive around Paris for about "the time it took to smoke a joint" before attempting the journey back. According to Attou, they try to drive along smaller, quieter roads - but end up lost and back on the motorway. Then they smoke a further three joints on the drive back to Brussels - they are stopped at three separate police checkpoints but allowed to pass.
At one, according to Attou, a police officer "asked Amri whether he had drunk. Amri said, 'Yes'… The police officer told Amri it wasn't good to have drunk, but that wasn't their priority today."
Back in Brussels Abdeslam changed his clothes and his appearance. According to Attou, he went to a barber's where he "got himself shaved, trimmed his hair and shaved a line on his eyebrow".
He then called another friend and told him to drop him off in another neighbourhood. These three friends were all arrested a few hours later. According to another of the circle, "they are all in jail for nothing - just because they helped Salah without thinking".
Abdeslam would remain on the run for the next four months before being arrested. It may be hard to imagine anyone agreeing to help someone involved in an atrocity like the Paris attacks - but it seems Abdeslam was able to draw upon both a network of IS supporters, and also a small network of people who were not necessarily extremists, but who felt a sense of personal loyalty to him - and a mistrust of the Belgian state.
There is certainly a sense of disaffection among many in Molenbeek. I spent an evening on a street corner talking to one young Muslim man who had been accused of attempting to travel to Syria.
He alternated between fixing me with an intense stare, and refusing to make any eye contact - exuding an air of slight volatility. Initially when I told him I wanted to understand why someone would commit an attack like the one in Paris - he told me I should travel to Raqqa, and ask people there. For him Western air strikes against IS were the answer.
But then he changed his mind. It was the fault of domestic conditions. He railed against the Belgian government - against white Belgians, who hated those of Arab descent, he said. And he would repeat "there is no democracy here" - a feeling that you can't express any view dissenting from the mainstream without being labelled extreme.
---
Find out more
---
Many other young people I spoke to, who had no connection with extremism whatsoever, also had grievances about the way Muslims are treated. Some described how having a Molenbeek address made getting a job harder, and girls who wore the hijab complained of laws banning the headscarf in many places of work.
Sheikh Bassam Ayachi used to be considered a leading radical preacher in Molenbeek. The Syrian-born cleric, now 70 years old, arrived in the area in the 1990s. Some accuse him of sowing the seeds of radical Islam in Molenbeek - but he unequivocally condemns events like the Paris attacks.
When the Syrian conflict began, he travelled back to his homeland. Now allied to mainstream Islamist rebels, he's a staunch opponent of both the Assad regime and IS. So much so that the group tried to assassinate him, planting a bomb in his car. The attack cost him an arm but he survived.
Over Skype I asked him why he thought so many young people from his old neighbourhood in Molenbeek were joining IS - a group he believes "sully the name of Islam, and sully the name of the Syrian revolution".
He put it down to the lack of action against the Assad regime on the one hand, and domestic factors on the other.
"The young people from Molenbeek feel frustrated because they were marginalised by the Belgian government. They have never tried to give them work, education, social help in order to get them integrated into society," he said.
"Some of them were delinquents, selling hashish and so on. Over time they ended up in prison. In prison they found that returning to religion was something amazing: 'We can forget about any of the stupid things we did in our lives.' So they turned to religion but with hatred in them against Western society."
That sense of a need to atone for past sins is perhaps one reason why so many of those from Molenbeek who ended up with IS had criminal backgrounds.
Although, as one friend of the Abdeslam brothers tells me, "It can't be that, we've all had problems with the police, we don't all end up like that." He's at a loss to explain the cause of their radicalisation - clinging rather forlornly to an idea that perhaps they did it for money, and didn't realise what they were getting into.
Or perhaps the reason for the crossover between crime and jihad is the macho glamour associated with both. A former friend of one of the leading figures in the Paris attacks described him to me as "someone who always liked a fight".
But many of these young men didn't stumble into the jihadist world completely unaided. For the early years of the Syrian conflict, according to community leaders, it was normal to see "recruiters", barred from operating in mosques, talking to groups of followers on the streets, in cafes or in private study circles.
One of the most successful of them was a man called Khalid Zerkani - now in jail in Belgium. His entourage included Abdelhamid Abaaoud, plus another of the Paris attackers, and a man currently in prison in Morocco for alleged links to the Paris cell.
According to court files he wouldn't only preach to would-be jihadists, but would put them in touch with smugglers in Turkey who would transport them into Syria, and he would dole out stolen gifts to them - earning himself the nickname of "Papa Noel" - Santa Claus.
One of the young men in his circle of influence was Yoni Mayne - who ended up travelling to Syria alongside Abdelhamid Abaaoud. His mother blames Zerkani for his radicalisation. "He has destroyed the life of my son, who was 23. He has also destroyed my life. I will not forgive him."
She saw her son change after meeting Zerkani: "He used to wear brands only - Gucci, Dior, Versace... He left everything behind, even perfume, he left everything. He would wear robes only, like a Saudi."
In 2013, Yoni left for Syria. He returned, but his mother was terrified he would leave again, "I told the police he intended to leave because the phone kept ringing, even when he was asleep, to harass him. I got in touch with the police once again and I told them that he intended to leave. They said that he would not leave, that they would do something."
But the police didn't do anything. Yoni left for Syria in early 2014 and was killed a few months later.
When he and many of the others first left Brussels for Syria the conflict was far simpler. They may have had fundamentalist interpretations of religion but their primary intention was to stop the abuses being perpetrated by the Assad regime.
But most gravitated towards IS, and their radicalisation, and desensitisation to violence would have only continued.
There are people trying to solve the issues in Brussels. At the BBA gym - many of whose members come from Molenbeek - there's a mix of colours, races and religions. One former gym member did end up going to Syria and being killed. Another is currently in jail in Turkey, accused of links to the Paris attacks.
Club president Mohamed Maalem says his biggest task is to give young people a sense of self-esteem. Many who are third or fourth generation immigrants struggle with their identity, he says. "They go to Morocco they're told they're Belgian. Here they're told they're Moroccans. They don't feel at home anywhere - so they're forever trying to find out who they are."
One of the trainers at the club argues that the key cause of radicalisation in Molenbeek is a sense, rightly or wrongly, of not having a future.
"Radicalisation doesn't start with a religious ideal," he says. "The guys I know [who went to Syria] they have no ideology, they have no big ideas... They are going because they are leaving something. They are fed up with this society."
Subscribe to the BBC News Magazine's email newsletter to get articles sent to your inbox.