Been and Gone: The actress whose attack scene became notorious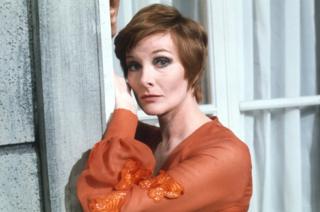 Our regular column covering the deaths of significant - but lesser reported - people of the past month.
Actress Adrienne Corri's repertoire ranged from Shakespeare to horror films but she is mainly remembered as the victim in the notorious rape scene in Stanley Kubrick's 1971 film, A Clockwork Orange. Two other actresses had withdrawn from the role - claiming it was humiliating - but Corri was happy to sit naked on the set while Kubrick tried to decide which shot worked best. The finished scene was one of the reasons why, after its initial showing, Kubrick asked for the film to be withdrawn from circulation. Corri made her first film appearance in 1949 and her subsequent career prompted a critic to describe her as having "no nice-little-girl-next-door nonsense". She appeared in a number of sci-fi and horror films - three of the latter for Hammer in the 1960s. She was a regular in the BBC series, Play of the Month, and enjoyed a successful stage career with the Old Vic and on Broadway.
Producer Michael White saw censorship as something that had to be fought and overcome, and he spent the best part of his career doing just that. He began producing plays in the early 1960s, at a time when the Lord Chamberlain still had the right - under a law passed in 1737 - to vet all London theatre scripts. A year after the law's abolition in 1968 White produced the nude revue, Oh! Calcutta!, which delighted audiences as much as it annoyed the critics. He went on to stage The Rocky Horror Show and A Chorus Line and became famous for lavish opening parties to which rock stars, actors and the famous-for-being-famous queued up to attend. He worked on the film version of Rocky Horror and Monty Python's Holy Grail.
The life of James Blears would have filled the pages of any adventure story. Born in Manchester, he enjoyed amateur wrestling and swimming and had been considered as an Olympic swimming hopeful for the 1940 games. But the competition fell victim to the war and he joined the Merchant Navy. His ship was torpedoed by the Japanese in the Indian Ocean in 1944. Taken aboard an enemy vessel, Blears was forced to watch as many of his crewmates were executed. He jumped overboard, dodging rifle bullets and was eventually rescued by a US warship. In 1946 he moved to America where he became a professional wrestler, appearing in a monocle and cape as the villainous Lord James "Tally-Ho" Blears. He held a number of championships through the 1950s before moving to Hawaii where he continued his career in the ring and appeared in episodes of the TV series Hawaii Five-O and Magnum PI.
Andre Benard was once described as "a Frenchman who understands the British way of doing things", something that helped him secure his appointment as co-chairman of the Channel Tunnel project. An Anglophile by inclination, his job, as seen by President Mitterrand, was to ensure the British did not back out of the project as they had done once before. A former senior executive with Shell, Benard inherited a project running behind time and over budget with banks threatening to withdraw the funding needed to keep it afloat. Together with his co-chairman, the abrasive Sir Alastair Morton, he saw the project through despite huge financial and logistical problems. The tunnel finally opened in 1994 but his troubles were not over. In 2003 he was told he would have to stand trial after complaints by investors, incensed that promised returns had not materialised. He was later cleared.
Fed up with what she perceived as a worrying drift towards religious liberalism, the nun Mother Angelica set up her own TV network in the US to fight modernists in the Catholic Church. The Eternal Word Television Network, which initially started in a garage in Alabama in 1962, began by buying in Christian programmes, as well as featuring a twice-weekly live appearance by Mother Angelica herself. From this platform she would lay into Catholic progressives who, in her view, were pushing ungodly ways upon the population of the US. She lambasted liberals, feminists and Vatican bureaucrats with equal vehemence. But she proved popular. Helped by the techniques popularised by TV evangelists, donations flooded in. By the time ill-health forced her to step down in 2001, EWTN was broadcasting around the clock to an audience of 250 million in 140 countries including the UK. The daughter of Italian immigrants had become a global TV star.
At 6ft 7in and 21 stone, Canadian Rugby International Norman Hadley was an imposing figure on the pitch. He captained Canada five times as well as being a member of the team that almost pulled off a sensational win against the New Zealand All Blacks in the 1991 World Cup. His failure to suffer fools gladly saw him dropped ahead of the 1995 competition after some outspoken criticism of Canadian officials. However, his high point arguably came off the pitch, while travelling on a London Tube train when he was playing for Wasps. Two youths, who had been ignoring passengers' demands to stop smoking and fooling around, suddenly decided it might be best to leave the carriage when Hadley drew himself up to his full height. His action gained him a commendation in the House of Commons from the Prime Minister, John Major.
Among others who died in March:
Ronnie Corbett, entertainer and one half of The Two Ronnies
Dame Zaha Hadid, award-winning architect
Garry Shandling, US comedian and star of The Larry Sanders Show
Tony Warren, creator of Coronation Street
Nancy Reagan, US First Lady
Keith Emerson, prog-rock keyboard player for The Nice and ELP
Paul Daniels, TV conjurer and illusionist
Sir Peter Maxwell Davies, composer and Master of the Queen's Music
Asa Briggs, broadcasting historian and Bletchley Park codebreaker
Sylvia Anderson, Puppeteer and voice of Lady Penelope in Thunderbirds
Cliff Michelmore, BBC reporter and presenter
George Martin, The Beatles' record producer
Subscribe to the BBC News Magazine's email newsletter to get articles sent to your inbox.