The child bride who's glad her husband abandoned her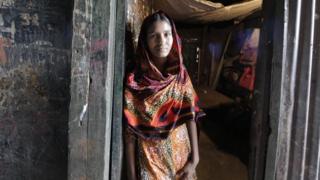 Asma was 16 when she was abandoned by her husband in a slum in Bangladesh. But rather than give up, she set about improving her life.
"If people ask me about my husband I tell them I don't have one. I tell them he is dead," says Asma.
"My life was hard before I was married but it didn't get any better afterwards. He used to hit me on the head with a knife, especially after he'd been drinking. I still have the marks."
Asma was born on the coast, in Bhola, but floods destroyed the family home and the land they farmed. Like many others in the same position, they moved to Dhaka to find work and ended up in the Duaripara slum on the northern outskirts of the city. The area is home to more than 40,000 people, its alleyways lined with small tin shacks.
Asma's father is deaf and couldn't find work in the city, so her mother turned to begging. "My parents are poor," she says. "I hoped that once I got married, their suffering would ease. Then they'd only have my little brother to feed."
Not long after they arrived in Dhaka, a 27-year-old man proposed to Asma, who was just 15 at the time. Her parents reluctantly agreed to the marriage - girls are often seen as a burden in Bangladesh and are married off while they are still young.
But Asma's husband soon started attacking her, and a couple of months after the wedding demanded a dowry - 20,000 taka ($250, £180). No mention of a dowry had been made before the ceremony and there was no way her family could raise the money.
After five months together, he announced that he was leaving and wouldn't come home until she produced the cash.
"I've not seen him since he left and he said, 'If we see each other in the street, I will not acknowledge you.' I don't know what he's doing, whether he's remarried.
"His friends told me if he saw me he'd hit me."
Her predicament is common. Bangladesh has one of the highest rates of child marriage in the world. Legally, girls here aren't allowed to wed until they are 18, but one in five is married before her 15th birthday.
"Child marriage puts women and girls at increased risk of violence throughout their lives," according to the organisation Girls Not Brides - and these girls are more likely to describe their first sexual experience as rape.
Asma moved back in with her family and straight away started looking for work. She had left school at the age of 10 so her options were limited. But within a month she was employed. "I asked everyone and then I saw a new garments factory had opened."
She talked her way into a job on the factory floor as a thread cutter, working long hours for low pay.
Even so, her salary, about 3,000 taka ($38, £27) a month before overtime, is far more than her parents could earn and is enough to provide the family with three meals a day.
"My mother was so happy. I tell her to stay at home and look after my father and my little brother. I tell her that I'm a man now. I do the same job a man does, I run the household. Getting a job and thinking of myself as a man means that when I speak, everyone listens. I think of myself as a person now.
"If Allah had made me a boy I would have been so happy and then I wouldn't have had to get married."
Before her wedding, Asma was seen as an eligible young woman but now, a couple of years later, men are less interested in her. The pressure to find a husband has gone and as a result Asma feels liberated. She believes she has the freedom to choose her own future. "I never want to marry again in my life," she says.
And she has made friends through work. "They say, 'Think of us as your brothers and sisters.' If I get told off by the boss and cry, they comfort me and make me laugh." She is ambitious too. "I want to keep learning new things. I want to become a [factory] supervisor."
---
As people become increasingly connected and more mobile, the BBC is exploring how identities are changing.
Listen to and download programmes from the World Service's Identity season.
Learn more about the BBC's Identity season or join the discussion on Twitter using the hashtag #BBCIdentity.
---
Listen to The Forgotten Girls of Dhaka on the BBC World Service.
The TV documentary will be broadcast on BBC World on Saturday 23 April.
Subscribe to the BBC News Magazine's email newsletter to get articles sent to your inbox.