When storytellers get personal... very personal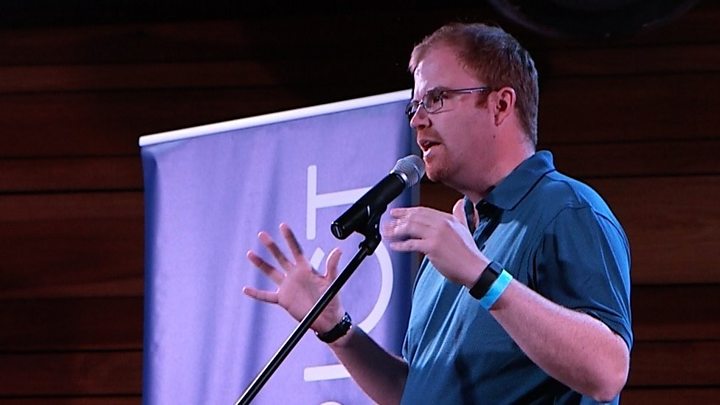 Storytelling events are hugely popular in much of the US, with more and more people paying to see performers share their most intimate experiences on stage. But how intimate is too intimate?
A room full of strangers is waiting. Graham Campbell is backstage, pacing one way then another under the red light of an Exit sign, muttering under his breath. As the compere gives the cue for him to step on to the stage, he admits he is "terrified".
Not surprising, perhaps, when you consider he is about to tell more than 1,200 people in the audience about an embarrassing visit to the doctor that ended with a rubber glove stuck up his anus. "It was just a terrible experience," says Campbell, a 38-year-old former police officer who now works as a management consultant.
But it is not the first time tonight the audience has heard speakers share something extremely personal.
The theme for this storytelling session is real-life stories about acting naively and making mistakes. One woman told the story of how she accidentally answered an advert to become a prostitute. A man related how he was caught selling drugs to hundreds of fellow students and convicted. And a teacher, now back in the US after working in the UK, admitted spending £500 ($730) on sex toys during a drunken night out with British colleagues - and finding out, the next morning, that it was impossible to cancel the order.
It might seem like too much information to share with strangers. But Campbell says presenting these stories on stage helps the teller feel "understood" or "validated".
"If someone likes my story, they like a part of me, which is always a nice feeling," he says.
This event, held by a group called Story District in a well-known gay nightclub hired for the evening, is part of a resurgence of storytelling in the US.
Led by organisations such as The Moth, launched in New York in 1997, the personal storytelling movement has grown from small gatherings in living rooms and cafes to sold-out shows in large theatres, and has spread across the English-speaking world as far as Australia.
The Moth already has an ongoing presence in 25 cities - 21 in the US and four elsewhere - but artistic director Catherine Burns says the organisation is now hoping to expand into smaller towns and rural communities.
"Storytelling is getting more and more popular. I think it's going to take off in a much broader way," she says.
The Moth's latest event in Washington DC was a story "slam", an open-mic show where anyone can tell any tale without any vetting or preparation.
But not all the storytellers were as skilful as others, and some difficult subjects were raised, including brain injury, racism and school bullying. On occasions it was uncomfortable listening to the speakers - embarrassing more than entertaining.
"There is always that danger that what you get with personal storytelling is going to be more therapy than performance," says Steven Henegar, head of the National Storytelling Network's board of directors, and himself a teller of myths and folk tales rather than personal stories.
As a result, many organisations choose their cast of storytellers carefully - as the Moth does when it's not organising a slam - and some offer coaching.
"Let me make it very clear, we are not therapy," says Amy Saidman, head of Washington's Story District. "Storytelling can be therapeutic - it gives you a chance to look at an experience in a different light. But we have a lot of quality control going on. We want the audience to get their money's worth, not have to listen to someone talk about their issues."
But spectators say they do not think any subjects should be off limits. "I'm happy to hear any story, as long as it has a point," says one man, attending his first Story District show.
"I don't have any boundaries," his friend jokes.
Audiences might be ready for anything, but storytellers still have experiences that are not easily - or ever - shareable.
One thing Graham Campbell will never turn into a story are his experiences as a police officer in New York during the 9/11 attacks. He was one those who searched for survivors and bodies in the rubble of the World Trade Center, digging by hand and passing buckets down the line - "buckets full of debris, buckets full of body parts".
"The things I saw, they are incredibly intimate moments," he says. "It's not my place to share them. It would also be really crushing if I shared them and if they weren't handled with enough gravitas."
So storytellers must judge which stories are suitable for their audiences. And in Washington, Campbell seems to strike the right tone.
Standing at the microphone, he delicately describes finding blood in his stool and his fears he could have colon cancer.
As he ashamedly admits he chose his doctor because she was attractive, the audience squirms and titters.
Then he explains how the doctor's surgical glove got stuck and the room absolutely explodes with laughter - he clenched his sphincter muscles out of nervousness during the anal examination.
As he steps off the stage afterwards, Campbell pumps his fists in a miniature celebratory dance move.
"It went well - really well actually," he says. And his audience are pleased his story had a happy ending, of sorts. Thankfully the glove was easily removed. He was not diagnosed with cancer. But he did have haemorrhoids.
Subscribe to the BBC News Magazine's email newsletter to get articles sent to your inbox