NCT: The National Childbirth Trust's 60 years of advice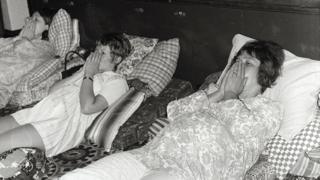 The NCT - National Childbirth Trust - is turning 60. The charity has supported millions of parents for their first 1,000 days - through pregnancy to their children's second birthdays.
It all started on 4 May 1956 with a small advert in the personal column of the Times. The ad called on women to join a new association which would support them through childbirth.

The advert was placed by young mother Prunella Briance. In 2010 she explained her motives: "Curious minds may wonder why I was prompted to start something as important as NCT. It was due to a horribly mismanaged birth and the loss of my precious baby girl.
"Having mourned deeply, I suddenly came to life and realised that someone had to do something, and so I did."
Briance was inspired by the writings of obstetrician Grantly Dick-Read - who expounded theories that today are seen as common practice.
They include teaching new parents about the anatomy and physiology of pregnancy and birth, the pain of labour and how to manage it, diet in pregnancy, and the supportive roles partners can play.
He spoke at the first meeting of the Natural Childbirth Association - as it was then known - in central London in 1957. He also went on to become the NCT's first president.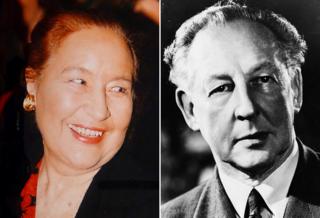 It would be two more years before the first antenatal classes took place.
In this next image, Erna Wright, one of the organisation's founding members - is seen teaching an antenatal class to expectant mothers.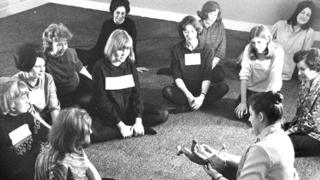 It was in 1961 - five years after its founding - that the Natural Childbirth Association obtained charitable status and became the National Childbirth Trust.
By the early 1970s there were 37 NCT branches with over 8,000 women and couples attending NCT classes. One expectant mother was Lee Busfield, who went to classes in rural Essex in 1977. "There I felt like a human being rather than one of hundreds of patients," she recalls.
Sessions with fathers were a central part of the NCT's mission. "At last, they felt as though they had a role to play," Busfield adds.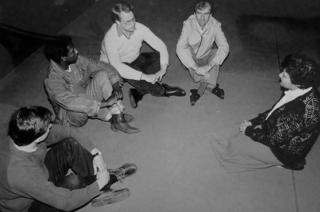 "As a father it was good to be included," says Lewis Graham of Hitchin, Hertfordshire, who attended in 2005 - in contrast, he adds, to the many "mother and baby" groups that exclude dads.
And the pamphlets offered wide-ranging advice - including to expectant mums wanting home births, and those returning to work after maternity leave.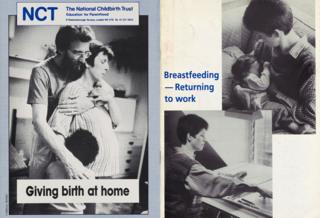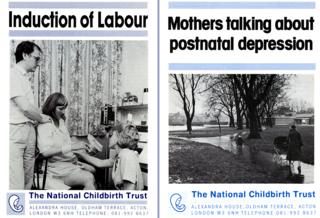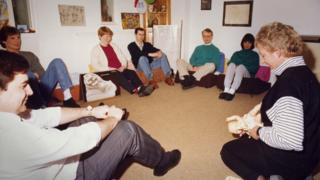 By the end of the 1980s, there were 240 NCT branches.
And in this busy postnatal class in 1986, the mothers hadn't spotted one toddler trying to retune the hi-fi.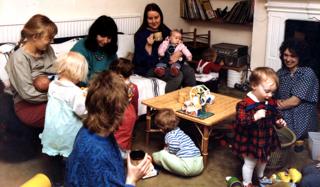 This social aspect of NCT was crucial to its appeal.
"I am friends with six other very local mums with babies the same age who I would otherwise have never met," says Rachel Reveley from Bristol. "My early motherhood would have been very lonely without my NCT group."
Sarah Long, 56, joined NCT specifically to meet people when, aged 30, she moved to Dorset with her 11-month-old son.
"It was a complete lifeline," she says. "The coffee groups meant that I could relax and make some wonderful friends - and so could my son and subsequent children."
Campaigning became a big part of NCT work. The charity joined calls for partners to be allowed into delivery rooms, and for an end to the routine use of interventions - such as shaving of pubic hair and the use of enemas prior to childbirth.
Both campaigns were successful.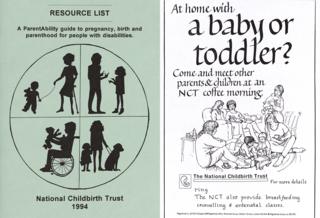 The NCT also championed the campaign for breastfeeding to be allowed in public places.
The next image from 1996, is a 40th anniversary postcard from the NCT, satirising attitudes to breastfeeding in public and entitled Don't Look Son.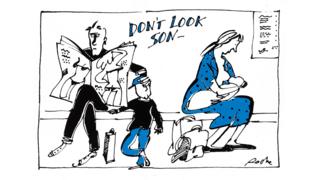 Not everyone's experience was positive. Tim Burrows of Edinburgh says, as a father-to-be, he found the classes intimidating: "There appeared to be an 'NCT way' and digression from this was not encouraged." But Hannah, from Barnstaple, Devon, has different memories of NCT: "They did not push a certain type of birth, they made sure that facts and decisions were discussed in a sensitive manner."
Today, the NCT boasts 300 volunteer-led branches, with over 100,000 members across the UK and Channel Islands.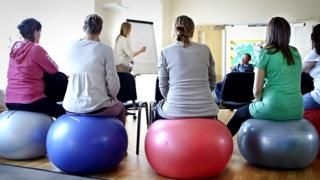 All images subject to copyright.
Top image: Antenatal class at Havering in east London, late 1960s/early 1970s.
Related: NCT