Is there such a thing as 'bore out'?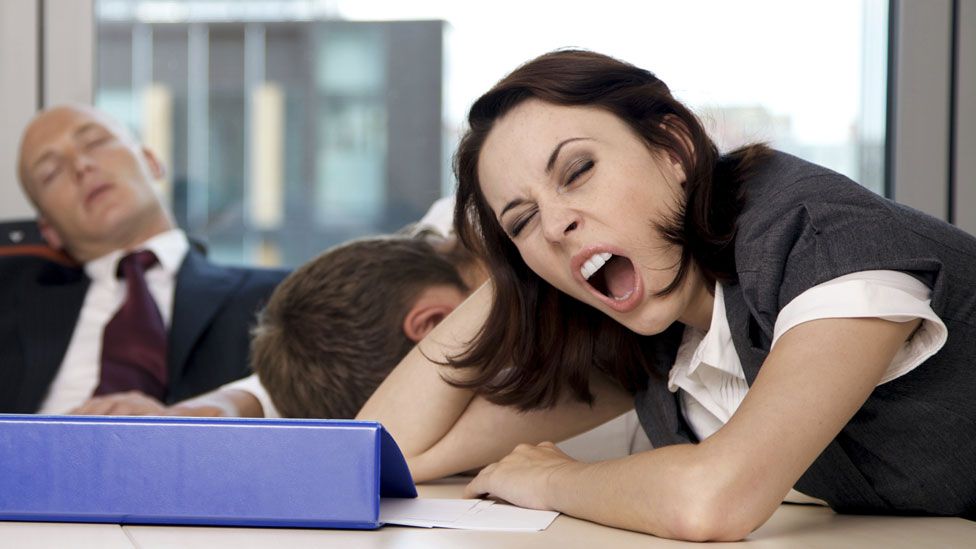 A Frenchman is suing his former employer for "bore out" - boredom's equivalent of burnout - which he says turned him into a "professional zombie". Frederic Desnard wants 360,000 euros (£300,000) for being "killed professionally through boredom" by his 80,000-euro-a-year job as an executive in a perfume business. But is "bore out" real?
"It was just so boring. I felt ill knowing I had to go back on Monday morning," says Steve Coster about his time as an insurance broker.
"Every aspect of it was the same. The commute every day is the same, the people are the same, the lunch is the same. You turn up every morning and sit there."
Coster, 47, from Leigh-on-Sea in Essex, found numerous ways to numb the boredom of his £40,000-a-year job.
"I used to go and sit in the toilet cubicles. I would always be the most eager person to get up and make the tea. I would hide behind my screen and surround myself with files so I looked busy, but I wasn't doing anything."
He spent 17 years in insurance and says he eventually got depressed.
"I remember clearly one morning I woke up and just couldn't get out of bed. I just couldn't face it. I phoned up my boss and said, 'I'm not coming in.' She asked why, and I said, 'I just can't.' I didn't even bother to make up an excuse.
"It was also affecting relationships. I was self-sabotaging everything. And I was drinking too much. Eventually I went to see a counsellor."
Boredom expert Dr Sandi Mann says workplace boredom is a growing problem and a "significant source of stress" for many people.
It can have "severe" consequences including reduced life expectancy, she says, highlighting a study of 7,000 UK civil servants which found very bored workers were more likely to die during a 24-year research period than those who were not bored.
She says people are probably not "bored to death" by work, but may die younger because bored people often seek stimulation from things like unhealthy food, alcohol, drugs and "risk-taking behaviour".
However, she says boredom itself can lead to stress and depression.
Mann argues that being bored can in some cases encourage creativity - a theory she expounds in her book, The Upside of Downtime: Why Boredom is Good - but she says severe, long-term boredom is a different matter.
The French case, she says, is an important one that could lead organisations to take boredom more seriously, just as they came in the past to recognise the damaging effects of stress.
Wijnand van Tilburg, assistant professor in psychology at King's College London, says "bore-out" is not a recognised condition in psychology, though the idea that boredom can lead to intense suffering is not new - he quotes German psychologist Erich Fromm who imagined hell as "the place where you were continually bored".
A common theme among bored people is a state of "perceived meaninglessness", he says, but he argues that it is a "normal emotion" and can have positive effects such as prompting people to change their lives.
Lucy Parsons, who studied at Cambridge University and was headhunted for a graduate scheme at a supermarket chain, is one person who found her work so depressingly dull that she gave it up and retrained.
"They massively underestimated my abilities and I was so bored," she says.
One Monday she was told to write an instruction manual for workers and completed the task by midday - only to be told her manager had expected it to take a week and had no more work for her.
"I worked there for three years and that was pretty much the story of my time," she says.
Parsons, from Welford in Northamptonshire, had already experienced work she found boring - "checking empty envelopes to see if they were really empty" - but she says her graduate job left her feeling "completely lost".
"In the end I was crying all the time, I was a mess, I was putting on weight. It was just a nightmare," she says.
Eventually she quit, and became a school teacher, and is now a self-employed exam coach.
Teaching might have saved Mrs Parsons from "bore out", but it was an unhappy job for Luke Darracott, who spent two spells in Spain teaching English.
In the second spell - when the job was no longer intended to be temporary - he found himself deeply bored by teaching people "how to say 'I have been' rather than 'I did went'".
"I just hated what I was doing and it just got worse and worse and worse," he says.
"I was very, very down to the point that my family were worried about me."
His escape came when, while still teaching, he wrote a travel book - he describes himself as a "crap Bill Bryson" - and he has since begun a self-employed career which includes running food tours, making a TV show and working as a translator.
Natasha Stanley, head coach at Careershifters in London, says the "insidious creep" of boredom can leave workers wondering "what the point of their life is".
"My mum has a saying that if you put a frog in boiling water it will jump out, but if you put it in cold water and heat it slowly, it will sit there and boil," she says.
"I think that's what happens to some people - they sit there for years thinking about it and end up in 'analysis paralysis'."
She says the resulting boredom can "infect lots of other parts of their lives - relationships, marriages, friendships".
"The key is to get out and do something you enjoy, even if it's just a pottery class or something, and then follow that thread of what interests and excites you," she adds.
And that was the solution for Steve Coster - the insurance broker who got so bored he couldn't get out of bed.
He had a "lightbulb moment" and retrained as an acupuncturist.
"Obviously I don't earn anything like I used to, but I don't want for anything. You just adapt," he says.
"And I've since met a girl who I want to spend the rest of my life with - and I've never felt like that before. Every day I wake up and thank whoever for a wonderful life, and I never thought I would say that."
We asked people to tell us about the dullest job they have ever done.
Tamanna Miah, a 22-year-old student and campaigner from Kent, said hers was as a taxi controller for a company that had recently been set up by a relative.
Miah started the job when she was 16 during her summer holidays and said it would involve sitting in a room by herself waiting for the phone to ring and hearing taxi drivers "rambling" over their radios. "The most boring bit was staring at the phone, waiting for a call to come on a night shift," she says. "Half of the time you would be half asleep and you would miss a call and think 'What happened?'"