The football club founded by Jules Rimet battles its way back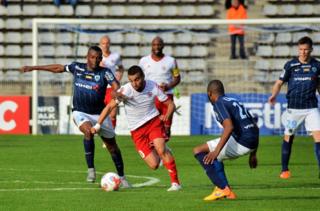 Jules Rimet is renowned as the man who gave birth to the World Cup in 1930 and gave his name to the trophy awarded to World Cup winners for the next 40 years. But he also founded a Paris football club, Red Star, which dominated French football in the 1920s and is now in with a chance of returning to the top flight for the first time in four decades, writes Simon Fry.
Jules Rimet was just 24 when he started the Red Star sports club in Paris in 1897. A grocer's son embarking on a career as a lawyer, Rimet himself was a fencer and runner, but football was the new big thing, so the club formed a football team - and it was through his involvement with this team that Rimet came to believe football could unite the world.
In the years after World War One, when Rimet was president both of the French football federation and Fifa, Red Star were hugely successful. The club won the Coupe de France four times in the 1920s - and now on the 60th anniversary of Rimet's death it may be about to complete a remarkable comeback.
The team has not won a major trophy since 1942 and it almost went bust in 2003. But having climbed from the sixth tier of French football since 2006, it's now one of three teams vying to finish third in Ligue 2 and win promotion to the heights of Ligue 1 - the top French division - where it last played in 1975.
No-one would ever imagine this was the case from a visit to the club's home ground since 1909, the primitive Stade Bauer, in the northern suburb of Saint-Ouen. As it lacks the surveillance and toilet facilities required for a club in Ligue 2, this last season Red Star has been forced to play in a stadium 75km away in the town of Beauvais.
But the club and its fans are thinking big.
"We have huge potential - we are in Paris and 10 million people live here," says the club's multimedia producer Paul Ducassou. Ducassou attributes Red Star's renaissance to the president Patrice Haddad: "He has a lot of ambition - he joined the club in 2008 when it was in French football's fourth level and said he wanted the club to be in Ligue 2 in 2015. He succeeded."
Red Star's heritage gives them a good chance of supplanting Ligue 1 giants Paris St-Germain in Parisians' sympathies, according to market researcher and football fan Simon Pioche. Now owned by a Qatari investment fund, PSG was created in 1970 out of the merger of two other Paris clubs.
"Red Star is the real historical team in Paris and still very popular in the north of Paris. Of course, Paris St-Germain are now playing in the Champions League and people like me will tend to watch them, but if Red Star are promoted that might change things," he says.
"I think they have a huge potential, because while the Qataris have brought money and players, real PSG fans are disappointed.
"Parc des Princes [the PSG ground] is quiet and expensive - no singing, no noise. Red Star could be the opposite and offer an image in contrast to PSG. Their brand is great, beautiful and old-fashioned."
Red Star is unique among major French football teams in having an English name - no-one calls it Etoile Rouge.
Legend has it that the name was suggested by an English governess, "Miss Jenny", who took a Red Star Line steamer from the UK to take up a role in the house of Rimet, a brother or an associate. Paul Ducassou is unable to substantiate an alternative explanation, that the name is somehow related to Buffalo Bill.
The name definitely has nothing to do with communism. Although the club has a reputation as working-class and left-wing, it long predates the October Revolution and was founded nearly half a century before that other footballing Red Star, Red Star Belgrade.
This name was one of the things that appealed to John Hanson, a British expat who settled near Saint-Ouen in 1996 and quickly became a loyal fan. (He was also pleased to identify the stadium as the "Stade Saint-Ouen" mentioned in a song on the 1991 album, Foxbase Alpha, by British group Saint Etienne.)
"Red Star have integrity, the fans appreciate football's true values. You don't support Red Star to be a glory hunter," Hanson says.
He compares them with fans of Germany's FC St Pauli - a team located in Hamburg's red-light district with the skull and crossbones as an unofficial club crest and souvenir T-shirts proclaiming them purveyors of "punk football". Both are fiercely proud of their club's history and image, he says, which is "the antithesis to what they perceive as an 'artificial' club run on the lines of a business where 'consumer' replaces the word 'supporter' and the aim is to sell, sell, sell".
The contrast between Red Star's merchandising and that of PSG is indeed stark. While the latter boast a megastore close to the Parc des Princes stadium and two-storey premises on the Champs Elysees, Red Star's souvenirs are housed in two shelf units in a room at the Stade Bauer. The modest range includes a T-shirt proclaiming, in English, "Ligue 2 We are back".
This is one of many things that will change if the club does make it back into Ligue 1.
For one thing, another stadium will need to be found, as Beauvais does not meet Ligue 1 standards. One option might be rugby's Stade Jean Bouin, across the road from Paris St-Germain's Parc des Princes, though Paul Ducassou also talks excitedly about the 80,000-capacity Stade de France (this last season in Beauvais, home crowds have numbered between 1,000 and 2,500).
All this no doubt feels a long way away to the schoolchildren participating in trials at Stade Bauer to join the 600 boys and 80 girls already taking part in Red Star's youth scheme.
Few of them are wearing the club's colours. All, though, hope to one day pull on the green and white shirt with the small red star and represent a club with character founded by one of football's greatest visionaries.
Whatever may lie ahead, they will never stop dreaming.
Subscribe to the BBC News Magazine's email newsletter to get articles sent to your inbox.