The Marseille synagogue that is becoming a mosque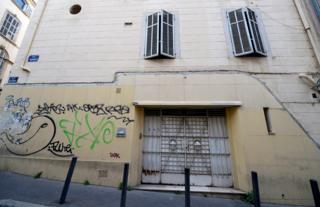 For the first time, a synagogue in Marseille is in the process of being sold to a Muslim organisation, which has plans to turn it into a mosque. The diverse port city is renowned for decades of tolerance and co-habitation - but some things are changing.
Marseille has always been a place of second chances. Round the back of the old port, where many North African immigrants got their first view of France is a tiny youth centre, where the city's most troubled boys are encouraged to take up pool instead of petty crime.
Sitting in a deckchair on the street outside, their youth worker, Samir, tells me most of the boys in the programme are Muslim. But in the melting pot that is Marseille, he suggests, no-one notices things like that.
"Marseille is a town of immigration - it has the largest port in France," he tells me. "For centuries, it's welcomed different people from different countries, and we all live together very well. Here in the south, we have the sun, the beach; we're not stressed, there's no racism down here."
But there is change. And a few feet away, at the end of the street is one powerful sign of it - a nondescript yellow building that used to be the Or Thora synagogue. Its walls are now covered in graffiti, its doors shuttered.
The synagogue used to be the heart of a thriving Jewish community, but as those families became more successful, they moved to wealthier parts of Marseille, and in their place have come Muslim families.
Which is why the city's Chief Rabbi, Ruben Ohana, has given his permission for the old synagogue to be sold to a conservative Muslim organisation called al-Badr, which plans to turn it into a mosque.
Of course, the decision to close the synagogue needed careful thought, the Rabbi tells me. "But if it has to close, it's better to sell it than just leave it empty. And if it's going to be sold, better that it becomes a place of prayer than a shop or a nightclub."
His worshippers, too, were largely sanguine about the change.
"It's disappointing to see the Jewish community move out of the centre of Marseille and to see another religion taking over that building," one woman says. "But so be it."
"It was unavoidable," says another man. "The Jewish population had left the neighbourhood."
"I don't mind it becoming a mosque," a second woman says. "But I don't want them preaching hatred there."
Just over half a century ago, as France quit its North African colonies, Marseille's Jewish and Muslim populations surged. By the 1980s, the number of Jews remaining in North Africa had fallen from almost half a million to around 17,000. Most had come to France. The Republic's Muslim population, meanwhile, grew to well over a million. Marseille is still one of the largest communities for both.
---
Find out more
Listen to Lucy Williamson's full report which was broadcast on the Today programme on BBC Radio 4, on Friday 6 May.
---
When they arrived, Marseille's North African Jews and Muslims spoke the same language, shared the same culture, and lived, worked and shopped in the same immigrant neighbourhoods - and, in contrast to other big cities like Paris, they settled right in the centre of town.
Over the years, Marseille has become a byword for diversity and co-existence, but the tale of this small local synagogue by the old port is also the story of separation.
Vincent Geisser, a sociologist at the University of Aix-Marseille, says the old mixed communities that made Marseille famous have disappeared from the city. Jews and Muslims, he says, now live "peacefully but separately".
"It's sad to say it," he tells me, "but the only common areas now are the commercial areas - like the one big shopping street where the young people come to buy fashion on a Saturday. It's an exaggeration to say that Marseille these days is a town of brotherhood - it's a myth, a fairy tale."
Maud Mandel, a specialist in France's Jewish and Muslim populations at Brown University in the US, believes the seeds of this separation were sown even as France was withdrawing from North Africa.
"France adopted a divide and conquer approach towards its former colonial subjects, granting French citizenship to Algerian Jews after independence, but not to Algerian Muslims," she says.
"There was a tremendous housing crisis in France after World War Two, so they often ended up living side by side," she explains. "But Jewish immigrants had access to resources and support that Muslims didn't have. They were on an entirely different socio-economic trajectory."
Round the corner from the Or Thora synagogue is the Bilal Mosque, run by imam Moussa Koite. It's one of 100 or so local prayer halls that serve the city, but the swelling Muslim population here, estimated at around 200,000, has outgrown them.
"Every Friday, we refuse more than 100 people," Koite says. "They queue up outside the door. That's why the change to the synagogue is good - we need it. Ramadan is coming and we'll need it even more. In the city as a whole we need 10,000 more spaces for people to pray."
Marseille's smaller Jewish community is also finding it needs more space to pray - in other parts of the city - especially after the attacks in Paris last year.
The community has been stagnant - even shrinking slightly - for years, but Rabbi Ohana says that in place of two synagogues that have closed, including Or Thora, he's built five new ones, because more of the city's Jewish residents are turning up to pray.
"The community feels the need to gather together when it's been attacked," he says. "And Jews feel they are a target. They're living under the threat of terrorism. More and more parents send their children to Jewish schools and community centres to protect them."
But the attacks have also increased the movement of Jewish families out of mixed areas of the city, he says, because of growing fears about a radical Islamist fringe.
At the community centre, Samir says that the attacks in Paris have led to more prejudice against Muslims - from employers, but also from non-Muslim neighbours. "When we go into the wealthier areas of the city these days," he says, "we don't feel welcome."
Marseille's religious and political leaders still consult each other regularly, and Samir says he has several Jewish friends, but identities here are changing. Religion is becoming more important, and the Israeli-Palestinian conflict, at the other end of the Mediterranean, continues to divide opinion.
Marseille's communities are separating, and separation promises a different kind of future.
Samir gestures inside to where the pool game is leading to an argument. "They read about Israel on Facebook now," he says. "We can talk to them, but we can't control what they pick up from the internet. Radicalisation is our biggest fear."
Subscribe to the BBC News Magazine's email newsletter to get articles sent to your inbox.