Who needs an 84m-long aircraft?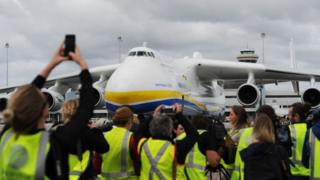 An estimated 20,000 people turned out to watch the landing of the giant Mriya aircraft, on its first visit to Australia. But what does it do, asks Justin Parkinson.
It was built to carry Soviet space shuttles and, 27 years after it entered service, it's still the world's biggest plane. The An-225, better known as the Mriya (Ukrainian for "dream") creates a fuss wherever it goes.
Measuring 84m long with an 88m wingspan, it weighs 175 tonnes without cargo or fuel. It's the longest-bodied, longest-winged and heaviest operational plane in the world. Its cargo compartment is 43m by 6.4m by 4.4m - big enough to hold 50 cars.
And there is only one of them. It has just landed in Perth, transporting a 117-tonne generator from the Czech Republic.
"You won't see it very often because there's going to be a limited market for the An-225," says Laure Price, director of aviation strategy at Mott MacDonald Aviation. "For the vast majority of the cargo market, 99.5% or so, the items could be transported by a [Boeing] 747, but there will still be a niche market."
Designed in Ukraine to carry the Soviet Buran space shuttle on its back, it made its first flight in 1988, coming into service the next year. There were plans to build several more An-225s but these were scuppered by the fall of the Soviet Union and the collapse of the shuttle programme.
It was taken out of service in 1994 but came back into use in 2001. Since then it's taken aid to disaster scenes, including the Haiti earthquake of 2010 and the Japanese earthquake and tsunami of 2011. Its ability to move massive loads also meant it was used to transport generators to replace those wiped out by the American Samoan tsunami of 2009.
The six-engine An-225 can carry a payload of up to 250 tonnes, compared with 140 tonnes for the Boeing 747-800 and 65 tonnes for the Airbus 330.
Its hold door, which is situated in the plane's nose, is 6.4m wide, compared with 3.4m for a 747-800.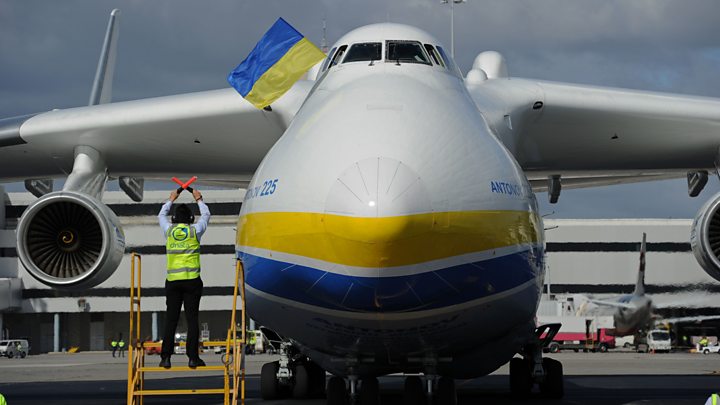 But why, in an age of ever-expanding cargo ships, can't such items simply go by sea? "The costs of doing that could be huge and delay the arrival of equipment by months," says Price. "You would probably have to move street lights from the port to the destination too, so it's very much worth people's while taking some items like generators by air."
The Spruce Goose, designed by US millionaire Howard Hughes, had a bigger wingspan - of 98m - though it flew only once, in 1947.
The An-225 stopped at locations in the Middle East and Asia on its way from the Czech Republic to Australia. It's due to leave Perth on Tuesday.
Follow Justin Parkinson on Twitter @justparkinson
Subscribe to the BBC News Magazine's email newsletter to get articles sent to your inbox.