What will happen to the UK's European farm workers?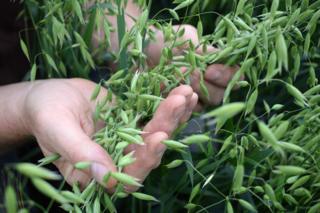 Thousands of foreign farm workers come to the UK every year. But in the wake of the UK vote on 23 June to leave the EU, they find themselves in uncertain times.
Some EU workers fear they may soon need visas
Some farmers worry about not having enough workers
But there are plenty of farmers who voted Leave
The farm may have an English name, but the tractor at the gate was supplied by an American company, with parts manufactured in Germany and its driver is Bulgarian. Ivan, not his real name, has been working at the same Cambridgeshire farm for the past nine seasons.
"I don't come just for the money," he says, "I like the work."
He has always felt welcome on the farm. His employers have paid for his agricultural courses and helped him move into a cottage nearby, along with other Bulgarians. But not everyone is happy with the arrangement.
"The other workers are alright with us but I don't think many of the English ones like us," says Ivan. "Some of my colleagues voted for Brexit but when I asked them, they didn't know why."
He gestures at the green fields behind. "I wasn't surprised that they voted leave. I mean, always the old people vote like this because they are homesick for the past.
"Now the damage is done."
Despite the vote, Ivan says that he has not changed his mind about working in the UK. "I don't want to work for any other farm, they have done a lot for me." But it could be two years of uncertainty before he knows for sure.
Down the road, the leftovers of the referendum campaign are still visible. Cambridge may have voted to remain but there are plenty of leave signs in the villages nearby. It's quintessentially English scenery but nestled in between the country pubs and old stone churches are recruitment agencies for foreign temporary workers.
It's estimated that around 60,000 workers, mainly from Eastern Europe, come to UK farms every summer. In the village of Stapleford, a grassy road leads to a site where some of the temporary farm workers stay over the summer.
Jarda, a 34-year-old from the Czech Republic, has been coming to work in the UK since 2005. People from all over the EU go through the campsite and the idea of a falling pound has them worried. "It has an immediate effect on them," he explains. "Some people will migrate to wherever there is temporary work. It doesn't make any difference to them if they are here or in Germany as many speak both languages."
Jarda and his family have settled here. He is now a manager at the local recruitment agency, and his wife, who is from Slovakia, works at a nearby pharmaceutical company. The vote has not changed their plans for now but Jarda will keep a close eye on events. "It's just kind of something at the back of our heads now, that we need to think about a Plan B."
He's never felt unwelcome before but "there's a lot on Facebook about people being threatened. All this adds up."
Two of his workers left on Friday, citing the referendum result as the reason. Leon, the managing director of their recruitment agency, says that there is a lot of confusion among workers about how immediate the effect will be.
"A guy called me from Poland, he currently doesn't work for us but his sister and brother are coming over next week. He called me up and asked - 'do they need visas now?' I think a lot of people don't know what the process is.
"It will be sad for the industry if they [eventually] make it difficult for these people," he adds. Leon says that his agency has found it hard to find enough British workers.
"UK agriculture cannot exist without foreign labour," explains cereal and sheep farmer Robert Law, in Great Chishill. "We haven't got enough staff of our own, particularly if you go further up north where the vegetables are grown."
Law voted to leave the EU and was an active member of the Leave camp. His farm is thick with a sweet, musty smell of rye. As he loads his lorry, he explains that migrant workers are only a small part of the debate over the EU.
"I wasn't old enough to vote in the referendum in 1975, but those who took part thought we were joining the Economic Community - EEC.
"We thought we were going into a free trading area, and that's what we voted for. This endless, closer political union and free movement of people - that wasn't part of what we went in for."
He is confident that he will still be able to get the foreign workers that he needs after Brexit. "I'm happy that something will be sorted out for good people who come in and want to do a job," he explains.
"At the end of the day, there's been so much running of the country down - but we're the fifth largest economy in the world, we can stand on our own."
Arable farmer David Walston agrees that there are schemes that could be set up to meet the demand for migrant workers. But he thinks it would "just make everything more complicated". He voted Remain in the referendum and is worried about how unclear the situation is.
"There is uncertainty as to how it's going to be implemented," he says. "I think there could be a good opportunity in this situation. But personally I just don't really trust the politicians to get stuff sorted out satisfactorily. I don't believe that the British bureaucrats are any less in love with red tape and bureaucracy than the European ones."
Walston hired a group of East European workers on his farm last week to pull out weeds from his fields. A neighbouring farmer may also need a helping hand soon - it's been a wet summer and his linseed crop has been overrun by poppies.
It's the kind of work that Jarda usually organises workers for. But the uncertainty over Brexit has him worried, although his main concern isn't his job. "For us, as foreigners, the vote was not good at all but we can still leave.
"We came here from somewhere and we can probably go back if we want to. We have somewhere to go. But for the English who have been living here all their life, it's going to be very hard."
Subscribe to the BBC News Magazine's email newsletter to get articles sent to your inbox.