Conservative leadership: A real-life House of Cards?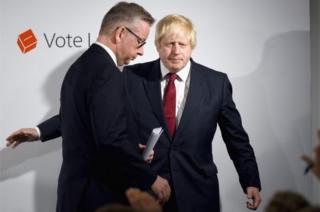 Boris Johnson has decided not to run for Conservative leader after fellow Brexit campaigner Michael Gove said he was the wrong man for the job. How does this rank among previous displays of political ruthlessness?
"For those of us climbing to the top of the food chain, there can be no mercy," says Frank Underwood, the scheming president in the US TV drama House of Cards. "There is but one rule: hunt or be hunted."
Politics is a ruthless business. It's rarely mentioned by the main players, but ambition for power means someone usually has to suffer.
Former London Mayor Boris Johnson has decided not to enter the race for the Conservative leadership (and prime-ministership). His announcement came a few hours after his ally on the Leave campaign, Michael Gove, issued a damning statement: "Boris cannot provide the leadership or build the team for the task ahead."
Gove had previously declared he didn't want to be prime minister, calling such a possibility "inconceivable", but has had a change of heart.
Even amid the fallout of the Brexit vote and the problems besetting Labour's Jeremy Corbyn, Gove's break with Johnson, whom he'd been expected to back in the leadership contest, is notable for its extreme personal drama.
"Breathtaking Tory leadership," tweeted former Conservative deputy chairman Lord Dobbs. "House of Cards? Or Game of Thrones? Certainly not Winnie the Pooh."
Dobbs should know. He wrote the novel House of Cards, which was adapted into a BBC drama that ran in 1990, at the time when his party was in the bitter process of removing Margaret Thatcher from power. He is also involved in the Netflix show of the same name which has become a global hit.
Both series lay bare the machinations of politics, with aspiring prime minister Francis Urquhart and presidential hopeful Frank Underwood committing murder en route to power.
Tim Bale, author of The Conservative Party from Thatcher to Cameron, thinks the current atmosphere for Labour and the Conservatives is unprecedented. "I've never seen so many people slain politically in the course of a week," he says. "There's been a fair bit of blood spilt in politics over the years, but never anything like this.
"It's because the stakes are so incredibly high. It isn't a game any more because we are going to leave the European Union and it's an extremely serious situation."
Gove has expressed his love of the fantasy TV series Game of Thrones. In a video made in 2014 the then government chief whip (a role held by both Urquhart and Underwood prior to becoming leader) said his favourite character was Tyrion Lannister. He praised his political qualities. "This misshapen dwarf," Gove said, "reviled throughout his life, thought to be in eyes of some, a toxic figure, can at last rally a small band of loyal followers."
Gove now has to secure the backing of enough Conservative MPs to become one of the two candidates in a ballot of party members.
"The Conservatives have always a been a very leader-oriented party," says Bale, who is professor of politics at Queen Mary University of London. "But because of that it's quite easy to depose the leader. It can make changes quickly. The Conservatives wouldn't get into the situation that Labour has got into, with MPs unable to remove Jeremy Corbyn."
Of course, plots against leaders occur in all the parties. In 2006 Liberal Democrat leader Charles Kennedy resigned after 25 MPs delivered an ultimatum, following the revelation of his drink problem. The next year, Kennedy's successor Sir Menzies Campbell quit, after backing from his front bench ebbed.
There were Labour plots against Tony Blair during his 10 years as prime minister. And earlier this week Corbyn lost a vote of confidence among Labour's MPs, with three-quarters going against him.
The Conservatives have held power (sometimes in coalition, usually alone) for most of the last century. Part of the reason for this success is that Tory MPs have been able to adapt to situations, quickly jettisoning unpopular or unsuccessful leaders, says Bale.
On 7 May 1940 the House of Commons debated the conduct of the war against Germany, specifically the failure of the UK expedition to Norway. Prime Minister Neville Chamberlain faced mounting criticism from his MPs. The best-remembered speech came from fellow Tory Leo Amery.
Quoting the words of Oliver Cromwell to the Long Parliament in the mid-17th Century, he told Chamberlain: "You have sat too long here for any good you have been doing. Depart, I say, and let us have done with you. In the name of God, go." Chamberlain was out of office three days later, replaced by Amery's friend Winston Churchill.
Another Prime Minister, Harold Macmillan, sacked seven cabinet ministers on 13 July 1962, as the government's popularity waned. This became known as the "night of the long knives",
Future Liberal leader Jeremy Thorpe joked: "Greater love hath no man than this, that he lay down his friends for his life." Macmillan expressed his regret, but Tory MP Enoch Powell remarked: "I am not easily persuaded of the sorrow in the heart of a butcher."
After he lost two general elections in 1974, Edward Heath was challenged for the leadership the next year by Margaret Thatcher. She won. "Heath had been a very dominant figure in the 1960s and early 1970s," says Bale, "but by then he had lost that and he was beaten." Heath regarded Thatcher's actions as a betrayal.
In 1990, with several of the cabinet unhappy about her attitude to Europe and handling of the introduction of the community charge, or "poll tax", she was also deposed.
After resigning from the government, former Foreign Secretary Geoffrey Howe addressed the Commons, attacking Thatcher. "The time has come for others to consider their own response to the tragic conflict of loyalties," he said, "with which I have myself wrestled for perhaps too long."
This opened the way for a leadership contest. Thatcher resigned on 22 November, after failing to win outright against Michael Heseltine in the first round of voting. One-by-one, cabinet members told her she should go. Thatcher later accused them of "weasel words whereby they transmuted their betrayal into frank advice and concern for my fate".
Coincidentally, the first episode of House of Cards had aired on 18 November.
In 2003 Conservative leader Iain Duncan Smith urged opponents within the party to "put up or shut up". A vote of confidence was triggered, which he lost by 90 votes to 75. He resigned and was quickly replaced by Michael Howard, who ran unopposed for the leadership.
Lance Price was the BBC correspondent on duty in Downing Street when Thatcher's resignation was announced. "It had been brewing that summer and everyone knew that Michael Heseltine was hovering, waiting for his chance," he says. "The post-Brexit stuff has all happened so much sooner. Since the vote public feelings are so raw that the normal niceties, which aren't always that nice, have gone out of the window."
With the Conservative contest under way and a Labour one a distinct possibility, there's plenty of material for another thriller, should Dobbs or someone else choose to write one.
"It would be a good read," says Price, who worked as Labour's head of communications after leaving journalism, "but the truth is that if I went to a publisher with a novel about what's happened in the last few days in politics, it would be thrown out as too far-fetched."
Follow Justin Parkinson on Twitter @justparkinson
Subscribe to the BBC News Magazine's email newsletter to get articles sent to your inbox.