The BBC's detailed plans for nuclear war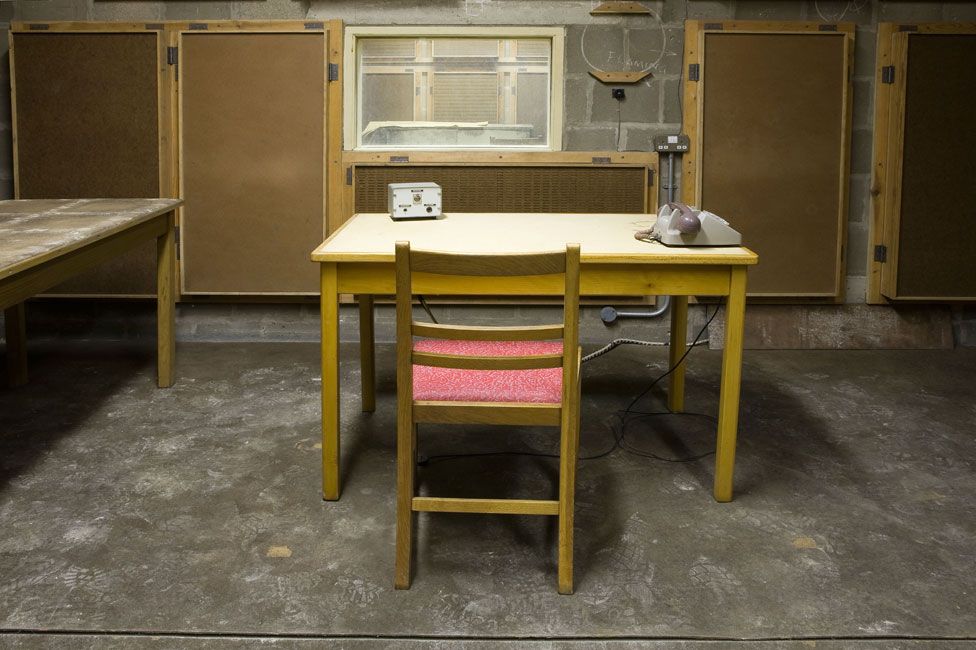 For the first time, the BBC has given detailed access to the plans it drew up in the Cold War for a Wartime Broadcasting System to operate in the event of nuclear war. Paul Reynolds, a former BBC diplomatic and foreign correspondent, has been studying the secrets of what was known as the "War Book".
The War Book reveals a world of meticulous BBC planning. The Wartime Broadcasting System (WTBS) - referred to in the book as "Deferred Facilities" - would have operated from 11 protected bunkers spread across the UK.
Known as "Regional Seats of Government", these would also have sheltered government ministers and staff from government departments during what is termed a "nuclear exchange". The BBC had a studio in each, usually with five staff drawn mostly from nearby local radio stations.
The BBC's headquarters would have been a bunker at the Engineering Training Department at Wood Norton in Worcestershire, where 90 BBC staff would have been assembled, including engineers, announcers, 12 news editors and sub-editors and ominously "two nominations from Religious Broadcasting". Output would have been controlled by the government.
To keep the public amused during Armageddon, a collection of cassette tapes of old radio programmes including the Goon Show, Just a Minute and Round the Horne, was kept in a grey locker at Wood Norton. It was eventually realised, however, that these were redundant. If there had been a nuclear attack, radios would probably have been dependent on batteries and these would have needed to be conserved for news and important announcements.
Choosing the staff to go into the bunkers was a delicate matter. In the early versions of the War Books, it is made clear that staff were "assigned" or "designated" to go underground. In later, less authoritarian days, they were "invited" to do so. Some staff opted out. There is a note in one file stating that Huw Wheldon, Managing Director of Television, "refused to take part in matters dealing with war time broadcasting".
Curiously, the Director General had no place in the bunkers. In the later editions of the plan at least, the BBC teams were to be led by the Head of Radio 4, perhaps because it would have been a radio-only operation.
There was scepticism in BBC ranks about whether this would all go to plan. Roy Walters, a former senior radio news editor, remembers taking part in a Cold War exercise and coming to the conclusion that "it would probably have been done on the hoof". Bob Doran, an experienced editor in Radio News in the 1980s, attended a civil service seminar in Yorkshire.
"I was one of the Dr Strangelove quota," he says, recalling the moment in the film when Dr Strangelove, played by Peter Sellers, eagerly describes how well-matched couples would go underground to produce a new super race.
Alas, the BBC plan was not like that.
Most of the staff would have been male. We know this because they were told not to inform their "wives" they were on the list.
"My clearest memory is of a discussion about whether people with spouses could bring them along," says Doran. The answer was no. "The other thing I remember clearly," he says, "is coming away in deep gloom and a feeling of certainty that nuclear war was going to happen very soon."
Government codewords for activating the BBC plan are blacked out in the BBC War Book. One did slip through. The codeword for authorising a national warning was, oddly, "Falsetto".
There was no special payment for underground duties but the chosen staff could draw £250 cash advance of salary.
It was all very polite. They would be offered transport to their posts, but if they took their own car, they would not be able to park it there. As for kit, "informal clothing only will be necessary".
The letter asking them if they were "willing to fulfil" emergency duties advised them that they should bring reading material and "small recreational items". The letter was to be destroyed after reading.
If war loomed even closer, another letter would be handed over. This said: "You have been selected for emergency duty and you will be going to …" The bunker's name would be filled in at the time.
Delicately, the letter also said: "The length of your stay cannot be foreseen, but it might be several weeks." Staff were advised to take clothes, soap and towels for 30 days. The food in the bunkers (free of charge) would be in packs, with five daily menus. These would provide, it was said, 2,200-2,400 calories per day, with a vitamin supplement. Sleeping would be communal, though suitably segregated.
Broadcast warnings of a nuclear attack would have come from the BBC headquarters at Wood Norton.
Peter Donaldson, a Radio 4 newsreader with a known and trusted voice, recorded the most recent warning announcement. After the recording, according to Michael Hodder - the BBC official in charge of the plan - they rewarded themselves with a bottle of whisky. The tape was played to acclaim at Donaldson's funeral last year. It begins: "This is the Wartime Broadcasting Service. This country has been attacked with nuclear weapons. Communications have been severely disrupted, and the number of casualties and the extent of the damage are not yet known. We shall bring you further information as soon as possible. Meanwhile, stay tuned this wavelength, stay calm and stay in your own homes."
The only time the use of WTBS seriously crossed Michael Hodder's mind was when the Berlin Wall fell in 1989. "I was concerned at once that the Soviets might react badly and that we should prepare," he says. "However my contact in government did not think so and so we dropped it."
The BBC War Book very nearly did not survive the end of the Cold War. When the WTBS was stood down in 1992, the BBC's then Head of Administration, Margaret Salmon, told Hodder to destroy it.
However Hodder, a former Royal Marine, had other ideas.
"I like history. I can't destroy it. I knew this would be of interest at a later date," he says.
So one night he loaded up a lorry at Broadcasting House and had the two safes containing the latest War Book, dating from 1988, its predecessors going back to the 1950s and associated files, taken down to the BBC Written Archives Centre near Reading to be preserved for posterity.