How do you trace ancestors who were slaves?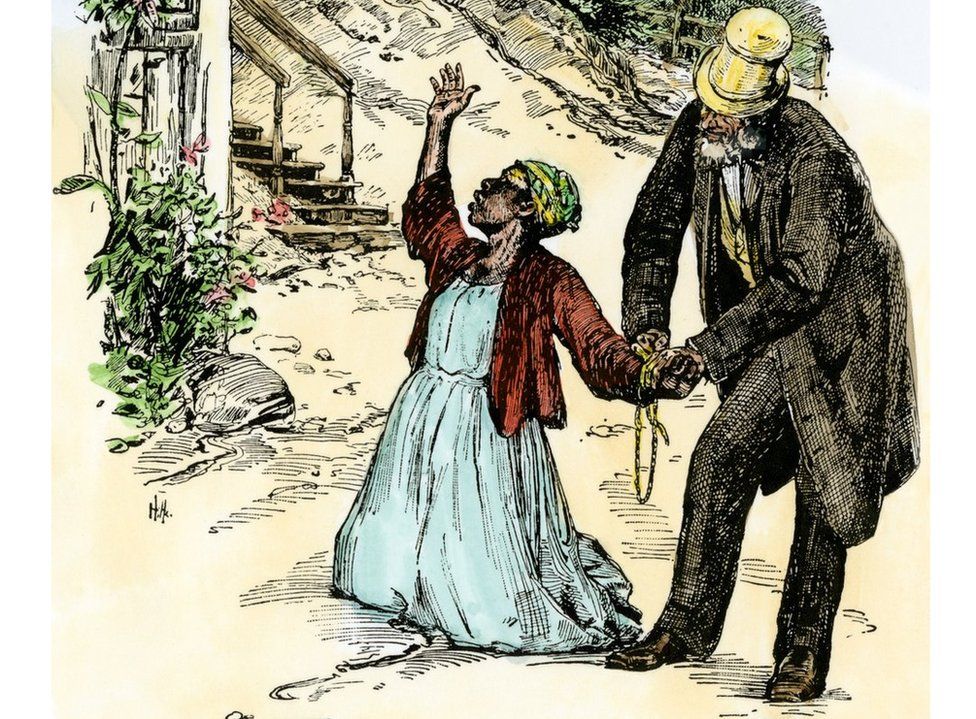 Georgetown University says it will give preferential treatment to applicants descended from slaves who once had a connection with the institution. But how easy is it for Americans to find out about ancestors who were slaves?
In 1838, Jesuit priests sold 272 men, women and children who had been enslaved on plantations in Maryland. The sale, worth about $3.3 million (£2.5 million) today, helped the prominent Catholic university known as Georgetown College pay off massive debts and secure its survival.
Now the world-renowned Georgetown University wants to atone for the mistreatment of both those slaves and an unknown number of others forced to work for the school.
It is creating an online archive of information and working with genealogists to track down descendants. Prospective students who've been able to trace this lineage will now get preferential treatment when applying, the university says.
The Jesuits kept unusually detailed records of the slaves on their Maryland plantations, which may help their descendants establish a connection - but for millions of African Americans, the majority of whom are believed to be descended from slaves, the process is notoriously difficult.
That's something that Shonda Brooks experienced first-hand when she began researching her roots three years ago.
"It seemed as if I hit wall after wall," she says.
Brooks started her inquiries after her grandmother fell ill with cancer, and she decided she did not know enough about distant relatives. "I didn't know who I should be telling that my grandmother was ill," she says.
So she began asking those relatives she did know to her to tell her as much as they could about their family's past.
"Some family members and friends, when you begin to talk about slavery, you have this immediate sense of anger and offence," she says.
"But I wanted to focus on the big picture of who my family was and who they are today.
"I was eager, I was open - I didn't mind what I found out."
First though, Brooks would have to turn her search to historical documents and paperwork. Surviving census records, birth certificates and marriage records provide many clues for genealogists, but anyone looking for information about people enslaved on plantations and in homes in North America between the 17th and 19th Centuries will be disappointed.
African Americans were only recorded by both first name and surname in the first census after the abolition of slavery in 1865.
Before that slaves were not properly identified in records, says Meaghan Siekman, a senior researcher for New England Historic Genealogical Society.
"Most people hit a brick wall around 1870 and don't know where to go from there," she says.
"People are usually limited to identifying slaves by slave owners' accounting records and inventories."
Finding the identity of the owner can be difficult, Siekman says, especially because slaves were often a "commodity" passed down to daughters and nieces as an inheritance or as wedding gifts.
It's a common assumption that African-American families carry the slaveholder's name, but in fact slaves were given names, or chose them, for a wide variety of reasons, she says.
And when the slave owner is finally identified, deeds, wills and bills of sale may provide only basic information, such as a slave's age, gender and skin tone.
Because of the scant amount of information, researchers are often forced to make "logical deductions" about family connections, says Sharon Morgan, founder of Our Black Ancestry, an organisation that provides advice and material for African-American genealogical research.
"It's really hard because your ancestors were listed as property in these deeds, and you can only really guess."
Terse as they are, these documents can also make extremely emotional reading, Siekman and Morgan say.
"It makes you cry mostly," says Morgan. "It's the awareness of what people went through in order for you to be here, that they experienced such awful conditions in order to survive."
Morgan learned that her own great-great-grandmother had given birth to 17 children in a period of 38 years with the nephew of her slave master. "I just can't believe that was a loving relationship," she says.
On the other side of her family, she found one great-grandfather had been sold for $1,000 while his mother had been valued at $400.
"That slaps you in the face - it's like they were a dining room set."
While stories such as these can be painful for some families, they should also command respect, says Morgan.
"We should be proud that our ancestors survived this experience. They were incredible people," she says.
Shonda Brooks, who is now 32 and has three children of her own, says she became obsessed with tracing her family's slave ancestry, and has even been disowned by some family members who do not want to know about her discoveries.
But by sifting through records and taking numerous DNA tests, she found the woman she believes was her third great-grandmother - a slave named Hannah born in Georgia in 1828.
She found deeds stating that in 1840, a white slave owner called Edward Covington gave "one certain yellow Negro Girl about eleven years old named Hannah" as a wedding gift to his niece, Ann Culifer.
Ann Culifer married Perry Daniel Radney, who consequently became Hannah's master. He went on to father several children with his slave girl, Brooks says.
But Brooks feels no bitterness towards the people who had a hand in Hannah's servitude.
"My family had such a negative outlook about who the slave owner was," she says. "But I wanted to stand up and say, I'm not going to be negative about this.
"Even if there was no love between Hannah and her owner, at least I can show love by reaching out to other members of my family."
Brooks is now planning a trip to visit relatives in Georgia and to see her family's cemetery.
Not everyone has been so successful in unravelling their family history.
Deandra Givens, a computer programmer from Arkansas, has come to a halt at the "brick wall" so many researchers refer to.
She has spent $1,000 this year alone on DNA tests, which have shown she has West African, European, and Native American heritage among others.
But she has not managed to find any documents that piece together how and when these strands of her story came together.
Her greatest indication that many of her forbearers were slaves is the lack of information available, she says. "I figure most of my ancestors were because they were so hard to find."
But she remains determined to keep searching for details, in order to fill in the "gap" in her family history.
"I feel like I'm going to have to spend a lot more money or time - or both."