Vogue: Nine down-to-earth discoveries I made at the fashion bible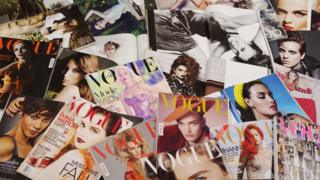 As British Vogue magazine marks its 100th anniversary the so-called fashion bible has opened its doors to the BBC, granting unprecedented access to cover stars, designers, and those who run it.
But alongside photo shoots of Kate Moss and Edie Campbell exists a functioning office, albeit with some unusual working practices. Documentary maker Richard Macer, an outsider in the world of high fashion, records some down-to-earth discoveries he made during nine months of filming.
1. Envelopes can be used as accessories. At least, those which house invitations to couture shows can. Lucinda Chambers, Vogue's long-serving fashion director, uses one from an old show as her purse. The catwalk shows' invitations are themselves something to behold. At the Chanel couture show the invite was carved into a piece of wood. At the Stella McCartney show in Paris the solicitations came in the form of a knuckle duster worn across four fingers and spelling out the name "STELLA" in big sparkly letters. At the Chanel couture show each goodie bag included a large tube of face cream which I worked out to be £250 a shot.
2. The women in the world of fashion do eat. At Vogue not a day goes by without a large delivery of confectionery arriving: chocolate cake, huge boxes of fruit chews, brownies by the bucket-load. These come from clients such as PR companies and shops. I saw about 40 toffee apples on one occasion. At Christmas, Harrods sent a giant advent calendar in the shape of a large house. Inside each window was an exotic chocolate. Such goodies tend to disappear very fast although no one would be filmed eating. I did happen to accidentally record one of the women from the magazine's online team eating a brownie but afterwards she tracked me down and made me pinkie promise I wouldn't use it in the final edit.
3. There's a sock drawer in the Vogue offices. A huge drawer full of all kinds of weird and wonderful socks and leggings exists just in case someone in the office needs some sartorial help at a moment's notice.
4. If there is a big social event, such as an awards ceremony or a brand launch, many of Vogue's staff will attend. Often they will be given a couture dress from a designer and allowed to wear it for the night. But, just like Cinderella it needs to be returned by the morning - and with no red wine stains.
5. The beauty desk, where the latest cosmetic brands are tested and reviewed, has a big cupboard with a vast array of products. It serves as a kind of cosmetic first-aid kit for women from the office when they need emergency lip liner or eye shadow, or even a blast of "dry shampoo". The desk is staffed by four women who spend their days spraying, dabbing and rubbing various lotions into their hands and face. One said to me: "Its the only job in the country where you can't be sacked for putting nail varnish on at your desk."
---
Find out more
Richard Macer (above, with headphones) enters the world of serious style in Absolutely Fashion: Inside British Vogue on Thursday 8 September on BBC Two at 21:00 BST - or catch-up on iPlayer
---
6. Editor-in-chief of the magazine, Alexandra Shulman (pictured above), confessed to me she doesn't love fashion - the most surprising response to one of the first questions I asked her. At first I thought it was an odd thing to say for the woman in charge of a fashion bible. But as I got to know her better I realised she is more a fan of fashion photography and is interested in popular culture, which fashion is a key part of.
7. Flowers are the currency of the fashion world. Not an hour goes by at British Vogue headquarters without an exotic bouquet being delivered. Often the editor's office will have several outside it. The flowers are from designers, or brands, or PRs (public relations reps). They are the language of commerce. Each bunch has a little hand-written card which says something like "You were fantastic darling!" or "We couldn't have done it without you". It would be possible to get rather blase about flowers since they are so commonplace in this environment. But somehow their arrival always seems to be greeted with genuine appreciation. They are the gift that keeps on giving.
8. Fashion photographer to the stars Mario Testino says he owes much of his career to Vogue's Lucinda Chambers. She is arguably the most important person on the magazine after Shulman, with responsibility for choosing which clothes from the catwalks to feature in forthcoming pages of the magazine. Chambers has been at the magazine for 36 years and started her career at the same time as Testino, who made his name photographing the late Princess Diana. As a young aspiring photographer, Testino says that Chambers was always driving him to succeed by being quite critical of what he was producing.
9. The queen bee of this glossy homage to the jet-set lifestyle, editor Alexandra Shulman, has a fear of flying. She very nearly didn't come to New York Fashion Week because of it, but remembered at the last minute she'd agreed to be filmed by me so changed her mind. Every year she has to steel herself against her almost irrational fear when globe-trotting to fashion shows. In the 25 years she has been editor of Vogue she has tried a number of strategies to deal with her phobia. The most successful is writing. Shulman has authored a couple of novels and has discovered concentrating on the prose helps when the turbulence hits.
Absolutely Fashion: Inside British Vogue is on Thursday 8 September on BBC Two at 21:00 BST