Should Donald Trump's weight be an election issue?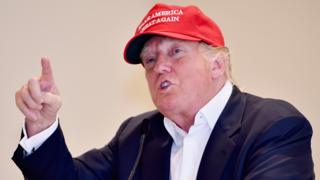 Donald Trump's weight has become an issue in the US election campaign - does it matter that he needs to lose a few pounds?
"If I had one thing, I would like to lose weight. It's tough because of the way I live - but the one thing I would like to do is drop 15 or 20 pounds".
Trump chose the cosy confessional of the chat show sofa to do something he rarely does - admit a thing he would like to change about himself.
In a moment of pure daytime TV drama, he handed over a letter to host Dr Oz that revealed he weighs 236lb (107kg), or nearly 17 stone.
Given that he is 6ft 3in (1.9m) in height, that would give him a Body Mass Index of 29.5, according to US Centre for Disease Control standards.
Technically, that makes him "overweight" and just short of "obese" - news that might come as a surprise to many, as he does not appear particularly portly.
The medical community seems to be fairly relaxed about it. Trump's personal physician Harold Bornstein has declared the candidate is in "excellent" health.
Dr Greg Rosencrance, internal medicine physician and chairman of Cleveland Clinic Medicine Institute, told BBC News Mr Trump's weight "doesn't have any significant health implications".
"I would advise modest weight reduction. Planned meals and regular exercise are important." Both of these things are difficult to fit into a busy campaign schedule, concedes Rosencrance, and, he says, it can be more difficult to lose weight as you get older and your body needs fewer calories to function.
So if being borderline obese is not a major health issue what is the point of the BMI index? Or should Mr Trump actually be worried?
"Knowing Trump's BMI tells me nothing about his health but making a judgement about Trump's BMI tells us a lot about bias," says Dr Linda Bacon, author of Body Respect and Health at Every Size.
She argues that BMI is a "lousy indicator" of general health but does add to the stigma facing people who are trying to shed the pounds.
"There are plenty of thin people who get the diseases we blame on weight, and plenty of people labelled overweight and obese that live long, disease-free lives. Research shows that if we diagnosed people based on weight, we'd be wrong at least half the time."
She adds: "I don't think that weight should be a defining factor, either for the Presidency or in life."
Dr Charles Billington, of Minnesota University's obesity and nutrition centre, says: "People classed as overweight don't have much of an increased risk relative to those in the normal weight category."
But, he adds, those like Mr Trump who are on the cusp of the obese category, do face an increased risk of heart disease, stroke and even cancer. He rejects criticism of the BMI index, arguing that although more sophisticated health screening methods are available, it remains the best way to assess someone's health in a quick check-up.
US election candidates are not obliged by law to publish their medical records, although in recent decades some have - the battle for the White House is always a test of vigour and virility on some level.
The issue has loomed larger than ever at this year's election, partly due to the age of the candidates - Trump is 70, Hillary Clinton 68 - but mostly due to the endless rumours about Clinton's health and her opponent's repeated claims that she lacks the physical stamina for the job.
Clinton's forced absence from the campaign trail this week, after being diagnosed with pneumonia, led to fresh calls for her to publish her medical records.
Trump went straight from the Dr Oz studio to a campaign rally in Ohio, where he told cheering supporters: "I don't know, folks. You think Hillary would be able to stand up here for an hour?"
Like Mr Trump she has drip fed details to the media, in the form of letters from her personal physician attesting to her excellent health. She has yet to publish her weight, although further medical disclosures are expected.
Like many men of his age, Mr Trump takes statins, to control blood pressure and cholesterol, it was revealed in this week's letter from his doctor.
He does not smoke or drink - he swore off alcohol at an early age after watching his older brother Freddy succumb to alcoholism - and this is a big positive for his health, doctors say.
But when it comes to diet the New York property mogul prefers McDonald's because "at least you know what they're putting in it".
He would not be the first US president to be considered overweight, according to the modern BMI scale.
Bill Clinton - known for his love of burgers and fried chicken when he was in the White House - had a BMI of 28.3 but slimmed down considerably after having a quadruple heart bypass operation in 2004. He has since become a vegan.
Teddy Roosevelt also carried a few extra pounds, although you have to go back to 1908, and 300lb Republican William "Big Bill" Taft, to find an occupant of the White House that would be considered truly "obese" by today's standards.
Trump's opponents on social media have seized on his weight admission as evidence of hypocrisy, claiming that he is no slouch in the "fat shaming" stakes himself.
He famously branded some women "fat pigs" and, in 1997, publicly piled pressure on Miss Universe Alicia Machado to lose weight after buying a share in the pageant, reportedly calling her "Miss Piggy" and parading her before the media at a New York gym.
There will be no pictures of Trump panting away on a Stairmaster, however, or launching a range of Trump workout videos.
He does not take regular exercise, insisting that he he works up enough of a sweat on the campaign trail and the golf course.
And in a country with one of the world's highest obesity rates - and the world's biggest weight loss industry - his attitude will strike a chord with many voters.
Follow @BBCNewsMagazine on Twitter and on Facebook