100 Women 2016: The girl who learned in the cloud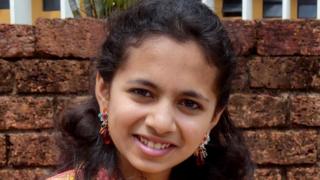 Gouri Chindarkar was among the first group of children in India to experience a unique way of learning. She would go to her village school at dawn to connect with mentors from all over the world. Now a university student, she says her unusual education was "a beautiful journey".
In May 2009 one of the first Soles [Self-Organised Learning Environments, which have now become known as "School in the Cloud"] started up in my school. I was then in 7th Grade, so 13 years old. From the age of six all I had known was the old-style "classroom teaching" and suddenly the Sole shattered this old method and emphasised an interactive approach.
There was a special lab built that had full-length glass walls to help teachers see what was going on, and with lots of space for us to move around, and most importantly the computers connected to the internet which seemed to beckon us. I lived in a small village with few facilities in Maharashtra, and although I had heard of computers and the internet, I had never really used them.
The "lessons" mostly took the form of "granny sessions". These are Skype conversations with mentors from all over the world who are not necessarily professional teachers or indeed grandmothers - there have been "grannies" who are government officials, doctors, architects and home makers. They spoke to us about all kinds of things and exposed us to a world far out of reach.
They were more like friends than teachers, and whatever we felt we could express freely with them. They were not expected to teach, but to provoke our curiosity, get us to think, search for answers, and share what we found.
What is 100 women?
BBC 100 Women names 100 influential and inspirational women around the world every year. We create documentaries, features and interviews about their lives, giving more space for stories that put women at the centre.
We want YOU to get involved with your comments, views and ideas. You can find us on: Facebook, Instagram, Pinterest, Snapchat, and YouTube.
Spread the word by sharing your favourite posts and your own stories using #100women
---
The mediators encouraged us to express ourselves. We were mostly taught in our local language of Marathi so when the sessions first started, we only knew the English alphabet and a few phrases and simple rhymes. We never heard English spoken outside the granny sessions. But the initial fear of a new language gradually reduced. I learned to think, I learned to state my opinion. I understood how to get my views across to another person and I learned to respect the opinion of other people.
Often we, the children, decided what we wanted to talk about. Because of the time difference I actually used to come to school at 06:30 in the morning (01:00 GMT) to meet Anne Thomas, one of the "grannies" from the US. Some of the sessions took place with Anne while she was holidaying with her family on the beach! I used to spend every holiday in the Sole lab too.
I absorbed knowledge in the best possible way because I was not "taught" it. Instead I experienced it. Even at that age I was able to decide what I wanted to do. Otherwise I would have been like other children, waiting for school results and then leaving life decisions to that.
Grades and knowledge are two different things. Following the syllabus can help achieve grades, but it's the other activities - such as independently investigating a question - that provide practical knowledge and that is even more important than grades. Marks are only a medium to make you eligible for a certain criteria, but knowledge makes you more confident. In a traditional teaching environment, real learning can fall behind in the race to achieve grades.
One's behaviour and thoughts are naturally impacted by one's environment. Sole gave us one really important thing. And that is freedom. Sole broke through the equation that the maths class in the timetable is meant only for maths.
Instead of being given ready-made answers to questions, we learned the special joy of searching for oneself and finding much more than we had expected. We got into the habit of searching for and trying out new stuff. Sessions were never unidirectional, but gloriously interactive. They could be about Indian culture and traditions or about really small things including poems.
Even today I am in touch with several of the SOLE mediators. Rodger from Australia is one of them. We remain connected through Facebook and WhatsApp. I can share anything with him. Even today he enables me to come up with solutions for various situations.
Now I am working on my Bachelor's degree in Computer Engineering at the SSPM's College of Engineering in Kankavali, part of Mumbai University. I hope to get a job as a web developer.
The Sole was a beautiful journey. It continues today. This journey taught me to learn, to make mistakes, and rectify them and start again.