Lava-hunting in trainers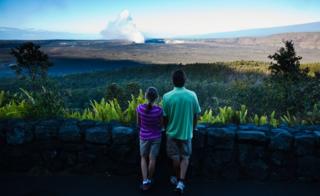 An active volcano is a truly spectacular sight - but getting up close in the wrong footwear is a nerve-wracking business, finds Simon Parker.
The rainforest hummed and creaked in the gentle, balmy breeze as gnats and birds flitted among the murky, damp undergrowth. It was just minutes after sunrise and for a brief interval, night merged hastily with day - a unique tropical interlude when the sun's rays bounced off the lush canopy as the foggy Milky Way dissolved into the purple sky.
Twilight is brief this close to the equator, but for the early riser and the eager hiker, it's truly a time to savour.
But personally, I was a little preoccupied - by my shoes.
Hawaii's Kilauea is one of the world's most active volcanoes - and the lava lake at its summit is currently at its highest level for some 16 months. For most, the idea of increased seismic activity would, naturally, provide a reason to give the area a wide berth - but for some, including myself, it seemed only natural to attempt a closer look.
But was I really dressed - or, more importantly, shod - for the adventure?
"You must be hunting for lava!" said a significantly more outdoorsy-looking man, gripping expensive-looking hiking poles, clad in a state-of-the-art rain jacket and sporting a glitzy-looking GPS device around his neck.
"Just keep going for as far as possible," he said, matter-of-factly, as he pointed in the direction from which he'd appeared, before eyeing up the splats of black mud already striped across my back.
"You'll be soaked," he told me, as his gaze travelled over my soggy trainers and sponge-like hooded sweatshirt, already sopping with drizzle and dew. "But," he said, reassuringly, "it's worth every single step."My path to Kilauea's slopes would certainly be a bumpy one, and to get there, I'd need to traverse a four-mile (6km) route across the neighbouring Kilauea Iki crater - the scene of its very own dramatic eruption in 1959.
As I slid gingerly down its high crater wall, a cascade of volcanic chunks dislodged beneath my feet and tumbled downwards - smashing against the gravelly crust below. In the distance, I could make out wisps of creamy steam spiralling from the crater floor - seeping out through vast slabs of dried lava, which resemble brittle, oversized slates of dark chocolate.
More than 2,000 miles (3,000km) adrift from the rest of the United States, Hawaii is an isolated Central Pacific archipelago of eight main islands - each with a volcanic past, present and future. Kilauea, on Hawaii Island - the biggest of the chain - has erupted 62 times over the course of the past two-and-a-half centuries - with this current spew beginning in 1983.
"Our volcanoes and their eruptions are just something we've come to live with," I'd been told earlier that morning by a farmer I'd hitchhiked with from the aptly named town of Volcano to the entrance of the Volcanoes National Park.
---
Find out more
From Our Own Correspondent has insight and analysis from BBC journalists, correspondents and writers from around the world
Listen on iPlayer, get the podcast or listen on the BBC World Service or on Radio 4 on Thursdays at 11:00 BST and Saturdays at 11:30 BST
---
"They've been erupting for as long as people have lived here," she told me, while dozens of avocados, oranges and jackfruit bounced around the boot of her car. "As you'll see when you get up there," she smirked.
"As humans, we are very small in comparison. But," she said, looking down at my questionable footwear, "be careful in those sneakers."
As I reached the far side of Kilauea Iki the rain began to increase. I scrambled - upwards - at first on a rocky path, before venturing off along some vague tracks in the lush vegetation. I couldn't be sure if I was following the trail of previous lava-curious humans or those of noisy local pheasants, but I delved deeper and deeper into the scrub.
For 30 humid minutes I pushed on, through a labyrinth of stooping ferns draped in glistening spiders' webs I was soaked to my skin, through four layers of less-than-ideal clothing, but still desperate to glimpse Kilauea's crater, wherever it might be.
Then, finally, as I emerged upon a clearing, it caught my gaze in the middle distance.
I could see a vast cauldron of auburn liquid rock - standing out so starkly against its surroundings that even from a distance I had to squint in order to look at it directly - much like peering up at the sun. It was bubbling, bouncing and spewing its red-hot lava high into the sky and cascading down the far side of the crater, all the way to the Pacific Ocean.
The path had reached an abrupt conclusion at a sheer drop that even high-end climbing ropes and crampons would be unable to handle - let alone my humble, flat-soled, now saturated trainers. There was nowhere further for me to walk.
So, drenched with sweat, mist and condensation, but still buzzing with adrenaline, I was left to ponder the extraordinary sight of Kilauea. As the man with all the high-tech garments and gadgets had predicted, it was worth every single step. Even in trainers.
Join the conversation - find us on Facebook, Instagram, Snapchat and Twitter