Is Michelle Obama Hillary Clinton's biggest asset?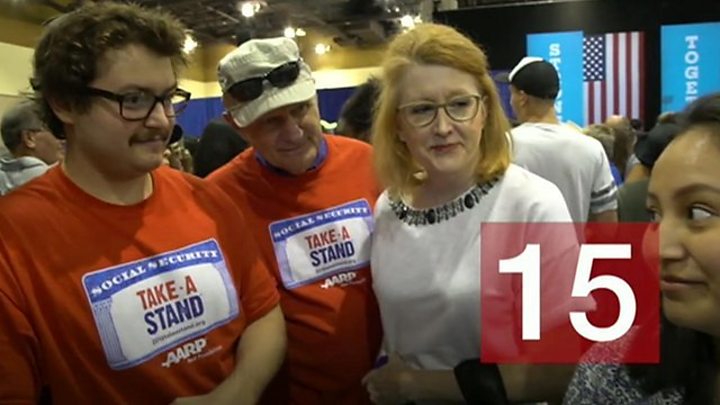 As a double act, they make quite a team, but will the vocal support of Barack and Michelle Obama be enough to propel their one-time rival Hillary Clinton into the White House?
Barack Obama has, at times, sounded just as eager to get Mrs Clinton elected - and to keep Donald Trump out of the White House - as he was to win that prize for himself.
His wife has also sung the former secretary of state's praises at rallies across the country, coming up with one of the few memorable phrases of the campaign - which Clinton has since adopted as her own - "when they go low, we go high".
The Obamas know they can reach parts of the electorate that Mrs Clinton can't.
"There is a certain sense of mourning in parts of the African American community that his presidency is ending," says Leonard Steinhorn, a professor of public communication at American University, Washington DC.
"Obama wants to be able to motivate and inspire people and to get them to understand that this is a continuation of his presidency. That his legacy as the first African American president may well depend on whether Hillary Clinton becomes president or not."
The Clinton campaign believes they need African American voters to turn out in the sorts of numbers they did for Obama in 2008 and 2012. Polls suggest they will not vote for Donald Trump but the fear is that many, particularly in the 18-to-35 year old age group, will simply stay at home.
More than 92% of so-called black millennials voted for Obama but support for Clinton in that age group has never topped 60%.
"A lot of people love the Obamas," says Carmen Berkley, civil, human and women's rights director of the AFL CIO trade union.
"People are going through this post-traumatic stress of not having them in the White House. We hear a lot about this enthusiasm gap.
"But we don't necessarily need them to be enthusiastic about a candidate. We need them to be enthusiastic about the future and ensuring that President Obama's policies are not completely destroyed."
She identifies women as being key to getting African Americans to the polls because "when black women vote, we don't just take ourselves to the polls we take our entire family".
But a report by her union on what it politely terms "a low-enthusiasm election year" suggests that when Obama's name is not on the ballot, such as at the 2014 mid-term elections, many of the million extra black female voters who backed him in 2008 and 2012 stay at home.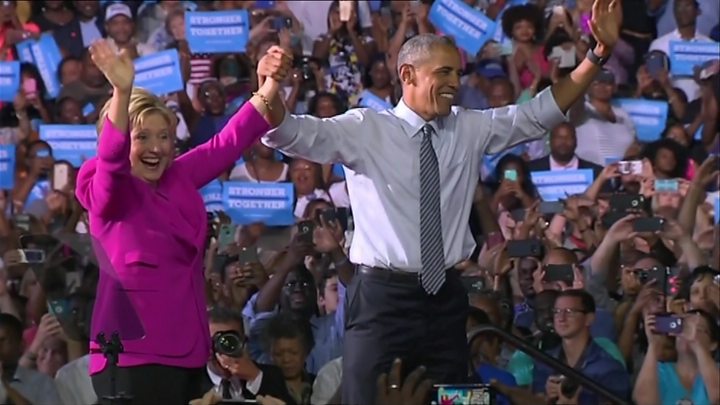 Berkley, a 31-year-old, is full of praise for Clinton as the most qualified candidate and someone who will "listen" to the black community.
But in a possible clue as to why Clinton struggles to connect with younger voters, she has this piece of advice to the Democratic candidate: "The more she unbuttons the top of her pant suit and really speaks from the heart, the more she will gain."
Michelle Obama can speak from the heart because she is not a politician and has, by all accounts, no intention of becoming one.
Yet she has a politician's gift for rhetoric, which is increasingly being seen as equal to that of her husband.
Her impassioned takedown of Donald Trump, after the emergence of the now infamous tape of him making lewd comments about women, was seen by some as a master class in mixing the personal with the political.
"I can't believe that I'm saying that a candidate for president of the United States has bragged about sexually assaulting women," she told a Democratic rally in New Hampshire, her voice cracking with emotion.
"And I have to tell you that I can't stop thinking about this. It has shaken me to my core in a way that I couldn't have predicted."
"It was very, very powerful," says Prof Myra Gutin, first lady expert at Rider University in New Jersey.
"I thought that her displeasure was so obvious and she melded it so nicely with a defence of Hillary and her candidacy. I was very impressed.
"We have really not seen a first lady go out and campaign for another candidate with the same enthusiasm and commitment as Mrs Obama has shown."
---
At the scene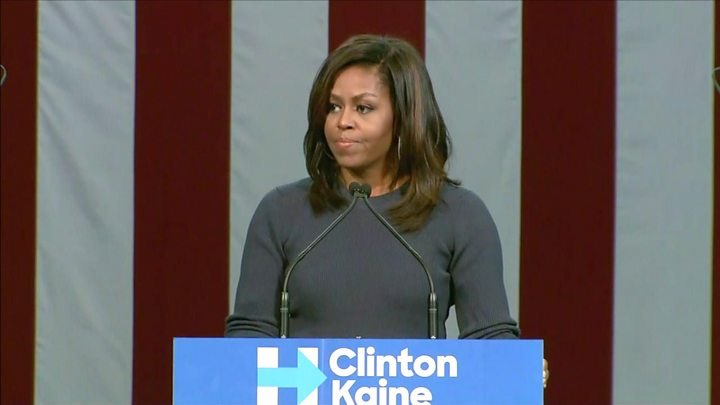 By BBC correspondent Rajini Vaidyanathan
In a university gymnasium in New Hampshire, Michelle Obama spoke to a crowd of a several hundred, mainly students and responded to Donald Trump's "locker room" talk about women.
It was a powerful address, which was praised for the way it cut through campaign rhetoric.
A week later I watched her again, at a convention centre in Arizona.
This time the crowds had turned into the several thousands, the media stage had at least tripled in size, and the television networks were hanging on her every word. The first lady has a gift, which can be rare in politics, of coming across as authentic and likeable.
Sure, she has her detractors - I've met several - but even the majority of conservative voters I've spoken to feel she has a certain poise, grace and authenticity which is hard to knock.
Talking to people at both rallies, there was far more passion and fervour for her than for Hillary Clinton. Some said they would prefer Mrs Obama for president.
Stumping for Hillary Clinton is a strategic move - the first lady is being sent to key battleground states, not just to persuade undecided voters, but to rally the Democratic base.
At her last two rallies, she wrapped up by reminding people how close the margin of victory, or loss, can be in a state. Her pitch for voters to organise, and her message of hope, has echoes of her husband's oratory. But Mrs Obama is proving to be a dominant force in her own right and one of the surprises of this campaign.
---
Leonard Steinhorn praises the "disarming quality" of Michelle Obama's rhetoric: "She is not afraid to speak from her own heart, to generalise from what she is feeling to what many people are feeling".
It is hard to avoid comparisons with Mrs Clinton's more pedestrian efforts which, with a few exceptions, he says come off as the work of a "policy wonk".
"If you ask her the time, she will tell you how the watch works, when in fact what she should be describing is the beauty of the watch and what it reveals to us every moment," says Prof Steinhorn.
But the first lady's real value to the Clinton campaign is that she does not have the personal baggage that Mrs Clinton carries around, from her marriage to Bill Clinton, and her 30 years in or around government.
Mr Trump did not immediately hit back at Mrs Obama after her New Hampshire speech in the way that he might have done if it had been anyone else.
He did make a rare attack on the first lady on Friday, saying "all she wants to do is campaign" for his rival, and bringing up some comments Mrs Obama made about Mrs Clinton in 2007, which have been used by critics to suggest a less-than-warm relationship between the two women.
Michelle had told an Obama rally "if you can't run your own house, you certainly can't run the White House".
It was seen at the time as a swipe at Mrs Clinton's relationship with her husband, but the Obama campaign insists it was not directed at the Clintons and instead referred to their own struggle with parenting during a campaign.
Many on the right view the president as the worst since World War Two - and the prospect of a third term, in the form of a Hillary Clinton presidency, is a major motivating factor for them at this election.
But Mr Obama is currently enjoying some of his best approval ratings in years. It is unusual to see an incumbent president with enough juice left in his tank to be a help, rather than a hindrance, to his would-be successor.
Bill Clinton's approval ratings were holding up quite well at the end of his second term, in 2000, but his offer to stump for his vice president, Al Gore, was reportedly rebuffed over concerns that he carried too much baggage, from the scandals that had beset the final years of his presidency.
You have to go back to 1988, when Ronald Reagan hit the road in support of vice president George HW Bush, in his battle with Democrat Michael Dukakis, to see something similar to what we are seeing now with Barack Obama. And even then there was an initial reluctance in the Bush campaign to being linked with a retiring president.
Mr Obama has been unashamed in his appeal to sluggish Democratic voters - the only way to protect his policy legacy, such as the Affordable Care Act and his environmental protection measures, is to vote Clinton, he has told them. He has also not been shy in playing on his own popularity with the party base.
"You want to give me a good send-off?," he asked the cheering, mainly African American, crowd at a Democratic rally in Miami on Thursday.
"You want to give me and Michelle a good send-off? Work as hard for Hillary as you did for us."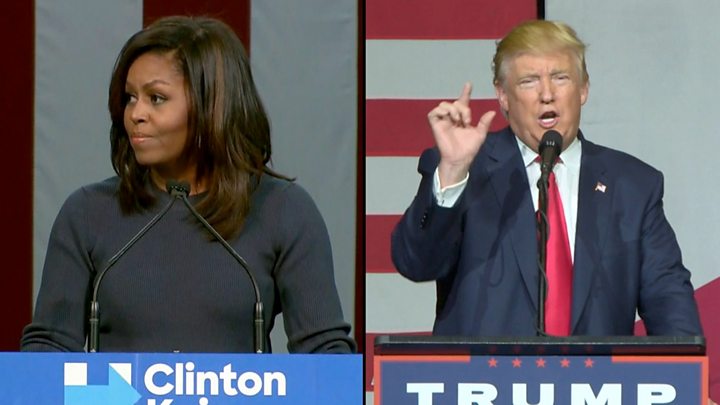 Whether it will work on 8 November is impossible to say. Trump's campaign has, by any conventional measure, blown itself out of the water, yet there is still a chance he could become president, if Hillary Clinton does not manage to overcome the lack of enthusiasm for her candidacy among Democratic, and wavering Republican, voters.
The Clinton campaign might take some comfort from Pew Center research, which suggests some of the Obama stardust is rubbing off on Mrs Clinton.
Some 77% of registered voters who approved of Mr Obama in August plan to vote for Mrs Clinton in November, while just 4% intend to vote for Trump (the remainder either support a third-party candidate or do not express a preference).
Approval for the job Mr Obama is doing as president has, according to Pew, been consistently higher than satisfaction with the state of the country, meaning that voters do not tend to blame him personally for societal or economic woes.
It's a feat that is unlikely to be repeated if Mrs Clinton does make it across the line next month, given her own poor approval ratings. Not that she will mind.